See comment below about entry into the harbour.
You are permitted to anchor right in the heart of the town and have free full access to a good dinghy dock which is guarded 24/7. The anchorage is extremely well protected from all directions.
Following clearance, if you do not request and get permission to anchor in the Town Bay/Town Pier Anchorage, Port Control will probably send you to China Bay, Mud Cove. This location is at the north end of Trinco harbour near several military bases. The Mud Cove Jetty is located 4km from the main town. Berthing here will likely be alongside a barge (for an additional fee). This is the most secure location as the property is well guarded and gated, but it is not that convenient to town. Whilst there are few amenities here, there is access to non-drinking water and there is armed security. One has to walk about 15 minutes up a country road before obtaining local transport into town.
Town Bay is quiet with no other local and/or foreign boats at anchor. All local fishing boats are anchored in either Yard or Mangrove Cove. One can anchor approximately 100 metres out from the clearance pier. The clearance pier can be used as a safe place to go ashore and park your dinghy whilst going into town.
After you anchor or tie to the barge, you must call Port Control with your location and the time you anchored. If you want to move your boat while in port you must get prior permission from Port Control. They are keen to keep track of where visiting yachts are located and to control movements.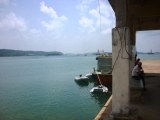 A useful dinghy landing is to tie up to the red boat at the town pier and get ashore via that. (See the photo from Onundur Johannsson below).
If leaving your boat here for any length of time unattended, you may be permitted to tie it off the back of an Agent's boat on the pier, unlocked (as they may need to move it). Security is reported to be very good in this harbour.
Getting Fuel:
Port regulations state that fuel can only be obtained via the port and ship's agent, however, the Harbourmaster has accepted this is impractical for cruising boats so has given permission for cruising boats to "side-step" the official procedure. It is important that skippers adhere to the following procedures when obtaining fuel, so as to keep the authorities happy:
Contact your local agent and advise them you will purchase fuel (via jerry can), advise them the approximate time of delivery at the jetty, and allow the agent to give the port security/customs notice before you turn up.
As the jetty used by yachts is inside a compound for Customs with heavy security, a prior warning is very important, or you will not be allowed through with your fuel.
A useful guide to shoreside services in Trincomalee can be found on this hand-drawn map by SY Sage (February 2015).
Note: The harbour here has clean clear water a few days each month. The majority of the time it is a breeding ground for barnacles. If you anchor here for more than 10 days, you will have to clean your bottom.
Last updated: April 2018
If you have information for this section, or feedback on businesses used, please let us know at [email protected]. We also welcome new information about businesses you have used (see Related Businesses).