Previous Page
General Info
Located 144NM south-east of Auckland, Tauranga is a large sheltered harbour in the Bay of Plenty.
It has become popular for yachts coming from the Pacific to be based during the hurricane season. Weather is better here (less rain than Northland).
Position: 37° 37.37'S, 176° 09.87'E (harbour entrance channel)
Clearance
Tauranga is now back on the list of Places of First Arrival (PoFA). See Noonsite/New Zealand/Formalities page for full details of clearance and PoFAs.
The Arrival Process Steps as outlined on the Biosecurity New Zealand website must be followed. Clearance is carried out by Vessel Works.
As you come within range of Tauranga (70NM), contact Plenty Maritime Radio on VHF Channel 68.
The following picture shows the approach into the Port of Tauranga. Be aware of tidal flows and shipping traffic particularly cruise ships during summer.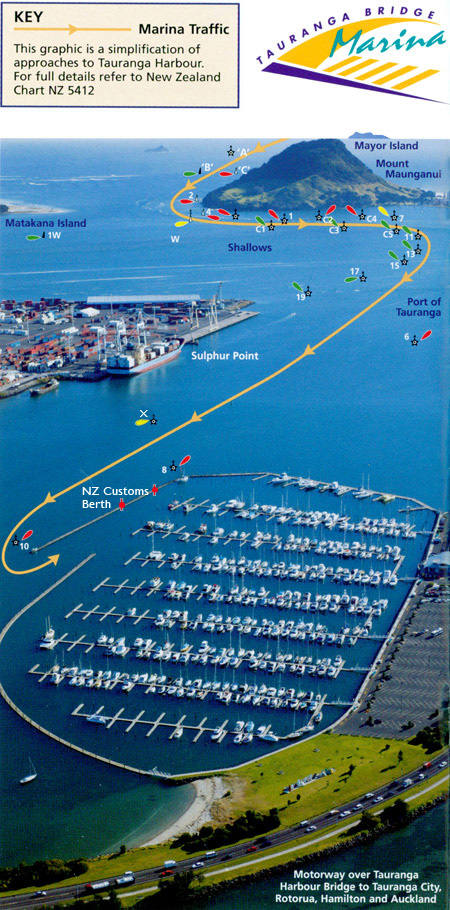 Note: Protection against Fanworm.
All boats entering any Northland harbor must have been anti-fouled within the last six months AND have had a bottom wash in the last month. This applies to all boats coming from south of Tutukaka.
Latest update: August 2019
Customs – Tauranga (Bay of Plenty)
Docking
There are two marinas here. One to the east of Sulphur Point and the other to the west. The principal channel leads to the Tauranga Bridge Marina on the east side.
Last updated: December 2017
Related Businesses
Tauranga Bridge Marina

Address: 101 Te Awanui Drive, Harbour Bridge Causeway, SH 29, Tauranga (Bay of Plenty), North Island, New Zealand, 3116

A large marina with all facilities, fuel berth (24hrs), laundry, chandlery, WiFi, cafe and restaurant. Max. length 36m.

5 mins from shopping centres and Tauranga Airport.... Read More

Tauranga Marina

Address: Sulphur Point, PO Box 690, Tauranga (Bay of Plenty), North Island, New Zealand,

Situated at the North end of Sulpher Point in Tauranga Harbour with 561 berths.

Essential to call prior to arrival. Full-service marina, fuel, yacht club, cafe,... Read More
Places
New Zealand, North Island (New Zealand), Tauranga (Bay of Plenty)