Previous Page
General Info
See Biosecurity for yachting protocols during the pandemic.
See Security for latest warnings for cruisers.
Useful numbers provided by OSASA:
Parks Chief Thomas Massane: +258847920373
Head of law enforcement Pablo Schapiro: +34615559097
Mario Lebrato, scientist on Benguera Island, can help with fresh water and advice: +34610677742 – WhatsApp
Description:
This is an island and not a port. It is long and narrow sandy island lying parallel to the coast about 100nm south of Beira. It is a National Park the main function of which is to protect the rare mammal, the dugong (similar species to the manatee), turtles, dolphins and the fragile eco-system.
Entrance Notes or Cautions:
Stopping in Bazaruto for a short time to avoid weather has been possible in 2021, but must not be seen as a viable entry into Mozambique. There are no officials here, only construction workers building a resort.
Once considered a safe and accepted stopover in the Mozambique Channel, the Bazaruto Archipelago has seen an increase in yachts anchored here being boarded and threatened. See this Security Update for more detailed information. This stopover should be used with caution and only on current advice.
The general opinion is to seek shelter in the northern anchorages behind the northern tip of Bazaruto, which tend to be safer. This does make the exit a bit longer and is subject to timing your departure with the tides, however, may help avoid corrupt officials.
During the pandemic there is the problem with Covid-19 and the local perception that foreigners bring the virus. The locals in Bazaruto may be hostile.
See Latest Reports for current information on the situation here.
Position:
21° 30.64'S, 035°27.05'E (anchorage near the northern tip of the island).
Clearance
See the main Mozambique Formalities page for detailed clearance information
There are no clearance facilities on Bazaruto. Prior to arriving at this area, clearance/immigration procedures must be undertaken elsewhere, at which time the skipper/yacht will receive a 30-day cruising license.
There are clearance facilities in Vilankulos. A Visa is required for all non-SADC countries but can be bought at the immigration offices. At the Maritime offices, you will pay navigation fees and be issued a licence to be in the country for 30 days with your boat. These fees are Tonnage related.
This entire island is a marine reserve and park fees are applicable. You may be approached and asked to pay a Park Fee payable in cash in local currency, US dollar, or SA rand. You should be given a receipt.
The most recent pay scales PER ENTRY (March 2018) are:
1000 metical / US$14 for a foreign yacht;
500 metical / US$7 for a local yacht; and
400 metical / US$5.50 per passenger.
If you leave Bazaruto and return, you are required to pay again. You can pay in US$ and will be given an official receipt.
Important Note: There have been reports of locals reporting to the authorities in Vilankulos yachts that have not checked in. As a result, yachts were boarded, passports confiscated and exorbitant bribes given. See this report – Madagascar and Mozambique: Cruising Notes Update 2020 – for more detailed information.
Last updated: January 2020
Docking
Anchorages:
The most useful anchorage is towards the northern end of the island off the west coast at approximately 21°38.9'S, 035°26.1'E.
The bottom is sand and excellent holding in about 8 to 10m.
There are some good reports adjacent from cruisers who have cruised this area.
Here is a link to the Bazaruto National Park website.
Some cruisers report nearby (uninhabited) Santa Carolina Island is quieter than Bazaruto and features an excellent anchorage.
Security:
As with everywhere in the world, be sure to secure your outboard and dinghy at all times, particularly at night when it should be lifted and locked. Secure all loose deck gear as well. An Italian yacht had it's outboard stolen at night here in November 2016. The outboard and dinghy had been lifted overnight, but the outboard was not locked.
Recent reports indicate increased activity from corrupt officials and terrorists in this area. See this report – Madagascar and Mozambique: Cruising Notes Update 2020 – for more detailed information.
Last updated: January 2020
Courtesy Flag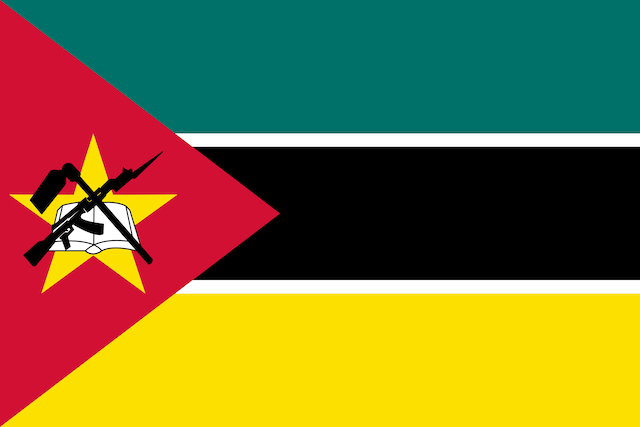 YachtFlags.com offers a discount to Noonsite members.
YachtFlags.com provides high quality courtesy flags that are manufactured in durable Knitted Polyester fabric. Knitted so that the fabric itself does not deteriorate in the constant movement that marine flags are usually exposed to, and polyester so that the flag does not weaken in the strong UV-light usually found in the main sailing areas of the world.
Use the coupon code NOONSITE_5A2B when checking out to get 10% off today.
Buy Now On YachtFlags.com
Places