Previous Page
General Info
COVID-19: OPEN PORT
See Mauritius Biosecurity for yachting protocols.
Description:
Port Louis is the capital and main port of the island of Mauritius. It lies between a well-sheltered, deepwater harbour – accessible to vessels through a break in the coral reef – and a semicircle of mountains. It is known for its French colonial architecture and with its lively Caudan Waterfront is an interesting place to explore.
Entrance Notes and Cautions:
The flat water sail down the NW coast of Mauritius to Port Louis is a welcome relief after the endless swells of the Indian Ocean.
Entrance into Port Louis is straight forward and well marked. There are two harbours here; the southern one is the main port and it is where yachts enter.
Port Louis photo provided by SY Flow Nov. 2013
Position:
020° 08′ 49″S, 57° 28'54" E (harbour entrance)
Clearance
This is a port of entry. See Mauritius Formalities for full details on clearing into and out of the country.
This is the main harbour and the only official port of entry and exit for Mauritius. One must clear in here before visiting any other anchorage.
On arrival at the outer markers, call "Port Louis Port Control" on channel 16. They will probably ask you to switch to channel 14. If you do not request permission to enter the port, you may be intercepted by the coast guard in one of their orange speedboats.
The port is open during daylight hours; arrivals after 18:00 may not be acknowledged by radio. It is acceptable to anchor clear of the entrance until morning.
Docking in Port Louis, Mauritius – photo courtesy of SY Lusi.
Docking for Clearance
On obtaining permission to enter, proceed to the Customs and Immigration dock (020° 09.6′ S, 057° 30.0′ E). This is poorly marked and is located in an old grey building, next to an old windmill (also grey) on the port side right at the end of the main channel. There is only a small dock in front of the building with a sign saying Customs
This dock is not designed to accommodate small vessels. There are no bollards or cleats and lines must be tied to the railings. It is also very difficult to get off the boat here as the dock is very high. Be very careful with wash/surge. It is advisable to try and tie up to the north/south wall as the swell/wakes tend to roll along it. Take care to avoid the rocky shallow area to the starboard of the direct line to the Customs Station. It is now marked with a small yellow buoy.
See reports on clearing in here and the comments section from cruisers.
Officials
The first official to board the boat at the clearance dock is the Health Inspector. Once he has provided clearance then Customs will board the boat. If they do not then it is advisable to move into the marina and visit the remainder of the officials on foot.
Nobody (except the skipper) should leave the yacht until the Health/Quarantine Officer has completed his inspection.
Customs, Immigration and Coast Guard formalities are all completed in the same building or they may visit the boat. Formalities can take over an hour as various officials will need to be called. Be prepared to fill in the 13 forms required by Customs. Be sure to keep the Certificate of Clearance and Yacht Declaration forms safe as they are likely to be checked by the Coast Guard while you are in Mauritius waters.
Occasionally they will board the yacht for inspection.
Guns and spearguns must be declared and surrendered to Customs until departure.
Be sure to get a copy of your clearance papers because it may be required by coast guard boarding parties if you visit other ports in Mauritius.
Yachts may visit other anchorages and ports around the island after informing Customs of their intentions and after a clearance certificate has been issued.
Clearing out
This is best done early in the morning. Be sure to report accurately where you are moored at the Coast Guard patrol daily and note all foreign vessels in each sector.
Yachts must officially clear out even if leaving for Rodrigues or Saint Brandon as well as for a foreign port.
An application form requesting clearance to depart should be completed and presented to Customs at the post office. There are no charges associated with clearing out.
First, visit Coast Guard Harbour Security and inform them you are leaving. They can notify Immigration and Customs, or you can make the necessary appointments yourself (for before 10 am). Once all the paperwork has been done, make a second visit to Coast Guard Harbour Security for them to update their ledger.
Last updated: October 2018
Related Businesses
Austral Shipping Agency Ltd

Address: Shanghai Rd, Jinfei Freeport , Zone 26, Riche Terre, Terre Rouge, Republic of Mauritius, BRN C06052579

Shipping agent that works with pleasure craft.... Read More

Mauritius Revenue Authority, Customs

Address: Customs House, Mer Rouge, Port Louis, Mauritius,

The Customs officers, in particular, the port surveillance and enforcement section, welcome being contacted and are very helpful.... Read More
Docking
Yachts may proceed to the marina after clearing and tie at any available spot. Tying on the outside wall is permitted however this is rather exposed and uncomfortable from passing wake. The marina quay is concrete, with a nasty overhang, so an abundance of fenders are needed and a fender board. Rafting is permitted.
If planning on leaving your boat here for any length of time, it is advisable to take great care with how your fenders are situated to prevent damage from the tidal movement and harsh concrete docks. Fenders are often stolen here, so be sure to secure each fender with a lock (bicycle lock). It may also be preferable to have a boat you know raft alongside for the duration of your absence. Locals can be employed as guardinage (see General Services).
Port Louis is a dirty harbour (particularly filthy after heavy rains) and diesel is often present on the surface of the water. Easterly winds usually keep this out of the marina however expect your waterline and lines to suffer.
If westerly swells are present the quay becomes untenable and yachts should move elsewhere, commonly into the Caudan Basin. This is used as a cyclone shelter and visiting yachts may go into the basin and tie for free wherever there is room. Proceed with caution as there are shallow areas and numerous unmarked wrecks there.
It is advisable to lock your boat at all times here.
There is a fuel dock in the commercial port and a dry dock that undertakes some repair work, however marine supplies are extremely limited.
Last updated: September 2015.
Related Businesses
La Marina (Bassin des Chaloupes)

Address: Marina Quay Building, Caudan Waterfront, Port Louis, Mauritius,

This is more like a small tidal basin (with difficult concrete docks) than a marina. There tends to be a lot of rafting due to... Read More
Yacht Clubs
Courtesy Flag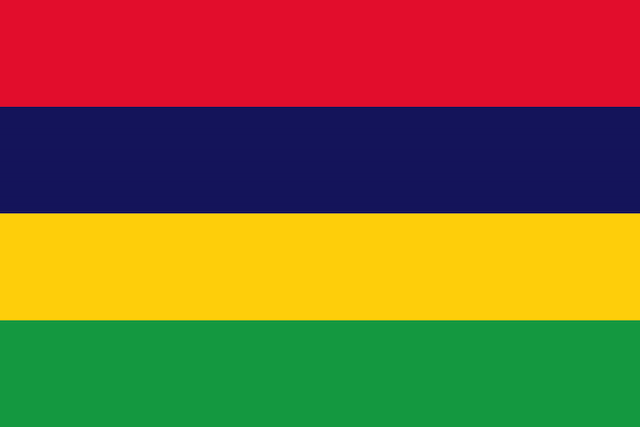 YachtFlags.com offers a discount to Noonsite members.
YachtFlags.com provides high quality courtesy flags that are manufactured in durable Knitted Polyester fabric. Knitted so that the fabric itself does not deteriorate in the constant movement that marine flags are usually exposed to, and polyester so that the flag does not weaken in the strong UV-light usually found in the main sailing areas of the world.
Use the coupon code NOONSITE_5A2B when checking out to get 10% off today.
Buy Now On YachtFlags.com
Places