Previous Page
General Info
COVID-19: Protocols

All pleasure yachts arriving in Mauritius must clear in at Port Louis. This port is not operating as a port of entry at this time.

Description:

The semi-independent island of Rodrigues lies about 560 km east of the main island of Mauritius. It is surrounded by a reef.
The capital, Port Mathurin, is on the eastern end of the north coast.
Port Sud-Est and Hermitage Island are on the southern side.
Entrance Notes and Cautions:

It is recommended to approach Rodrigues from the east whenever possible. Approaching from the northeast, north, or northwest will result in a very long slog to windward.
Position:
19° 40'53″S, 63° 25'04″E (port entrance)
Clearance
Clearance Formalities for Rodrigues are unique to the Island and not the same as formalities for Mauritius.
Clearance can be obtained in Port Mathurin on Rodrigues island. This clearance is only valid during the stay in Rodrigues, and one must clear in again on arrival in Mauritius (or clear in again in Rodrigues if you have already cleared into Mauritius).
For full details of Mauritius Formalities go here.
A Shipping Agent is not required for clearance in Rodrigues.
Call "Rodrigues Coastguard" on VHF channel 16 when several miles out and advise of ETA. Call them again on your approach. Note that night time arrivals are not permitted to enter the port. In this case, you will need to anchor off until daylight.
The Coastguard will phone the Port Captain on your behalf to get permission for you to enter the harbour.
Tie up to the commercial dock on arrival. If a supply ship is at the dock you will have to anchor off until it departs. Wait for the officials. Health, Coast Guard, Customs, Immigration and the Port Captain will all come to the boat. All the officials are reported to be very friendly.
Clearing-In
Upon arrival, you can request a 30, 60, or 90-day tourist visit. If you wish to stay longer, ask Immigration, who are normally very helpful. Under most circumstances, yachts are permitted to stay in Rodrigues/Mauritius waters for a maximum of 90 days. A bond worth 10% of the value of the yacht is required for boats staying longer.
There have been instances of Foot & Mouth disease on some of the Mascarene Islands and the health officials are very aware of and concerned about limiting the extent of this. They do not want fresh produce or dairy moved between the islands and will possibly confiscate such items on arrival.
This detailed report by SV YOLO who visited Rodrigues in May 2015 gives some very useful clearance and passage information for the Island. Note however that since this report was made a new Port Captain has started here who seems to not want to leave his office and rarely answers on the VHF.
If you intend to go to Port Sud-Est, advise the local authorities upon arrival.
Clearing-Out
You must clear-out of Rodrigues if you are heading off to Mauritius, Saint Brandon, or another country. At least 24 hours prior to leaving, inform Immigration at their office in the police station next to the courthouse that you plan to depart.
If you are lucky, they will contact the Coastguard for you, then Customs (who are on the 1st floor above the Bank of Mauritius office). With both of these arrange a meeting and they will attend the office at the port entrance at the pre-arranged time to clear you out.
If clearing out during the weekend, holidays, or prior to 0900 on weekdays, be prepared to pay overtime charges.
Note that after clearing out you nor your crew can leave the yacht and you must depart before sunset. Call the Port Captain on VHF Ch. 16 to request permission to depart (he may or may not answer).
The meteorological office is extremely helpful and forecasts are made available free of charge to departing yachts.
Fees
Monday to Friday (normal business hours):
Health Certificate: Rs 1400 (approx $40).
All other agencies are free.
Saturday, Sunday, and Holidays (overtime charges):
Health: Fees as above plus approx. $30 USD
Customs, after 12:00 Saturday: $45 USD
Customs, Sundays and holidays: $55 USD
Note: Some officials will expect a "consideration" of about $8 USD for clearing out prior to 0830 on a weekday.
Last updated: May 2017.
Docking
Port Mathurin photo provided by SY Flow – Nov. 2013
Port Mathurin
The port has been dredged and the buoyage no longer accords with some charts. Also, be aware that some electronic charts may not be accurate.
Port Mathurin is closed at night and the Port Captain does NOT permit ANY vessels to enter or depart the port at night. If you find your arrival is in the dark, you can anchor in the bay just outside the channel leading to the harbour. Here there is a sandy bottom and good protection from all directions, except the north.
Some yachts remain tied to the commercial dock after clearance which is free, however, you will have to move to the anchorage for a day or two when the weekly supply vessel comes in.
The main anchorage (19º40.72S 063º25.19E) is just off the commercial dock. The anchorage is about 240 meters diameter, 10 metres deep and surrounded by drying reef, so you don't want to drag very far. Holding is tenuous at first, soft mud over hard clay. There is reported to be some garbage on the bottom.
The cargo ship comes in roughly once a week and all boats have to vacate both the commercial dock and the inner anchorage (it is actually a turning basin). The outer anchorage is at 19º40.09S 063º25.85E and is good holding sand about 15m. In strong south-east or east winds, a big swell gets across the fringing reef and it can be rolly.
The anchorage outside the approach channel is safer if intending a long stay on the hook, but open to the North and a long dinghy ride into town.
The anchorage inside the port where boats head when the supply boat visits, is approx. 100m to the north of the wharf in 9m of water, mud bottom, and can hold approx. 12 yachts. Strong winds from the west, north, or east can whip through the anchorage however holding here is good. The anchorage is surrounded by a drying reef and concrete walls and a current runs through the anchorage as well, so take care not to drag your anchor.
Port Sud Est
Anchorage west of Hermitage island in 8-10m in the sand. Good holding. Well protected from SE swells by extensive reef barrier.
Last updated: August 2017.
Related Businesses
Harbour Master – Port Mathurin

Address: Port Mathurin, Rodriques, Mauritius,
Courtesy Flag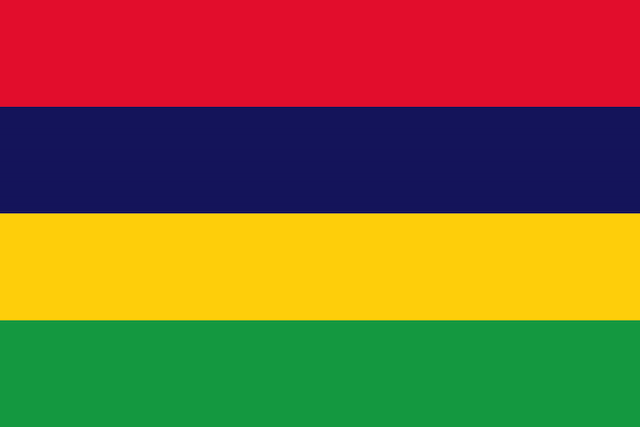 YachtFlags.com offers a discount to Noonsite members.
YachtFlags.com provides high quality courtesy flags that are manufactured in durable Knitted Polyester fabric. Knitted so that the fabric itself does not deteriorate in the constant movement that marine flags are usually exposed to, and polyester so that the flag does not weaken in the strong UV-light usually found in the main sailing areas of the world.
Use the coupon code NOONSITE_5A2B when checking out to get 10% off today.
Buy Now On YachtFlags.com
Places