Previous Page
General Info
Majuro is the capital of the Marshall Islands and is spread over the three adjacent islands of Darita, Uliga and Delap, locally known as DUD. Half the population of the Islands live here.
See Communications for details of local cruisers' nets.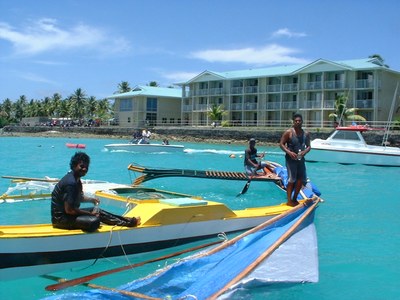 Delap, Majuro: © Karen Earnshaw
Position 07° 09.87'N, 171° 11.34'E (pass entrance)
Docking
There are a number of moorings available most of the year in both mooring fields in Majuro. There are two mooring areas; RRE (north field) and Matt Holly (south field). It is advisable to dive down and inspect your mooring.
There is a floating Dinghy dock on the RRE Shoreline waterfront area, which is immediately at the shore in the north mooring field. This along with garbage disposal will be included at no additional charge for all RRE moorings. All others will be welcome to use the facilities for a small additional monthly fee with decreasing rates for longer stays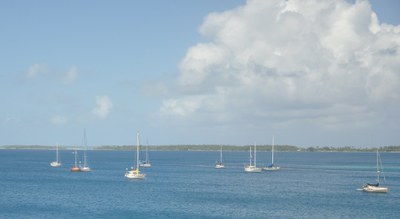 North Mooring Field: © Bonny Taggart
Anchoring is possible next to the south mooring field in plenty of space, however, in the past yachts have been known to drag as the sand is quite shallow on a rock.
Note that during SW and W winds, more rubbish appears in the anchorage than normal and sometimes oil spills from ships anchored in the lagoon.
Last updated: April 2014
Enemanet and Eneko Islands
The Mieco Beach Yacht Club began working on a mooring project for Enemanet and Eneko Islands in Majuro in 2006. Twelve years later the moorings are still well-maintained and used by yacht club members, thereby saving the precious reefs from anchor damage.
All the moorings are free for yacht club members on a first-come, first served basis, with no time limit imposed. Non-members pay $5 a day (NOTE: This is to continue to raise money to maintain the moorings).
Latest update: October 2018
Yacht Clubs