Previous Page
General Info
The pass into the main lagoon for Arno atoll lies on the eastern side.
See the Docking section for details on the other Outer Islands.
Position 07° 07.03'N, 171° 41.05'E (Arno pass)
Clearance
An Entry/Cruising Permit is required for each atoll to be visited. These forms are obtainable from the Local Government Office in the Ministry of Internal Affairs (IA) in Majuro.
For each atoll you wish to visit, you will need to specify how long you intend to stay as well as during what time period you will be visiting (it's quite flexible). You will be informed of the fee that each atoll is levying.
Permit fees are payable upon arrival to the permitted island. Yacht crews should seek out the island mayor, bring two copies of the permit and exact change. For some atolls, fees need to be paid in Majuro before leaving.
Permit fees range from free, $25 (majority), $50, $150 or $250.
It is very important to anchor right away in front of the main town to check in with the mayor to introduce yourself, pay your fee and be informed of what you can or cannot do!
See the 'Atolls' tab on the www.infomarshallislands.com website for more details, including the fee charged by each atoll.
Note: It is possible to volunteer to carry needed supplies to the outer islands, the resulting goodwill may even bring in a fee waiver and is a very positive way to meet the locals. Check-in IA to volunteer.
Last updated: January 2018
Related Businesses
Ministry of Internal Affairs

Address: 2nd Floor, Local Government Office, (next to Mobil Oil tank farm), Marshall Islands,

Apply here for permits to visit the outer islands.... Read More
Docking
Arno is the closest atoll to Majuro, 15 miles away. It has 133 islands, two airstrips and nearly 1700 people. See website www.infomarshallislands.com/atolls-a-l/arno-atoll for more information.
Mejit is a single, tiny coral island, with no protective lagoon. The population is about 450. It's a beautiful island of lush taro patches, and coconut, breadfruit and pandanus trees. Unusually, it has a small freshwater lake. California Beach, on the NW side of the island, is good for swimming and snorkelling, and unlike the other Marshalls, there no poisonous fish here. The island is also known for its pandanus-leaf mats, woven by the Mejit women.
Wotje, the main island of Wotje Atoll, is full of WWII remains. Huge Japanese-built structures loom out of the jungle. The lagoon is also full of wreckage, including a few ships of interest to wreck divers. The beaches are beautiful and relatively clean. Those of the nearby smaller islands are even better, as they're mostly deserted, and you can walk right over to them at low tide.
RO water is now available at Wotje at the town dock for free. Fuel might be available in an emergency from the local power station.
There is a wifi antenna next to the power station (the Northern dock) so internet access is possible with an NTA card obtainable in Majuro. Take your laptop and sit next to the antenna at the power station building.
Aur Atoll is north of Majuro and has about 450 people, equally divided between Tobal and Aur islands. The other islands in the atoll are mostly uninhabited, though they're used for copra cultivation. The island specialises in making model canoes and large wall hangings. The lovely lagoon provides excellent snorkelling, and there's a good variety of tropical fish and coral.
Maloelap's Taroa (Tarawa) Island was the main Japanese airbase in the eastern Marshalls during WWII, and most visitors come to see its rusting war relics. The majority of them are now buried under thick jungle. There are several good, calm anchorages here.
Mili has friendly people and beautiful beaches. It has a population of just over 850.
Bikar and Taongi (Bokaak) atolls are rich in bird-life. Taongi is possibly the only example of a completely natural, unaltered, semi-arid atoll ecosystem remaining in the world today. Bikar has a large population of green sea turtles.
Bikini atoll now open to divers and sports fishermen. It has some of the best wreck diving in the world, as well as being able to fish in waters untouched for fifty years.
Ailuk Atoll is best known for still using and building traditional sailing outriggers. They make a beautiful sight as they skim across the water at 10 to 12kts as the Islanders visit their copra islands or go fishing in the lagoon.
Utrick is fortunate in having 6 kinds of cucumber present in the lagoon which the islanders harvest and dry for the Asian market. There is no pass as such, but just an area of deeper water over the reef. The anchorage is off the village of Utrick but beware of shallow patches, also the coral heads when crossing the lagoon.
Toke (or Taka) is one of these places you will really enjoy if you have a liking for undisturbed wildlife. Asked for permission in Utirik to visit this uninhabited atoll. Anchor in the sand in about 50ft.
Likiep Island has a beautiful, protected harbour. If available, the recently installed mooring buoy in front of the hotel provides a very comfortable stay. Contact Joe de Brum, manager of the Plantation Haus on VHF ch.16. Joe loves to talk to visitors and has been the yachties' friend for many years.
Courtesy Flag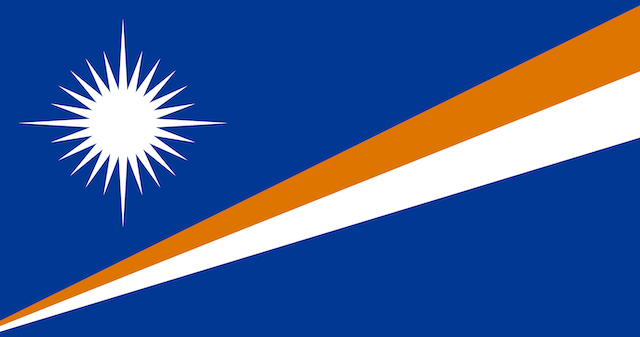 YachtFlags.com offers a discount to Noonsite members.
YachtFlags.com provides high quality courtesy flags that are manufactured in durable Knitted Polyester fabric. Knitted so that the fabric itself does not deteriorate in the constant movement that marine flags are usually exposed to, and polyester so that the flag does not weaken in the strong UV-light usually found in the main sailing areas of the world.
Use the coupon code NOONSITE_5A2B when checking out to get 10% off today.
Buy Now On YachtFlags.com