Previous Page
General Info
This lively city is the second largest in Croatia. It has a wealth of museums and Roman ruins and sits under a dramatic mountain backdrop. In southerly winds, this harbor can be very exposed.
Position 43° 30.30'N, 16° 26.40'E.
Split: © www.adrialin.fr
Clearance
Port of Entry.
The Harbour office is in the building with the green cupola in the NE corner of the harbor and is open 24/7.
Customs are based in the big building at the international ferry terminal on the SE side of the harbor.
Last updated: June 2015.
Docking
This is a busy harbor, but easy to enter in all conditions.
There are several berthing options, however, it is now forbidden to anchor anywhere in this harbor.
For marina berths, the large, sheltered ACI marina is a popular choice but that means arriving early afternoon and avoiding Friday and Saturdays during the summer to ensure getting a berth.
Various clubs also have berths here although prior arrangements might be advisable.
A quieter marina mooring may be found at the PSD Zenta marina. Another alternative is the luxurious Lav marina 3 miles east of Split.
There are two, more public, berthing spots in Split Harbour. One is at the quay just SE of the harbor office, and the other is the quay south of Diocletian's Palace. This one is free but very noisy.
The harbor is exposed to the S and SW and the constant movements of vessels cause a surge, although the marina is protected from most of this.
Photo of Split marina :©www.croatia.hr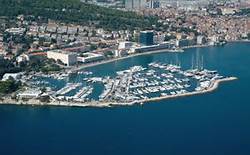 Anchoring
Anchoring is now forbidden in this harbor, and yachts that do so face substantial fines and their boat papers being confiscated until payment is made.
Last updated February 2014.
Related Businesses
Yacht Clubs
Related Businesses
Mornar Sailing Club

Address: Uvala baluni 1, Split, Southern Mainland, Croatia,

45 wet berths but only available for racers. 2 ton crane.... Read More
Places
Croatia, Southern Mainland (Trogir and southwards), Split