Previous Page
General Info
Northern group of islands lies NNE of Rarotonga at a distance of about 740 NM.
The northernmost island of the Cook Islands. Tongareva has the largest lagoon area of the Cook Island's atolls measuring some 18 miles across with depths of up to 350 feet. Like its nearest neighbor Manihiki, some 200 miles away, copra production (the drying of coconut flesh for vegetable oil extraction) was first replaced by pearl farming and now it is fishing which forms the primary source of income.
Frisbie's "Island of Desire" Isolated insular and renowned for its unusual social customs, Pukapuka lies far to the north-west, nearly 800 miles from Rarotonga and 280 miles north-east of Samoa. Only recently opened up to air-services, the population have preserved innovative ways of sustaining a comfortable life almost oblivious to the outside world. A substantially different dialect, finely woven mat and a passion for Kirikiti (island cricket of Samoan origin) are some of the things that set Pukapuka aside from the rest of the Cook Islands.
Suwarrow was for many years the home of a hermit, Tom Neale, who wrote of his life in a book An Island to oneself. Today a caretaker and his family live on the atoll for most of the year, their solitude disturbed only by occasional visiting yachts. Suwarrow is now a conservation reserve.
A large atoll with a deep lagoon, which is intensively farmed for cultured black pearls. These treasures are becoming widely sought after throughout the world, is produced only in the Cook Islands and French Polynesia. Much of the population on the island is involved in pearl production in some form or another. Every dawn is the start of a busy day on the lagoon cleaning and caring for the black-lipped oyster, diving or collecting spats (infant oysters). However, time is still found to make brilliant finely woven Rito specially prepared coconut fiber hats, fans and shell adornments. These are often used with dramatic effect in costumes of traditional dancers of the island.
Nassau
A small island in the satellite community of Pukapuka with a population of approximately 100 people. There is no airport, access is limited to inter-island ship from Rarotonga, a voyage of three days.
Rakahanga
Situated 25 miles northeast of neighboring Manihiki, Rakahanga is an atoll with a picturesque, almost totally enclosed lagoon. There is no airport and access is limited to a three-hour ride by small craft from Manihiki or a three-day voyage by inter-island ship from Rarotonga. A number of residents find regular work in the pearl industry on nearby Manihiki.
Courtesy Flag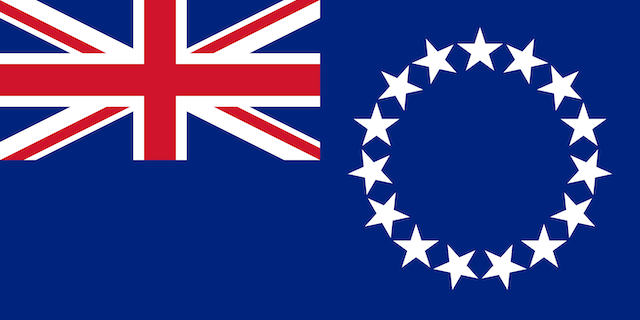 YachtFlags.com offers a discount to Noonsite members.
YachtFlags.com provides high quality courtesy flags that are manufactured in durable Knitted Polyester fabric. Knitted so that the fabric itself does not deteriorate in the constant movement that marine flags are usually exposed to, and polyester so that the flag does not weaken in the strong UV-light usually found in the main sailing areas of the world.
Use the coupon code NOONSITE_5A2B when checking out to get 10% off today.
Buy Now On YachtFlags.com
Publications
Cook Islands, Peru: Kon Tiki

A true classic: On April 28, 1947, the author and five other adventurers sailed from Peru on a balsa log raft. After three months on the open sea, encountering raging storms, whales, and sharks, they sighted land - the Polynesian island of Puka Puka. This is the record of an...

Read More