Previous Page
General Info
Description:
Rarotonga is the vibrant center of the Cook Islands and is where the government resides. Circular and only 32 km in circumference, it is dominated by high mountain peaks from which lush rainforests provide a dramatic backdrop to a palm-fringed shore.
Entrance Notes or Cautions:
The island is almost completely encircled by a reef, however, there is no navigable lagoon or free anchoring here.
Avatiu has the only harbor on the island and it has no facilities for visiting yachts. The harbor underwent a huge realignment and dredging project to straighten the east quay and dredge the basin to 10m in 2012. The end result is a better arrangement for yachts, however, locals warn that the harbor is now even more exposed and open to the north winds and seas brought on by frontal passages, due to the additional dredging (luckily most of the weather comes from the ESE).
In strong northerlies, this harbor does become untenable.
Position:
21° 12.06′ S, 159° 47.02′ W (Avarua harbour entrance)
Clearance
See Cook Islands Formalities for detailed clearance information.
On Arrival
It is important to call PORT CONTROL on VHF Channel 16 upon arrival. The Working channel is 12. It's unlikely you will get an answer before 9 am.
The Port Operations manager will direct yachts where to moor.
Officials will visit the yacht, however, they will all come at different times and some may not visit at all. It is important nobody goes ashore before clearance is complete so it can be frustrating waiting for officials to turn up.
Harbor dues must be paid in cash at the Harbour Office (Mon-Fri).
Immigration is at the other end of town by the Post Office, 3rd floor of the 3 story building.
Customs is above the book shop just before immigration. They accept credit cards.
It is possible to get clearance here to visit all the other Cook Islands.
Clearing Out
The departure fees are also paid to the Harbour Master's Office. These fees must be paid by 2:00 pm on a Friday if you plan to leave on the weekend. Then you must walk into town to the Immigration Office. Each person on board must fill out their own departure card. These cards, along with a crew list form, are submitted to Immigration and they will then stamp your passports. The Customs office is close by and is the final stop. A flat fee for officers' time is paid to Customs
Last updated: March 2020
Related Businesses
Cook Islands Customs Service

Address: Ministry of Finance and Economic Management, Avarua, Rarotonga, Southern Group, Cook Islands,

The Customs service is located in Avarua town on the island of Rarotonga, Cook Islands. The office of the Revenue Management's Division is situated above... Read More

Cook Islands Port Authority

Address: PO Box 84, Avarua, Rarotonga, Cook Islands,

The Authority is responsible for the ports of Avatiu on Rarotonga, and Arutanga on Aitutaki. It also maintains the channel, approach, berth depths, navigational aids,... Read More

Harbour Master – Cook Islands

Address: Ports Authority, PO Box 84, Rarotonga, Southern Group, Cook Islands,

Harbourmaster with the Cook Islands Port Authority. Responsible for responsible for the ports of Avatiu on Rarotonga, and Arutanga on Aitutaki. Contact for any maritime... Read More
Docking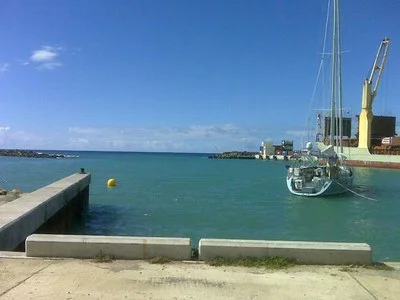 As an alternative to a mooring in Avatiu Harbour, yachts can anchor in the open ocean roadstead off the town. However, with the Trade Winds blowing it can be rougher at anchor here than at sea. The holding is very poor; flat hard coral with a couple of inches of sand over it.
Mooring in Avatiu Harbour
The harbor redesign has meant that there is more draft (10m) and the harbor now even has port and starboard entry buoys.
Mooring is still at the Southern end of the main harbor with stern to anchoring (Med style using own anchors). There are large black tires about every 2 meters along the wall.
There is now straight access to sea when moored, so less shelter than there was previously, particularly with a northerly swell. Surge can be a problem here. You will need a long bow line to shore to hold the boat in position. In strong northerly winds, the harbor is untenable.
Be prepared to use the dinghy for getting ashore. There is a ladder on the quay around the corner from where yachts berth, difficult to get onto from a dinghy.
A height restriction of 27m is in place at the north end of the wharf as yacht masts obstruct aircraft taking off from the nearby airport.
Harbor dues are charged on a daily rate by the foot (see latest costs reported by cruisers at bottom of the page under comments). Harbor facilities include a very basic washroom and shower for which a key deposit is required and a small charge.
Garbage is collected 3 days a week, there are no bins.
Whilst this report Tips for Mooring in Avatiu Harbour was written in 2010, much of the advice is still current.
Last updated: May 2018
Related Businesses
Harbour Master – Rarotonga

Address: Ports Authority, PO Box 84, Rarotonga, Southern Group, Cook Islands,

Contact this office on approach and for Cook Islands maritime queries. They also sell charts for the Cook Islands.

The office is between Avatiu Harbour and... Read More
Courtesy Flag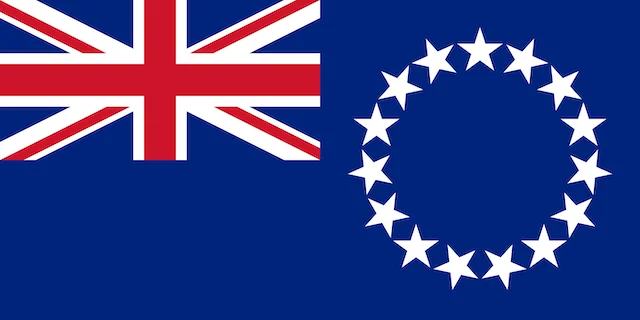 YachtFlags.com offers a discount to Noonsite members.
YachtFlags.com provides high quality courtesy flags that are manufactured in durable Knitted Polyester fabric. Knitted so that the fabric itself does not deteriorate in the constant movement that marine flags are usually exposed to, and polyester so that the flag does not weaken in the strong UV-light usually found in the main sailing areas of the world.
Use the coupon code NOONSITE_5A2B when checking out to get 10% off today.
Buy Now On YachtFlags.com
Places