Previous Page
General Info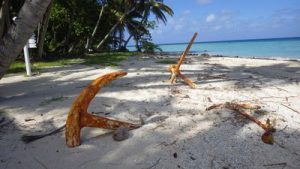 COVID-19: CLOSED
While maritime borders reopened on 1 May, 2022, Suwarrow National Park remains closed. No approval will be granted to any vessel seeking to visit Suwarrow in 2022. This will be reviewed again in early 2023.
All vessels entering the Cook Islands must land at Avatiu port, Rarotonga, as first port of entry. See Biosecurity for entry protocols.
Description:
Suwarrow was for many years the home of a New Zealand hermit, Tom Neale, who wrote of his life in a book "An Island to Oneself". Today, caretakers live on the atoll for most of the year, their solitude disturbed only by visiting yachts!
The 2021 Suwarrow Officers are Park Ranger Harry Papai and Assistant Park Ranger Tuaine Teiti.

The caretakers live on the Island from May to November (the Suwarrow National Park officially opens on 01 June) and a Cook island flag is flown from the flagpole on the jetty when the caretakers are there, and taken down each day at sunset.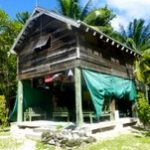 A cyclone shelter (two story building) was built to safeguard the Officers during their stay on Suwarrow. The foundation houses a big water catchment tank that takes water off the large steel roof. The first floor is open and serves as the living area and the officers office.
Supplies for the caretakers, such as fresh veggies, eggs, fruit and fishing lures would be greatly appreciated. Just sharing a few meals on the beach over some beers, or joining in a musical session, would also be enjoyed, however, there is a time restriction of 7pm unless permission is granted by the Park Ranger.
Entrance Notes and Cautions:
The pass is wide and lines up with Entrance Island on the other side of the lagoon. From 13º14.5S 163º06.0W a course of 178ºT will take you through most of the pass. The depth goes down to 5 meters then increases just before reaching South Reef, situated in the center of the inner end of the pass. This can be seen just below the surface if the light is good and waves will break on it if there is a swell. It is possible to turn to starboard once clear of the Anchorage Island Reef, and pass between it and South Reef. Or turn to port leaving South Reef to starboard and go around it, before turning towards the anchorage.
Anchoring is only permitted at Anchorage Island. The Park Rangers has a designated anchorage point. Other islet are off-limits to all vessels.
August 2014 saw a 47ft Amel beached on the reef when their anchor chain broke – a reminder of how exposed this anchorage can be in bad weather.
Position:
13° 14'28″S, 163° 06'01″W
Clearance
Pre-Application to Arrive at or Depart from Suwarrow Island:
Suwarrow Island is NOT a nominated Customs Port of Entry.
Marine craft intending to arrive at or depart from Suwarrow Island MUST obtain authorization from the Cook Islands Customs in advance.
Complete the form: Cook Island border agencies application for marine craft to arrive at or
depart from a place outside of a designated Customs port, and email to: [email protected] or fax to (+682) 29465.
Cook Islands Customs will consult with the Ministry of Agriculture, The Ministry of Foreign Affairs and Immigration, the Ministry of Health, the Ministry of Transport, the Cook Islands Police and the National Environment Service before granting an authorization to arrive at Suwarrow Island, and has the right to deny the application.
Failure to arrive at a nominated Customs Port of Entry without authorization is a criminal offense punishable by a term of imprisonment not exceeding two years or a fine not exceeding $100. Customs officers may also elect to detain/seize your craft pending prosecution.
Clearance Process:

The Suwarrow officers are able to provide official Cook Islands border clearance papers if permission has first been obtained from Customs and Immigration to visit Suwarrow first.
See Cook Islands Formalities for complete clearance information, plus details of the latest fees.
The caretaker usually comes out to your boat for the entrance papers in the morning between 8am and midday, so if you arrive in the afternoon you can expect them the next morning.
Boats are requested to ensure that they do not introduce rats, mice, fire ants, or any other invasive species. Also to fumigate the boat before arrival. This is a pristine environment, and it is important to keep it this way.
Park Rules:
Suwarrow is a national marine park and visitors are urged to preserve its environment. In order to keep the park as pristine as possible and to keep visitors safe, some rules have been put in place. These include:
1. Spear fishing is not permitted
2. Scuba diving is not permitted
3. The taking of coconut crabs is not permitted
4. Permission must be sought from the caretaker before visiting other islands in the atoll.
The caretakers maybe able to take visitors to other motus and snorkeling sites, however, this will depend on their availability. Charges maybe imposed by the Rangers and this may vary from cash payment to gas etc.
For further information on Suwarrow National Park, see here or contact the National Environment Service at: [email protected]
Last updated: July 2021
Docking
The caretakers have a VHF radio and you are able to call them on Ch.16, call sign "Suwarrow".
Anchorage:

The anchorage at Suwarrow is not very big. It's deep water requiring lots of scope, so when the wind shifts things can get interesting. Buoying your chain is definitely recommended.
The anchorage is sand and coral from 25 meters down to 14 meters or so if you tuck in beyond the jetty. It is sheltered from Easterly winds but would be exposed to a Westerly and it totally open to the South, with a long fetch across the lagoon.
It is not permitted to anchor elsewhere in the lagoon.
Yachts would have to see if a strong westerly was forecast as the long fetch in the lagoon can cause large waves, which break across the entrance making conditions hazardous.
As the bottom is patchy sand and coral, it is well worth snorkeling to take a look that your chain is not around a coral head before lifting anchor. Visibility is good, so a snorkeling in the water can give directions to untangle any fouling, even in the deeper parts of the anchorage.
Dinghy landing is on the north side of the rock jetty that does not extend right out to the edge of the reef, so outboards have to be lifted for the last few meters.
Yachts must take their rubbish away with them, as there is no facility for disposing of rubbish on Suwarrow.
Last updated: July 2021
Courtesy Flag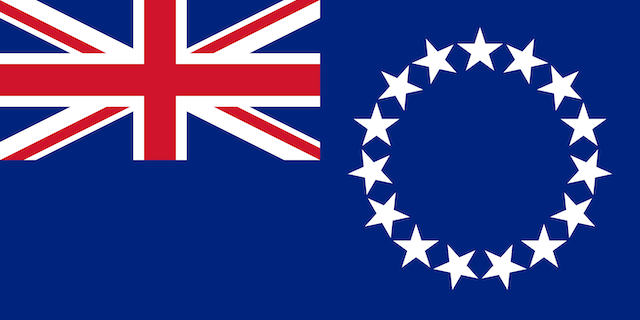 YachtFlags.com offers a discount to Noonsite members.
YachtFlags.com provides high quality courtesy flags that are manufactured in durable Knitted Polyester fabric. Knitted so that the fabric itself does not deteriorate in the constant movement that marine flags are usually exposed to, and polyester so that the flag does not weaken in the strong UV-light usually found in the main sailing areas of the world.
Use the coupon code NOONSITE_5A2B when checking out to get 10% off today.
Buy Now On YachtFlags.com