Previous Page
General Info
The population is small, about 260, and concentrated in the main village of Omoka, on the western side of the atoll and the second village, Te Tautua, which is on Pokerere Islet, on the eastern rim.
The main source of income here used to be black pearls, but that has collapsed and now the locals derive income from exquisitely woven hats and bags made from coconut tree leaves.
NOTE
There are some local rules, which if not observed by cruisers, will cause problems. Ask about any other rules, but these two are the major ones.
– Firstly, they are very strict about Sundays….absolutely no work, business or play allowed. The dinghy cannot be used except to go ashore for the church. There will be no work allowed on the boats, no swimming, snorkeling or other activities not related to the church. They are very strict about this. Also, no boats will be allowed to leave on a Sunday.
– Secondly, No moving the boat without permission or visiting another motu before obtaining an agreement from the village council.
The locals are reported to be very friendly.
Position 08° 57'34″S, 158° 03'43″W
Clearance
See Cook Islands Formalities for complete clearance information.
VHF Ch.16 is the official frequency, however, there is no listening watch and officials will call you when you are seen.
Anchor off Omaka village on the south side of the Taruia Pass. There is also a wharf where it is possible to come alongside if there is no surge.
You will be asked to go ashore in your dinghy to collect the officials for clearing-in. The Penrhyn atoll Island Secretary acts as the Customs and Immigration Officer. His office is located near the Post Office, Community Centre, and bank.
After clearance, you must get permission before moving elsewhere in the lagoon.
The Island Secretary requires one day's notice of departure. Anyone on the atoll will call him for you. Passports are collected and fees paid at this time. (see Cook Islands/fees section)
Last updated: May 2015
Docking
Takuua and Taruia passes are not difficult to navigate unless passage is attempted during extreme weather conditions. The lagoon has numerous coral patches, but with good light, they are easy to see and many are marked with poles.
There are no longer any pearl or oyster farms in the lagoon.
The anchorage in front of Omaka village is in about 40ft in sand and coral but can be rough if there is a strong Easterly blowing.
One good sandy patch near Omoka is at 08°58.7′ S, 158°03.1′ W.
Omoka has a small inner harbor for small fishing boats just north of the commercial wharf. This provides a safe and secure place for leaving the dinghy.
Both north and south of Te Tautua Village there are sandy anchorages in about 20ft which are much more protected.
Last updated: September 2011
Courtesy Flag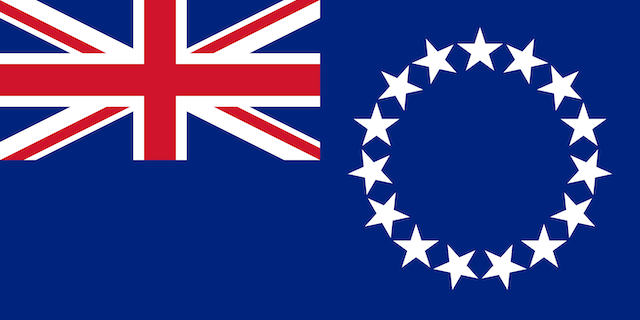 YachtFlags.com offers a discount to Noonsite members.
YachtFlags.com provides high quality courtesy flags that are manufactured in durable Knitted Polyester fabric. Knitted so that the fabric itself does not deteriorate in the constant movement that marine flags are usually exposed to, and polyester so that the flag does not weaken in the strong UV-light usually found in the main sailing areas of the world.
Use the coupon code NOONSITE_5A2B when checking out to get 10% off today.
Buy Now On YachtFlags.com