Previous Page
General Info
Hurricane Irma – the most powerful Atlantic hurricane in recorded history – ploughed over the top of the BVIs in early September 2017. The storm had a sustained wind speed of at least 185mph. This port was badly damaged and reconstruction work continues.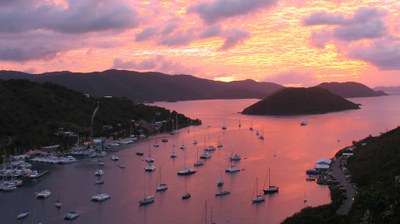 Soper's Hole, Tortola: © www.travelchannel.com
Located on the western tip of Tortola on Frenchmans Cay, south of the West End ferry terminal. There is a bridge connecting the Cay to the main island.
Position 18° 23'09″N, 064° 42'14″W
Clearance
For full details on clearing into and out of the BVIs see the BVIs Clearance section.
Note that the authorities here do not use the Sailclear system, even though the BVIs are listed on the Sailclear website.
Offices are at the ferry dock at West End. Ferries from the US Virgin Islands stop here, which can mean clearance takes longer if a ferry arrives.
West End is a good base for an ESTA US visa waiver run (in other words, an easy way to get a US visa). Costs (2015) reported for 2 people are:
ESTA fee: $28.00
BVI Departure tax $20.00
USVI Departure tax $40.00
Ferry $120.00
Total: $208.00
This is cheaper and much less time consuming than obtaining a full visa for the USA, but is only valid for 3 months.
Last updated: August 2018
Docking
Soper's Hole Marina was aiming to have the majority of the reconstruction completed and businesses operational on or before December 1, 2018 (this includes fuel and ice). Updates from cruisers who visit would be very welcome.
Anchoring
There used to be good anchoring in this harbor, especially in the northeast part where there is good holding over sand in 7 to 9m. Space for anchoring, however, is now very limited due to the expanded mooring field.
Moorings
There are many mooring buoys in the harbor available for nightly rental (at $30/night). A boat comes around at about 17:00 hrs and collects fees. WiFi is not included in the mooring fee and WiFi in the harbor is expensive.
Refuse disposal and water are available at the dinghy dock at the ferry terminal.
Marinas
The marina here now has slips available for visiting yachts. The grocery store at the marina is due to open in early 2019.
Last updated: December 2018
Places
British Virgin Islands, Tortola, West End (Sopers Hole)