Previous Page
General Info
Set in one of the finest and most central locations in the BVI, Nanny Cay is located on the south side of Tortola, between the capital Roadtown and West End. The marina provides some of the very best marine services and facilities in what is a top sailing destination. The island of Tortola itself is tropical, with many breath-taking sights and great places to visit. Nanny Cay has always been known as a well-protected marina, with beautiful surrounding hills and a relaxed feel about it.
During 2016 an outer marina development opened, meaning there are now two entrances to the marina with yellow hazard buoys marking the reef between the two channels (see photo below).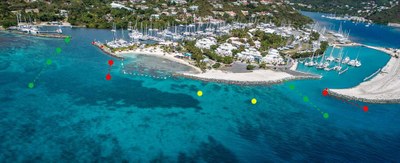 Position: 18°24′ N, 064°38′ W (marina)
Clearance
Nanny Cay is not a Port of Entry. Heavy fines can be handed out by Customs to those that go direct to Nanny Cay.
Yachts requiring clearance must proceed first to one of the ports of entry. See BVI Main Ports for a list. On Tortola, Ports of Entry include Road Harbour and West End.
Docking
Arriving yachts should call the Marina Dockmaster on VHF Channels 16/68 just prior to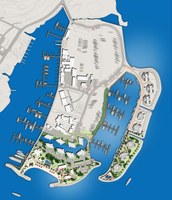 arrival so instructions on where to moor can be given. The marina office is open from 08:00 to 18:30, 365 days a year.
If you have been to Nanny Cay before, the entrance to the marina will look a little different, and if you are coming to Nanny Cay for the first time it will likely look different to your charts and cruising guides. See photo for an idea of what to expect.
New docks have been installed in the outer marina making just over 100 slips using "med-mooring". The inner marina is almost complete, with 4 docks installed and several more planned.
A to K docks are in the inner marina starting from the entrance, L to R docks are in the outer marina starting from the entrance.
There is just the marina here – no moorings and anchoring is not permitted.
Due to its small size and popularity, it is advisable to make a reservation in advance of arrival. See the marina website for more details.
Last updated: May 2019
Places
British Virgin Islands, Nanny Cay, Tortola