Previous Page
General Info
COVID19: CLOSED PORT
Aruba Port Control do not allow yachts to clear in Oranjestad at the current time, all vessels must clear into the country at Barcadera.
See yachting protocols at Aruba Biosecurity.
Description:
Oranjestad, the capital of Aruba, lies at the northern end of the southwestern coast. The harbor is found behind three long barrier islands. Barcadera container port lies 3NM to the SE. There are also marinas and a variety of places to anchor.
Oranjestad is the island's largest city and is often called "Playa," it has a population estimated at 30,000. The town was built around the 1796 Fort Zoutman and has a variety of historic buildings and museums.
Cruiser highlights:
Outside of the hurricane belt; English speaking; good provisioning; convenient marinas; boatyard and storage; airport; beautiful beaches; duty-free imports; good bus system; restaurants and diverse tourism options.
Entry notes or cautions:
Before entering the harbor from sea, call Aruba Port Control on VHF CH16/11 for permission to enter you will be directed to one of two docks.
For Oranjestad/cruise ship docks the Port Control suggests using the NW entrance for approach and head towards H pier.
NW entrance: 12° 31′ N, 70° 04′ W
H pier: 12° 31'285″ N, 70° 02'709″ W
Position: 12° 30'3″ N, 70° 02'15" W (SE entry buoy to Oranjestad harbor)
Clearance
Currently Aruba Ports sends all yachts to Barcadera harbor to do the clearance.

Covid-19: there are specific clearance protocols for yachts – see Aruba Biosecurity for details.
See Aruba Formalities for detailed information on Clearance, Customs and Immigration Rules.
On approach call Aruba Ports Authority on channel 16. The port Captain will probably want to switch to channel 11 or 14. You will be directed to one of two ports; Oranjestad cruise ship docks or Barcadera for clearance.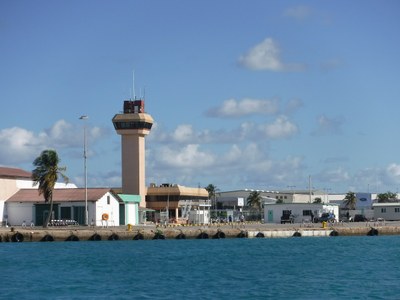 General Clearance Oranjestad:
Customs agents are present in Oranjestad harbor, the Immigration officer will have to come down from Barcadera. Calling in your arrival 1/2 hour in advance will expedite the clearing in process.
Proceed NW past Renaissance Marina towards the second basin (see image). The port captain will assign you a place to tie up on one of the harbor docks. This will most likely be at the second basin, to the west of the long cruise ship dock, at the "Hans dock" to port 12° 31.285′ N 70° 02.709′ W.
The authorities are on the 2nd of the two big piers which has a small white building at the end of the pier and a lone palm tree (see photo above). There are big yellow bollards along the pier, which is made of rough concrete and has big tires chained along it.
If you ask, the Port Authority may let you tie up along the concrete behind the big tug on the outer face of the pier. There is about 50 feet of concrete pier with no tires just behind that tug. If you tie up behind the tug the prevailing winds should be pushing you away from the pier.
Be sure to prepare long mooring lines which will be exposed to quite a bit of chafe as it can be choppy here with the wake from passing ships. It is likely you will be berthed between 2 tug boats. A fender-board or lots of fenders are recommended.
The Immigration and Customs officers will come to your vessel to do the clearance. All crew must stay on board. Both agencies will arrive at your boat by car, will take your forms and documents back to their offices and return in short order with your clearances.
Call Aruba Port Control on vhf 16 when departing the pier.
Last updated: December 2020
Related Businesses
Aruba Ports Authority

Address: L.G. Smith Boulevard Z/n, Oranjestad, Aruba,

Call the Aruba Ports Authority on VHF Channel 16 to arrange safe harbor entry. The Harbor Control Tower will provide guidelines for mooring.... Read More

S.E.L. Maduro & Sons (Aruba) Inc.

Address: Rockefellerstraat 1, Oranjestad, Aruba,
Docking
Besides the Wind Creek Marina, which is convenient for the town, there are two yacht clubs where visitors may sometimes use the moorings as well as a variety of anchoring options.
Anchorage:
Bucuti lagoon/ SE Airport: The most protected anchorage on the island, thus very popular in bad weather. Holding is good.
Surfside Beach/ Airport Anchorage: Good holding in 7 to 9ft if you ensure you are dug into sand. It is a short walk into the town.
Dinghy Docks:
Request permission to tie your dingy to the Surfside Marina dock or the Renaissance Marina dinghy dock. Garbage can be disposed at the compactor south of the conference center.
Marinas:
Down the coast from Oranjestad, near Spanish Lagoon, is the Aruba Nautical Club, which has berths, fuel, water and electricity. Members of other yacht clubs may use the facilities, but should check in advance.
Between Oranjestad and Spanish Lagoon, just south of the airport, is the Bucuti Yacht Club which also has docking space and may have room for a visiting yacht.
Varadero Aruba, right next to (NE of) BYCA, accepts visitors, has haul out facilities by travel lift and a Roodberg trailer for vessels up to 60 tons and 36ft beam, and has dry storage.
Last updated: December 2020
Related Businesses
Yacht Clubs
Related Businesses
Aruba Nautical Club

Address: Balashi z/n, Oranjestad, Aruba,

Location 12° 28' S, 69° 58' W ,

This club has a small marina south of Oranjestad.

Water, electricity, fuel, bar, and restaurant.

'Varadero Caribe' is a marina... Read More

Bucuti Yacht Club

Address: Bucutiweg 38 ZN, Oranjestad, Aruba,
Courtesy Flag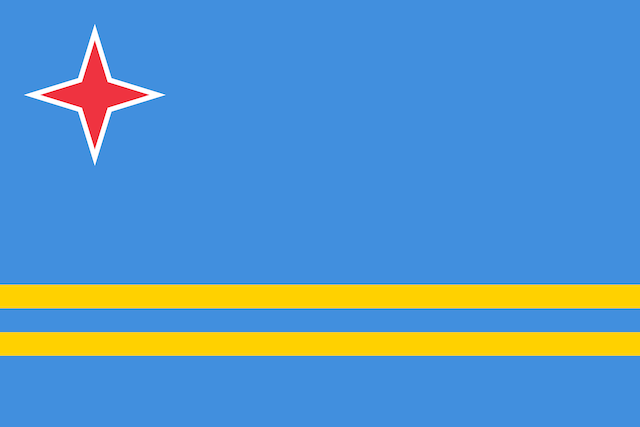 YachtFlags.com offers a discount to Noonsite members.
YachtFlags.com provides high quality courtesy flags that are manufactured in durable Knitted Polyester fabric. Knitted so that the fabric itself does not deteriorate in the constant movement that marine flags are usually exposed to, and polyester so that the flag does not weaken in the strong UV-light usually found in the main sailing areas of the world.
Use the coupon code NOONSITE_5A2B when checking out to get 10% off today.
Buy Now On YachtFlags.com
Places