Previous Page
General Info
COVID19: OPEN PORT
Aruba Port Control do not allow yachts to clear in Oranjestad at the current time, all vessels must clear into the country at Barcadera.
See yachting protocols at Aruba Biosecurity.
Description:
Barcadera container port is located 3 miles South East of Oranjestad. The majority of ships and cargo are handled in Barcadera and the commercial port is off-limits to yachts. That said, this is where recreational craft must clear into Aruba.
https://www.arubaports.com/main/barcadera/
Cruiser highlights:
Easier clearance than Oranjestad harbor; outside of the hurricane belt; English speaking; good provisioning; convenient marinas; boatyard and storage; airport; beautiful beaches; duty-free imports; good bus system; restaurants and diverse tourism options.
Entry notes or cautions:
Before entering the harbor from sea, call Aruba Port Control on VHF CH16/11 for permission to enter.
The entry buoy to Barcadera harbor is at: 12° 28'834″ N, 70° 00'430″ W.
Customs dock Barcadera is at: 12° 28'855″ N, 70° 00'014″ W.
Position:
12° 28'834″ N, 70° 00'430″ W (entry buoy to Barcadera harbor)
Clearance
During Covid-19 there are specific clearance protocols for yachts – see Aruba Biosecurity for details.
See Aruba Formalities for detailed information on Clearance, Customs and Immigration Rules.
On approach call Aruba Ports Authority on channel 16. The port Captain will probably want to switch to channel 11 or 14. You will be directed as to where to berth.
General Clearance Barcadera:
The container terminal is off limits to yachts.
You will have to tie up to the North West dock with the wood face board.
There is a shoal in front of this dock.
The entry buoy to Barcadera harbor is at 12° 28.834′ N 70° 00.430′ W.
Customs dock Barcadera is at 12° 28.855′ N 70° 00.014′ W.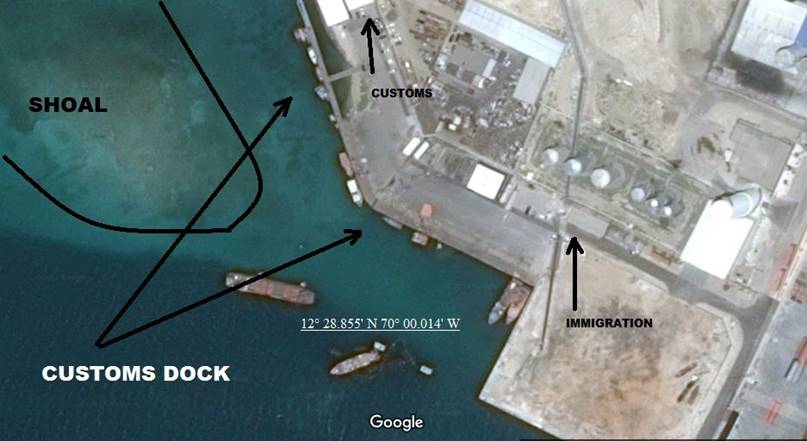 Enter the ship channel and pass in front of the blue freighter called 'Oceanic 1' to go to the customs dock leaving 'Oceanic 1' to port (pass in front of its bow). This way you will miss the shoal West of the dock.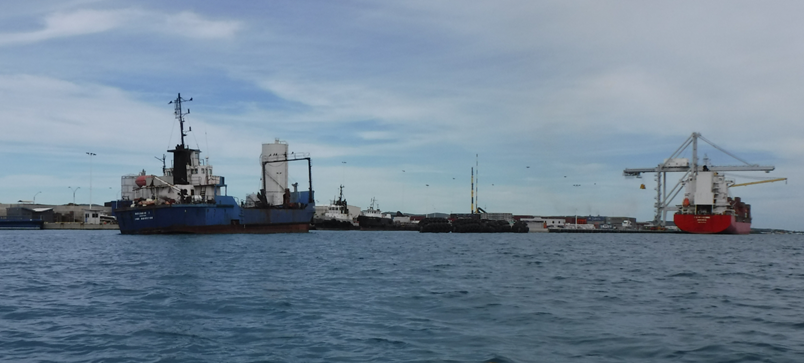 In front of the black, grey, and white tug tied up in the corner (behind the large black fenders in the picture below) there is 10 ft / 3M of water. Past the dogleg in the pier, where the pier changes from concrete to a wood face board, there is a maximum of 7ft / 2.1M of water – staying close (one boat width) to the dock.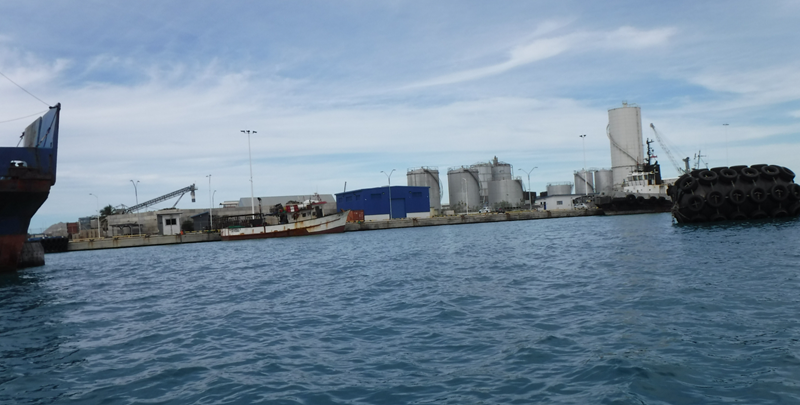 If you go to the end of the (wooden) dock, stay close to the dock or the vessels tied to the dock to stay off the shallows. Up to 7 ft / 2.1M draft can go to the end, but you do need to stay close to the dock.
If your draft is over 10ft / 3M call Aruba Port control for instructions. They might send you to the Container terminal in Barcadera or send you to Oranjestad. The Barcadera Customs dock area does not look nice, but it is a nicer and easier dock to tie up to than the container dock or Oranjestad harbor.
Contrary to clearing in Oranjestad where you have to stay aboard for the officials to come to your yacht, in Barcadera you will have to go to the Immigration and customs office on the dock. All crew must remain on board. Officials are pleasant and efficient.
Before departing the harbor (or when making any movements within the harbor) call Aruba Port Control to make sure there is no other traffic. This is a precaution to avoid yachts from being run over by large steel ships.
Last updated: December 2020
Docking
Courtesy Flag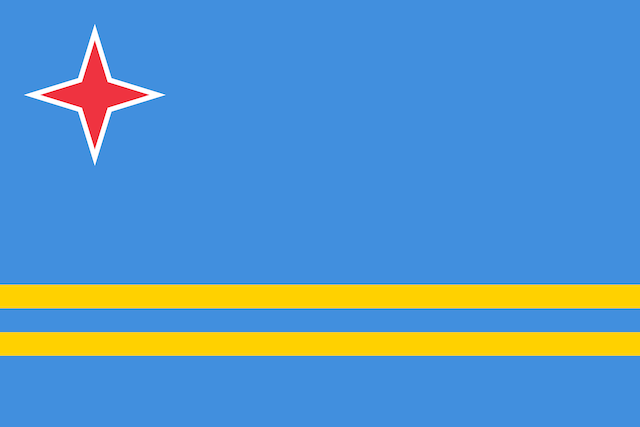 YachtFlags.com offers a discount to Noonsite members.
YachtFlags.com provides high quality courtesy flags that are manufactured in durable Knitted Polyester fabric. Knitted so that the fabric itself does not deteriorate in the constant movement that marine flags are usually exposed to, and polyester so that the flag does not weaken in the strong UV-light usually found in the main sailing areas of the world.
Use the coupon code NOONSITE_5A2B when checking out to get 10% off today.
Buy Now On YachtFlags.com