French Polynesia: Significant Changes to Anchoring Restrictions for Cruising Yachts
Many common destinations throughout French Polynesia are now being placed under stringent anchoring restrictions, with visiting yachts being made to use mooring balls or forced into marinas.
Published 3 years ago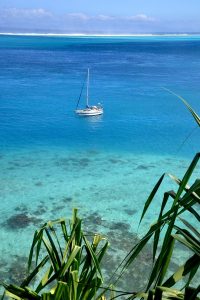 Update: February 5, 2020
A new set of red and green channel marker buoys have been placed in a popular anchorage close to Marina Taina, Papeete. These buoys increase the width of the channel as it approaches the marina and decreases the space available for anchoring.
In an update on the situation, Ryan Levinson told Noonsite that the latest "official" decree to the AVP is that the entire anchorage will be cleared in April. The new marks effectively widen the channel in the part of the anchorage near marina Taina and boats are being cleared out of the "new" channel as it's illegal to anchor in a channel.
Anchoring prohibited in many areas
November 2019: Reports from long-term cruisers in French Polynesia are being received that yachts are being prohibited from anchoring in many popular areas, being made to use moorings that are in some case not robust or are being forced to find berthing in marinas.
Anchoring is now prohibited in Papeete, Bora Bora, S Fakarava and severely restricted in Moorea, Raiatea and Huahine.
The Association des Voiliers en Polynesie (AVP) says the DPAM (Maritime Affairs Department in French Polynesia) has informed the AVP, without showing any legal documents to that effect, that in fact anchoring was illegal throughout Polynesia and that regulations were being drafted to confirm these prohibitions wherever required.
AVP is monitoring the situation and endeavouring to work with authorities on this complex issue. Their current report on the situation can be viewed here.
Situation changing daily:
Ryan Levinson from SV Kiapa Nui who is the USA representative of the AVP summarises the developing situation;
"It is changing by the day. However, there are some key legislative votes taking place in the near future that will codify the situation in a few regions. In the meantime enforcement, the pace of the rollout, etc/ are still very much in the air.
"Unfortunately it is a complex issue and in part relates to the explosion in the number of cruisers in the area after the law changed to allow boats to stay three years instead of three months. This means there are a lot more boats crowding anchorages near peoples' homes.
"Many feel like they are being invaded and that their hospitality is being taken advantage of. When you couple that with the increased pressures on the environment from anchoring in coral for example as there are fewer available spots with sand, it is easy to see why there are protests and regulations intending to control cruisers' behavior."
Police clearing anchorages:
Behan Gifford, circumnavigator and long-term blogger of Sailing Totem (and currently planning a Pacific passage to French Polynesia), told Noonsite;
"The anchoring ban is happening very quickly, with cruisers reporting police clearing anchorages. Marinas filling up creates a very real problem and moorings – when available – are problematic (not enough, not insured, not robust… not cheap, either). Stated intentions are to grow this nationally, although for now it is focused on common destinations.
"A yacht arriving in the Taina anchorage (Tahiti) recently did not see any evidence of the anchorage being cleared. Unfortunately part of the challenge with this issue has been getting clear information," said Behan.
Related Content:
French Polynesia: Current Situation on Anchoring Restrictions from AVP
French Polynesia, Bora Bora: New Anchoring Restrictions for 2019
Related Links:
Time to Skip Tahiti – Sailing Totem blog
"No Plan B" for boats anchoring in Outumaoro – (in French but use Google Translate)
………………………………………………………………………………………………………………………………………
The opinions expressed in this article are the author's own and do not reflect the view of Noonsite.com or World Cruising Club.