Indian Ocean: Covid19 Field Report
Andrew and Leslie Godfrey, on passage from Sri Lanka to the Maldives as COVID-19 restrictions stepped up a gear this week, describe their experience and how the current global crisis has affected their cruising plans.
Published 3 years ago
Challenges of Moving Ports:
We have been sailing our circumnavigation since 2016, leaving out of San Diego, California. This year, we were scheduled to cross the Indian Ocean, and we cast off out of Thailand February 1.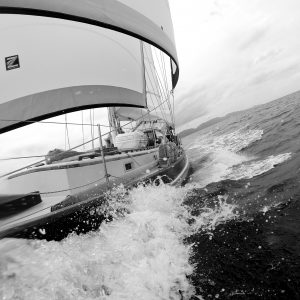 Sri Lanka:
Mid-passage, Covid19 documentation requirements changed heading to Sri Lanka. We do not have the ability to download documents at sea and so we had a bit of concern about what we could do. Upon arrival to Sri Lanka, we hailed port control, and were informed we were not allowed into the sheltered water of port until we could provide the documents. We hove-to off the shoreline and, luckily, were able to use ORoaming (an electronic SIM card service on our OPPO phones) to buy an electronic SIM and pull in the documents while hove-to just outside.
We enjoyed a nice stay in Sri Lanka until the end of our visa, then cast off to Uligan, Maldives.
Again, things changed mid-passage. Europe and Iran's infection numbers were climbing, and a number of famous individuals in the United States and Canada were diagnosed with Covid19. Travel bans started to go into place.
Maldives:
We made port to Uligan, Maldives on March 12 and that same day Maldives declared a state of emergency with 8 Covid19 diagnosis within their country. Our check in procedures were interrupted with officials being called to an emergency meeting. They finished the check in later that evening, and we were all glad to be into port.
The next morning, circumstances changed again. We were not placed in an official quarantine (as we can swim and visit other yachts), but we are participating in isolation procedures, and we are not allowed ashore until at least March 23, 2020 and we believe that limitation will be extended for additional time. We are required to track any onset of symptoms and sign off every day that none of those symptoms are present. We are also instructed to log any local people who visit our boat, however, we are also informed local people should not be visiting our boat.
On an hourly basis announcements are coming out of various countries around us that their borders are closed to travel and that includes sailors. No one is giving "passage length" warning of these decisions, and they are not taking pity on sailors who are mid-passage out at sea. We are aware of sailors who have been turned away from various ports. Decisions about port closures come in hours, not days at this time.
We are grateful to have safe harbor right now, and we are planning to sit tight until the dust settles and travel becomes more reliable again. As sailors, we love our freedom of movement, and before this week we had a hard time believing we would be denied entry and forced to float around at sea, but Andrew and I are considering that a real risk right now. We don't want our sailing friends casting off from any safe port without at least considering this as a real possibility.
Stay safe out there.
Andrew and Leslie Godfrey
Update today from Leslie: They closed the border to new arrivals last night (19 March) at midnight.
…………………………………………………………………………………………………………………………………..
Please share your current experience with COVID-19 restrictions and how it has affected your cruising plans. Contact Sue at [email protected] with your field report.
…………………………………………………………………………………………………………………………………..
The opinions expressed in this article are the author's own and do not reflect the view of Noonsite.com or World Cruising Club.