Fiji: Covid19 Field Report
This US yacht departed New Zealand for Fiji the day before a nationwide border lock down, while Fiji's borders were still officially open. On passage the Skipper learnt that Fiji had closed its borders.
Published 3 years ago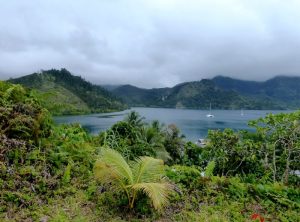 I departed New Zealand the day before a nationwide border lockdown and departed for Fiji while the borders were still officially open. I followed all procedures to the "T", mainly sending an advanced notice of arrival (C2C form) and requested confirmation in writing acknowledging receipt and confirming approval to arrive within an estimated 10 days. I received the requested confirmation and was advised that I would have to complete a 14 day quarantine, which included time at sea starting the day after my departure.
While on passage, I had satellite phone communications and was informed when I was 300nm out that Fiji had closed it borders, including to yachts. At this point, I decided to proceed and notified the U.S. Embassy, through a friend, of my concerns. They made some contacts and received confirmation that I would be let into the country as long as I had filled out my form and completed a 14 day self quarantine, so nothing new.
Upon arrival, I shared my location and was advised to complete my quarantine period. I did. I then contacted Port Control over VHF for hours without response, so I decided to start sailing towards the marinas. The navy stopped me and said, "Oh, you're the special case." They made some calls, and allowed me to proceed to the marinas.
The next day I went in to check in as agreed. Biosecurity, Health and Customs. Health was first and took my temperature and made me fill out a simple coronavirus questionnaire. Then, Biosecurity and Customs came on board. They told me they couldn't clear me in until Health approved.
Around 4 hours later, they said they were only clearing me in for permission to fuel and then I had to leave the country. There was a Category 5 cyclone arriving the next day. I had to contact the U.S. Embassy again and they assured me I would have no troubles. They contacted Fiji and orders went down the chain of command until finally reaching me, about 2 hours later. Everything seemed like it was finally going to work out.
I got impatient because of the cyclone threat and started taking down my sails. They asked what I was doing and I told them I was preparing for the cyclone and they said, "Stop what you are doing, you are going to need them, we're clearing you in for fuel and then you must leave the country." At this point, I raised my voice at them out of frustration, anger, and fear. What I thought wasn't possible, became too real and I broke down. A few phone calls with the U.S. Embassy later and a total of 8 hours from when we started I was finally cleared in.
There's a lot more to this story, a lot more contacts, a lot more communications, a lot more involved people, but this story should provide first hand evidence that Fiji will not allow yachts to enter the country while the borders are closed. Getting the Embassy involved and the written evidence of approvals beforehand are the only reasons I got in.
Jose Castello
S/V Carthago (USA)
…………………………………………………………………………………………………………………………………..
…………………………………………………………………………………………………………………………………..
Please share your current experience with COVID-19 restrictions and how it has affected your cruising plans. Contact Sue at [email protected] with your field report.
…………………………………………………………………………………………………………………………………..
The opinions expressed in this article are the author's own and do not reflect the view of Noonsite.com or World Cruising Club.