Another informative and useful cruising report from the crew of Starry Horizons (a US-flagged 44-foot catamaran) who after cruising the Maldives continued westwards across the Indian Ocean to explore Seychelles, reporting their time there as "the highlight of the Indian Ocean so far". Starry Horizons was in Seychelles from June 13th to September 22nd, 2019.
Published 4 years ago
St. Pierre, Praslin
Arriving in Seychelles
Clearing in was very easy – we hailed Victoria Port Control on the VHF, who advised us to anchor in the quarantine zone and gave us coordinates. They gave us an ETA for the officials via boat, and they were only slightly later than expected. We both filled out a lot of paperwork (often the officials spoke over each other to tell us what to do). There were about eight of them onboard, so it was overwhelming.
Within 48 hours, you must go to the Port Authority office to pay for the boat transport fee for the officials. The "Boarding Fee" was 300 SCR (this is different from the 3000 SCR "Launch Service for arrival clearance" fee that we paid upon departure).
At the Port Authority office, we were given a form detailing the fees we would have to pay on departure.
And with that, we were official!
Cruising Permit
In order to cruise the islands in the Praslin Group, we had to apply for a "Local Port Clearance Form" with the Authority. We went to the office on a Friday, as it is closed on the weekend. Technically, you are supposed to get the form no more than 24 hours prior to your departure of Mahe – we left Mahe on Sunday, two days later. Also, you are supposed to have an itinerary with locations and dates. We said that we didn't know where or when we would be going but we would be gone for three weeks at the most. On the form, the official put "Praslin Group" for the place and from "28/06/2019" to "19/7/2019" for the dates. This form is 50 SCR. No one ever asked to see our form.
Visa Extensions
With our arrival into Seychelles via boat we were not concerned about our visa as we were flying out two days later (and the officials knew it). Upon arrival back into Seychelles at the airport, we were given 30 days.
One boat that sailed in was only given 14 days.
We did have to extend our visas twice. We found the form online and filled it out, then visited the main immigration office in town. (Note: This is a different Immigration office than the one in the New Port). You can spend a total of 90 days in Seychelles for free. For more time beyond that, you must pay. Immigration will keep your passport and tell you when to pick it up again. It takes three or four days, so give yourself time.
We should have gone ahead and applied for the 60-day extension, bringing our visit to 90-days, instead of having to extend twice. Lesson learned!
Temporarily Importing Your Boat
Most countries we have been to have allowed Starry Horizons to stay legally for much longer than David and I have been allowed to stay. For example, in Fiji, visiting yachts are allowed to stay for 18 months, while persons are allowed to stay for four months. In Seychelles, both us AND Starry Horizons were initially given just 30 days.
In order to stay longer than 30 days, we had to apply for a temporary importation permit for Starry Horizons. I was in contact with the very helpful Customs agent, Samantha, who assisted me via email. She told me which files I needed to send in, and then when the paperwork was sent, she gave me a list of agents to use.
We used Jude Daniel Marimba. I sent the paperwork to him on July 8th. Our initial 30 days was up on July 13th. Jude seemed to be good about keeping Customs in the loop, and as long as you have the process underway, Customs is happy.
Jude sent us and customs our Import Permit on July 18th, and we received a Letter of Approval from Customs on July 22nd. Both were valid for one month.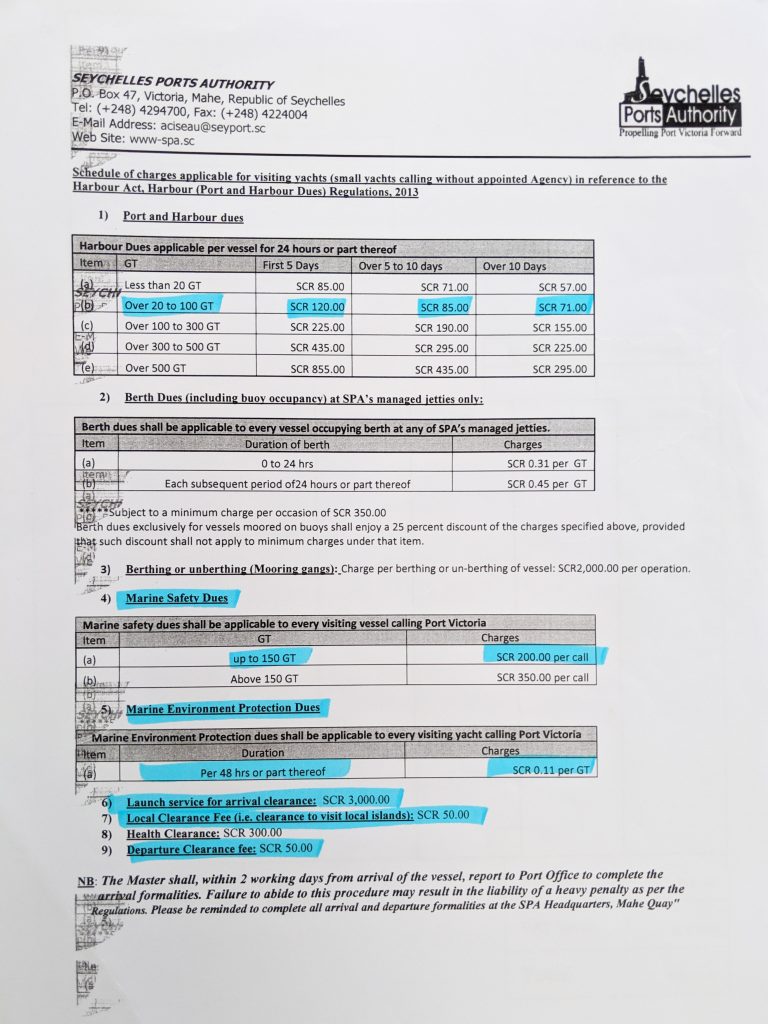 Inward Customs Clearance & Document Fees:
– Import Permit Processing Fee : Scr 200.00
– Bill of Entry Fee : Scr 500.00
– Customs Clearance Fee : Scr 550.00
Total : Scr 1,250.00 ($92 USD)
Jude also filed our Bill of Export at the same time. It does not need a departure date or destination. It also does not say "Bill of Export" on it, which is annoying. Jude filed the Bill of Export with Customs and that was that.
Outward Customs Clearance & Documents Fees:
– Bill of Export Fee : Scr 500.00
– Export Custom Clearance Fee : Scr 550.00
Total : Scr 1,050.00 ($77 USD)
We should have just gone ahead to extend our stay to six months – the maximum. Instead, we extended 30 days, and then when we needed another extension, we had to file paperwork again. There was no additional cost from our agent, but it was a hassle.
The Bill of Export did not need replacing, but we did have to get a new Import Permit and a Letter of Approval from Customs.
Departure Formalities
Upon our arrival we were given a departure form and instructions for departure procedures, which must be started 48 hours prior to departure:
1. Submit form at SMSA for approval
If you go too late in the day, you will not get same-day approval. Start early.
2. Bring a copy of the form from SMSA to immigration to obtain an approval letter.
Two letters, actually. Double-check the documents, as one of the boats with us ended up with a form with their names and our boat name.
3. Bring a copy of the approved SMSA form and the approval letter from Immigration to Seychelles Port Authority.
4. Fill clearance form & settle port dues (cash only).
5. Bring 2 copies of the clearance to customs to get it stamped.
They stamp your copy, keep a copy, and have you sign a ledger.
Forty-eight hours prior to our intended departure we completed the SMSA form and brought it to the SMSA office. This office is in downtown Victoria. We arrived at about 1430 and left the form with the Director. He messaged us when the form was ready the next morning and we arrived to pick it up around 1000.
From there it was a trip to the New Port. First, we went to Immigration, who stamped our passport, made copies of the departure form, and gave us two forms from Immigration.
Next, the Port Authority office. Here is where we paid our fees:
Port Authority Fees for a 16 Ton cruising boat for 30 days:
– Harbor fees for first five days=85 x 5 : Scr 425.00
– Harbour fee for days 5-10=71×5 : Scr 355.00
– Harbor fee for days 11-30=57×19: 1,083.00
– Marina safety fees: 200.00
– Marine environmental protection fees .11/Ton/48 hours: 26.40
– Launch service for arrival: 3,000.00
– Departure clearance fee: 50.00
Total : Scr 5139.40 ($375 USD)
Now, our gross tonnage is much more than the average cruising boat and we stayed a lot longer, but that's what it's like for most people. To stay longer than 30 days, the above boat would pay the agent fees (2,300 SCR/$169 USD) plus about 58 SCR/$4.25 USD per day.
Worth noting: Boats that haul out in Seychelles can deduct that time from the daily harbor fee, but they must have an official letter from the boatyard to receive this discount. There are also different fees based on the tonnage of your boat.
Anyway, back to our field trip. We paid our fees, got a receipt, and two copies of a form from Port Authority.
We moved to Customs. There, we filled out a line on a ledger, they stamped and signed one of our papers from Port Authority, and took the other copy.
Total Fees to Cruise Seychelles
Don't forget about the 300 SCR paid when clearing in, and the 50 SCR Local Port Clearance
Fees for a 16 Ton cruising boat for 60 days: 9529.4 SCR ($695.75 USD)
Less than Maldives (see my Maldives report here) but enough that most cruisers more comfortable with SE Asian prices will balk.
Health
Several cruising boats this year made the medical rounds while in Seychelles. We visited a private dental clinic in Victoria, PSM, for cleaning and getting a cavity filled. I saw the dermatologist at the Euromedical Family Clinic on Eden Island.
Marine Park Fees
Throughout our time in Seychelles, we only paid for anchoring in a marine park one night. The rate for an overnight anchoring is 250 SCR, but you also have to pay 200 SCR per person. For two people, that comes to 650 SCR ($33 USD) per night – slightly less than the marina stay.
We only paid for one night for two reasons:
-we strategically chose places that were not marine parks to anchor for the night
-three nights, no one came around to take the marine park fees
Eden Island Marina in Victoria
Docking in Victoria
Seychelles Yacht Club has moorings and anchoring room available. The membership is 300 SCR per week for use of very slow internet and self-service laundry. This is the best laundry option on the island.
We stayed at Eden Island Marina and while the amenities were limited, the price was low for a high-quality marina. We paid less to stay at Eden than we did at Royal Phuket in Thailand with better amenities. There is no self-service laundry and the full-service laundry is expensive. Great access to the SPAR grocery store. There is a very reasonable monthly rate, so we lived the cush marina life for two months waiting for the weather to turn.
Yachting Services
Fuel: We filled our fuel at an actual fuel dock at Taylor Smith Shipyard in Providence. We paid 18.48 SCR/l.
LPG: Bottles can be filled at SeyPec, across from the Hypermarket. Drop off the bottle, drive down the street to the main office to pay, and then return with your receipt for the fill. They can do it while you wait. We paid 105 SCR for 7 kg.
Haulout: Several friends hauled out at Cascade Slipway Services and were pleased with the work and service.
Marine Supplies: Eden Island Marina has 2 small chandleries available on site. The largest and best-stocked chandlery is called The Marine Specialist located in Providence. All items are imported, and thus fairly expensive, but they carry most items you could want.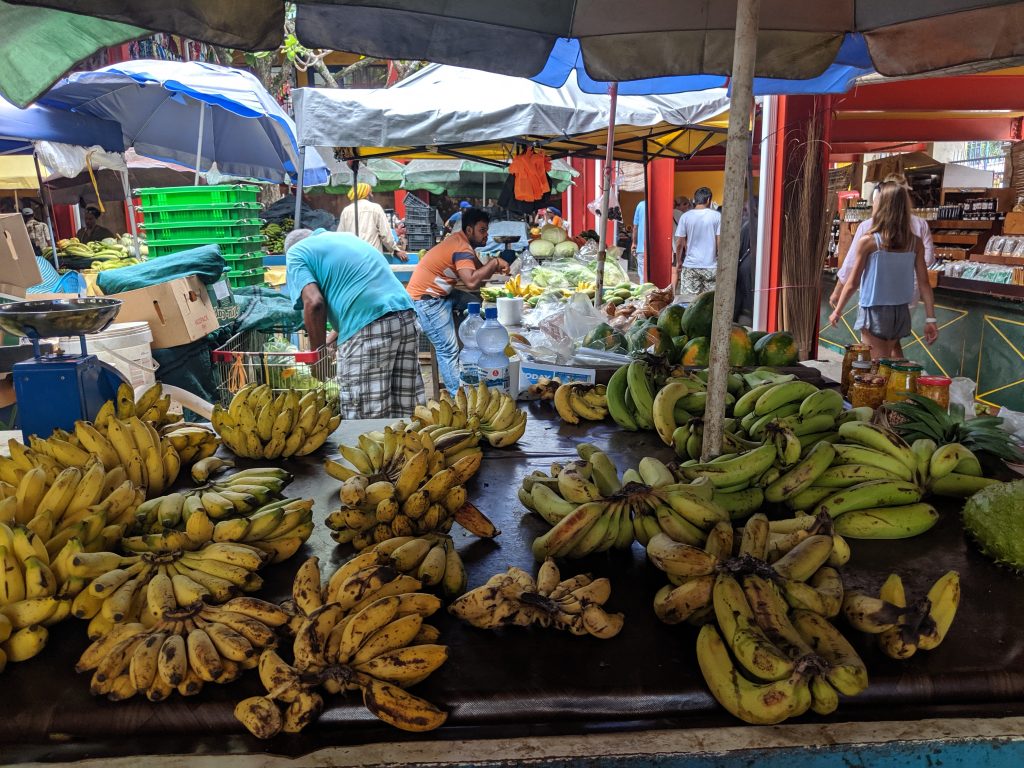 Provisions
Provisioning was the best we'd seen since Thailand. It is much more westernized than Maldives or Sri Lanka.
The downtown Victoria market was a bit disappointing. It is full of imported goods instead of local produce (as evidenced by the kiwis and grapes in attendance) which has now been sitting out in the market unrefrigerated. You can pick out the local stuff: pumpkins, bananas, fish, etc, which are of better quality. There are also a lot of touristy items: spices, vanilla extract, handicrafts, etc.
There are produce stands opposite the Butcher's Grill Cafe with more local produce.
Eat like a local. All over Seychelles are takeaway cafes.
Hypermarket is the main store I shopped at. Meats and produce were often hit or miss for quality, but dry goods were plentiful. A lot is imported from the Middle East and shows up sporadically. You'll find something new every time!
ISPC has several locations. One site is in the industrial complex near Hypermarket. That location is their wholesale warehouse. It requires a membership to visit, so if you know someone or walk in like you own the place, you might get away with it.
The public ISPCs are Beau Vallon, Praslin, and Anse Royale. I only went to the Beau Vallon one. It's expensive, but if you are looking for something in particular, this is your best bet. This is where I found Asian products like rice vinegar and pickled ginger.
The most expensive is SPAR at Eden Island. Mostly the SPAR is full of South African imported products. The quality of produce and meats is excellent. Local goods (pumpkins, fish, eggs) are comparably priced to the Hypermarket.
Mamma Mia's in Eden Island is a specialty Italian store. Excellent cured meats and special European products here.
Victoria and the other major towns also have a variety of quick-carry style markets. You never know what you'll find.
We did several big trips to Hypermarket and then supplemented at SPAR since it was convenient.
Anchorages around Seychelles
I detailed our 10-day itinerary around the Seychelles islands. There isn't a massive amount to see – not compared to the Maldives – but the islands are really nice. We enjoyed hiking and beaches much more in Seychelles than we did in the Maldives.
Saint Anne National Park
04°37.095S 055°29.968E
A short hop from Victoria, good for clean water (to run watermaker) or to stage for jumping out to Praslin. Supposedly ok snorkeling here. Boats come around to collect park fees.
AnseLazio, Praslin
Anse Lazio (Praslin)
04°17.564S 055°41.861E
Rolly in SE winds, probably completely untenable in NW season. I loved this beach, it is wide, pretty sand with the iconic granite boulders. If you need a taxi, contact Jose Esther phone or WhatsApp: (248) 2 520 718. He was an excellent tour guide, reasonably priced for several hours touring Praslin.
Giant tortoises on Curieuse Island
Curieuse Island 
04°17.223S 055°43.936E
Visit the Albrada giant tortoises! Great stop, day-anchorage only.
Chauve Souris
04°18.560S 055°44.645E
Shallow sandy spot behind a small island.
Saint Pierre
04°18.212S 055°44.957E
Supposedly the best snorkeling the inner island has to offer. Not great – water visibility is low and the coral is dead. Day-anchorage only.
Anse Source d'Argent, La Digue
La Digue
04°20.595S 055°49.599E
My favorite stop. La Digue is a small island with few cars. We hiked to the top for a scenic view and rented bikes to ride the perimeter (as far as we could anyway). Great upscale lunch at Le Nautique or a beach shack lunch at Chez Jules. Anse Source d'Argent is commonly on 'top beaches of the world' lists. I liked Lazio better, but Source d'Argent is beautiful. We spent two days in La Digue.
There is a small harbor where boats are allowed to come in and med-moor for free. It does fill up quickly with charter boats and the stern ties to land are quite a distance. Be prepared with lots of line! It is possible to anchor outside the harbor and avoid the chaos, but the swell can be quite significant.
Eden Island Anchorage
4° 38′ 22.542" S 55° 28′ 21.6444" E
You can anchor for free near Eden Island.
Extra Information about Seychelles
Eat like a local. All over Seychelles are takeaway cafes: buffet-style warmers set up with curries or other local dishes. We often ate for less than $5 per person for a hearty lunch.
Octopus curry is the national dish – worth a taste if you see it.
Taxis are very expensive, the bus is very cheap. A taxi trip from Eden Island to Victoria is 200 SCR. The bus fare is 7 SCR. However, the schedule is less than reliable, so if you have a schedule to keep, a taxi is your best bet.
Otherwise, rent a car. We did a 2-day car rental twice and tackled a lot of errands and a day driving around Mahe sightseeing. The two-day rental was roughly 1400 SCR.
Conclusion
Seychelles has a reputation for being expensive and complicated. While we certainly would handle things differently if we went back (a single extension instead of two), we did not find it all that expensive or complicated. Seychelles is active in its conservation efforts, preserving endemic species and the land. The hiking was phenomenal.
We enjoyed our time there: the highlight of the Indian Ocean so far.
Amy Alton
SY Starry Horizons
For other reports submitted by Starry Horizons see here.
Noonsite Seychelles Information
…………………………………………………………………………………………………………………………………..
The opinions expressed in this article are the author's own and do not reflect the view of Noonsite.com or World Cruising Club.