Eight Weeks Cruising the Maldives
The crew of Starry Horizons (a US-flagged 44-foot catamaran) cruised the Maldives from the end of March to the end of May 2019 arriving there from Sri Lanka. The expense of clearing and permits meant they chose to stay two months to get the maximum for their money.
Published 4 years ago
Starry Horizons at anchor in the Maldives.
The crew of Starry Horizons are two US citizens, sailing on a US-flagged 44-foot catamaran. This report is building on Jason Trautz's two-part report, also posted on Noonsite (Part 1 & Part 2).
Arrival date: March 27, 2019
Arrival port: Uligamu, Maldives
Departure date: May 24, 2019
Departure port: Gan, Maldives
Days: 58
Miles: 600
Sailing to Uligamu, Maldives from Sri Lanka:
We motored most of the time, occasionally motor-sailing and maybe 24 hours of actual (albeit slow) sailing. Conditions were flat calm most of the time. Lots of dolphins and bioluminescence at night.
Big issues with Cruising the Maldives:
1) It's expensive. We paid $1,300 to cruise for 2 months ($23.35/day). The longer you cruise the more cost-effective it is. Even just stopping in Gan is hundreds of dollars for formalities.
2) You are not supposed to freely roam the country.
When we cleared in we were given an itinerary. The rumor mill told us:
a) Shut off your AIS
b) There is no one to report you on uninhabited islands
c) Someone could report you on a populated island, and then you have to pay a fine (up to $2,000)
d) The government will monitor your public social media
A few weeks into our cruising, our agent contacted us and said that we needed to get to Gan to renew the 30-day permit. If we renewed through the Uligamu office, we would have to rent a tracking device. This tracking device is the reason most boats don't go into Male, because if you clear into Male you have to carry a tracking device. The device is $200 + $6/day.
We were not able to get to Gan, so instead our agent renewed our permit early. However, last I heard (several months after leaving the Maldives), Uligamu still does not have a supply of tracking permits. The possibility exists that by next season, cruising boats clearing into Uligamu will need to rent a tracking device, which means even more money, and further enforcing restrictions.
Kudafarufasgan'du, Miladhunmadulu Atoll
CLEARANCE
Maldives Agents:
We used Real Sea Hawks. Asad in Uligamu was fantastic. Really made us feel welcome and organized events for the cruisers.
Clearance Costs:
I can only address our final bill for 58 days in the Maldives:
Inward and Outward clearance: $64.85 x 2
Port State Control Permit: $13.33
Anchorage fee (day 1-6): Free
Anchorage fee (day 7 – 45): $4.33/day
Anchorage fee (46-58): $6.66/day
Entry fee and light dues: $14.24
Cruising permit: $324.25
Sanitation certificate: $67.97
Clearance procedure/port paperwork: $75 x 2
Transport costs to arrange clearance: $20
Cruising permit extension charges: $25
Agency Fee: $180
Crew and Guests:
There are additional fees for having friends or family visit, or crew changes.
GENERAL INFORMATION
Currency:
If you look and sound American, you'll be given prices in USD. Sometimes I had to ask the shop to convert to MVR so I could pay cash. We paid our agent in USD.
Provisioning:
Every town has at least a small shop with chips and snacks. Onions, garlic, and potatoes are readily available, as is frozen chicken drumsticks, whole chickens, and halal buffalo meat. Produce is heavily dependant on the supply ship, and almost everything is imported. Eggs are notoriously bad; many just-purchased eggs had runny yolks or were downright bad.
Local gardens grow pumpkin, cucumbers, eggplants, peppers, watermelons, etc. Basically lots of hot-weather crops.
Male has westernized grocery stores, which we accessed from Himmafushi via ferry. Our agents at each end took us for a run around grocery shopping, which was very helpful.
Internet:
We used Dhiraagu, based on Asad's recommendation. $50 USD for 100 GB, we always had a signal.
Resorts:
One of the bad reputations of the Maldives is that resorts aren't cruiser friendly. Many resorts own the island, and are private. However, if you contact the resort in advance, you may arrange a day pass for as little as $25, which might be applied towards food & beverage. If you'd like a day of pampering, try Canareef in Addu atoll (near Gan) or Sun Island in Ari atoll.
Diesel:
We used a ton of diesel in the Maldives! There was often no wind, so we were motoring from anchorage to anchorage, plus running our air-con every other day on average (once we start dripping sweat, the air-con goes on). We refueled in Kulhudafushi and Gan at the wharf, and in Himmafushi via jerry cans.
Weather:
As stated above, hot hot hot! Later in the season, winds tend to fill in from the west, a bit unfortunate as there isn't much westerly protection. Thanks to dual Indian Ocean cyclones, we had winds of 15 knots out of the west for a while, which doesn't sound so bad until you realize you have no protection.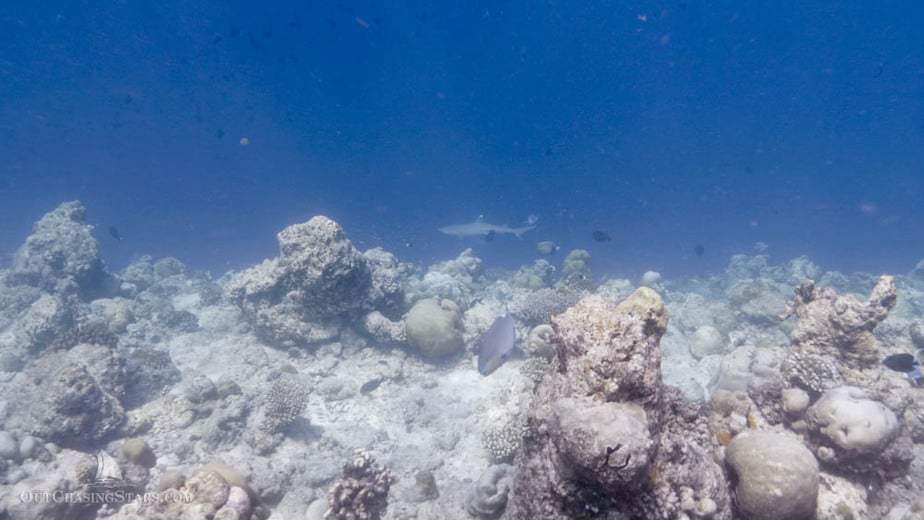 Snorkeling:
We did not do any diving in the Maldives, unfortunately. We did snorkel a lot, but mostly to get out of the heat. The reefs are mostly dead, and while the water clarity and fish population were better than Southeast Asia, it wasn't worth noting in a cruiser's lifetime.
ANCHORAGES
Having satellite imagery is extremely important. There are too many poorly charted islands and reefs.
I have put waypoints for both my anchorages and YOLO's into a Google Map, which is downloadable into KML/KMZ files. https://drive.google.com/open?id=1uG71nawfYhK6tlloSHL4clB4FSFcehhH&usp=sharing
1 – Uligamu
07°04.901N 072°55.110E
The bottom is stripes, dead coral and sand. The water is clear enough that in the right conditions, you can pick the sandy patches out. We anchored in 20 meters.
Our agent, Asad from Real Sea Hawks, was extremely welcoming. He was able to arrange a boat for us to take to Ihavandhoo, where you can find an ATM.
Uligamu has a community farm and a few small stores.
3 – Dhapparu
06°54.913N 073°13.798E
One of the more beautiful places we stopped. Anchored in 6 meters with a sandy bottom. The beach is lovely and there's an interesting lake on the northwest tip of the island.
Starry Horizons and Slow Flight anchored at Dhapparu
3.5 – Utheemu
06°49.800N 073°07.044E
Day anchorage only, anchored in 10 meters of sand off the southeast side of the island. We dinghied into the harbor. We stopped here to visit the Wooden Palace, the home village of the Maldives' famous hero, Sultan Mohamed Thakurufaanu, who stopped the Portuguese rule.
6 – Rasfushi
06°42.867N 072°55.268E
Anchored in 30 meters over (we assume) coral. Very beautiful spot, no land nearby. We snorkeled quite a bit here, and the fish life is pretty good.
7 – Kulhudhuffushi
6°36.937N 73°03.984E
We came into the harbor in Kulhudhuffushi for diesel. Nice town. Several shops with good provisioning.
10 – Dholhiyadhoo
5°59.202N 73°12.736E
Anchored in 6 meters of sand. The resort no longer has a full staff. There are four Bandlideshi men living on the island, paid to be groundskeepers. It was surreal to walk around the crumbling resort.
The crumbling resort at Dholhiyadhoo, Miladhunmadulu Atoll
11.5 – Bodufarufinolha
5°32.663N 72°48.388E
Dropped anchor in 7.6 meters over-sand. The nearby island looks like an excavation site, perhaps they are harvesting sand. Water was very cloudy, visibility less than 10 feet. The nearby sand shelf is still relatively deep….a catamaran could anchor on the shelf.
5°34.152N 72°49.19E
Anchored in 12 meters. Water visibility is much better! Snorkeled around.
12.5 – Thulhaadhoo
5°02.835N 72°50.078E
Dropped anchor in 4.5 meters over-sand. Water visibility is very good. Baa Atoll is a UNESCO Biosphere Reserve for the abundance of manta rays that congregate. We had one just off our stern for a while.
The attraction is the lacquered wood, a traditional handicraft art, mostly only done here in Thulhaadhoo Island. We dinghied in to the harbor and walked around until the craftsman found us, and showed us his merchandise and his workshop.
16 – Boduhithi
4°24.677N 73°21.809E
Anchored in 16.5 meters over-sand. We tried to look for manta rays, but the weather turned foul on us.
17.5 – Himmafushi
4°18.502N 73°33.889E
This is where our agent recommended to anchor for access to Male. It's a 100 MVR ferry ride for the express boat, which takes 15 minutes.
Provisioning in Male is great. Plenty of produce at the vegetable market just off the ferry dock. STO has a big grocery store, plus another store called Fantasy. If you are looking for something specific, it pays to stop in as many places as you can find. I found a small import shop that sold European imports, and another that sold huge tenderloins of beef from Brazil.
We should have filled our propane tanks in Male. Gan is not set up to efficiently fill foreign tanks.
While we were in Himmufushi, the winds were blowing strong (15 knots) from the west. In this part of the Maldives, there's no westerly protection. Himmufushi was bouncy from the swell and chop rolling in over the reef, but also, the waves bounce off the tuna processing plant's wharf. Our boat bucked at anchor, most uncomfortable. The further away you get the better, but it makes for a long dinghy ride to the harbor, and the ferries speed through anyway.
Himmufushi is a surfing hotspot. Water taxis can get you out to the surf for $10 USD.
20.5 – Maaga
3°59.765N 72°56.604E
Deep but sandy anchorage at 16 meters. Very little land protection, but some of the better snorkeling we saw. Spotted a nurse shark and two octopuses. Entered through the pass on the north side of the atoll, which read as little as 3 meters.
22.2 – Dhangethi
3°36.341N 72°57.147E
Nice town, approached from the west side of the atoll – tried to go over the north reef but it was getting too shallow. Saw a doctor in the health clinic here. There's a bikini beach on the southwest side of town. We booked a snorkel trip for our friends to see whale sharks through Ariston Dhangethi Inn, and they had a great time, sighting three whale sharks. South Ari Atoll is the best place in the world to see whale sharks, as they are here all year round.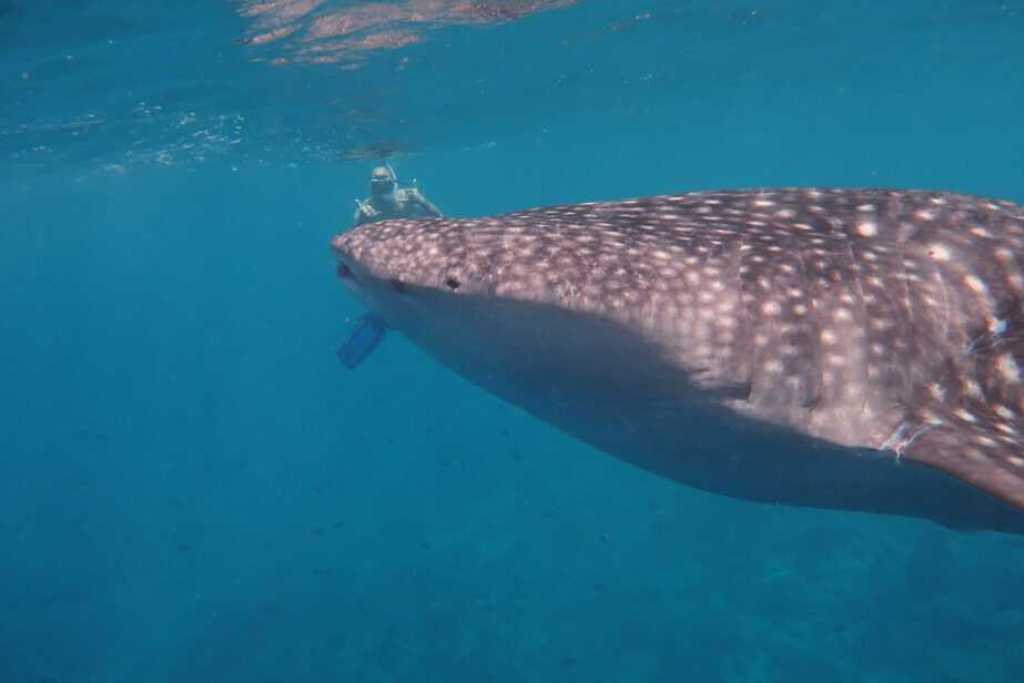 This is a popular stop for the liveaboard dive boat circuit. We anchored in the early afternoon, all by ourselves, but by sunset, we had at least five big ships around us. They departed in the morning, rinse and repeat every day.
An express ferry runs regularly to Male from here, also stopping in Dhigurah.
22.7 – Dhigurah
3°32.070N 72°55.459E
This was my favorite stop. We passed over the reef at 3°32'23.9″N 72°54'56.4″E with 6 meters of water under our keels. We anchored in 10 meters over sand off the Bliss Guesthouse. The water is pretty clear at the right times. Dhigurah is extremely long (Dhigurah actually translates to "Long Island"). You can walk all the way over to the ultra-high-end LUX Resort, although you are not welcome. The beach to the south of the small shipyard is the bikini beach, where you'll find lounge chairs and plenty of white sand at low tide.
We booked a whale shark excursion through Bliss, and saw one, way down. We did swim with a manta ray inside the lagoon and did some good snorkeling on the east side of the island. Manta rays are commonly sighted in the lagoon, while whale sharks run around the outside of the bottom of Ari Atoll.
Dinner at Bliss is very good. Do not miss the salted chocolate pudding with espresso sauce and homemade coconut ice cream.
23.5 – Maamigili
3°28.920N 72°49.954E
We anchored in about 10 meters over-sand to access the airport. Flights arrive and most guests are bussed out to the commercial wharf. There is ok provisioning here, although nearly half the island is farmland. I'm not sure who you'd have to talk to, to purchase the local produce.
37 – Gan
0°41.121S 73°08.634E
We anchored in the small lagoon between Feydhoo and Gan, in 3 meters over-sand. It's tight here. The week before we arrived, supposedly five boats fitted in here with the local boats on moorings. We only had three other boats and were backed up pretty close to the reef. Others anchored outside the lagoon, in 30+ meters of water.
There are several shops on Feydhoo, the best one being the 3S Supermart next to the Feydhoo harbor. Our agent also drove me to Hithadhoo Island to stop at several grocery stores.
We came into the harbor to fuel up via truck.
WOULD WE CRUISE THE MALDIVES AGAIN:
Short answer: probably not.
Long answer: it's an expensive place to cruise for such heavy restrictions. There is no way that I would cruise the Maldives if the government enforced the Travel Itinerary. If the government requires cruisers in the future to pay even more to have the tracking device, I would also find that a very good reason not to cruise there.
Some people come only to Gan to provision, fuel up, and cross the Indian Ocean. While this seems like it should be cost-effective, many of the fees still apply, so cruisers would be paying over $500 for a short visit to Gan.
The underwater life is mostly dead, and anchoring can be challenging. Overall, we haven't seen anything in Southeast Asia or the Indian Ocean that we enjoyed as much as any of the South Pacific.
Cruisers looking for a cheaper, possibly more enjoyable alternative can cruise down Southeast Asia and then jump off directly to Chagos, as several of our friends did.
Photographs and additional information available at https://outchasingstars.com/2019/07/02/eight-weeks-cruising-the-maldives/
Amy Alton
SY Starry Horizons
For other reports submitted by Starry Horizons see here.
Noonsite Maldives Information.
…………………………………………………………………………………………………………………………………..
The opinions expressed in this article are the author's own and do not reflect the view of Noonsite.com or World Cruising Club.
Related to following destinations: Addu Atoll, Dholhiyaddhoo, Dhonakulhi, Gan, Haa Alifu Atoll, Khuludhufushi, Maldives, Male, Noonu Atoll, North Male Atoll, Uligamu, Upper North Province