Covid-19 Field Report: Expelled from Spain
The catamaran "Water Dogs" and her Canadian family crew arrived in Spain last year, in December 2019. From the Guadiana River on the Atlantic south coast of Spain they slowly made their way towards the Balearic Islands, arriving in Ibiza in March 2020, one week before Spain went into lockdown. This is their Covid-19 story told by father Gavin French.
Published 3 years ago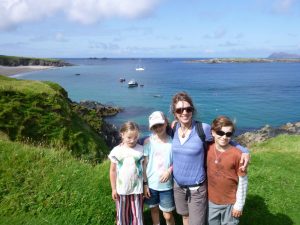 The story is a long one when told with every detail. This is my best attempt at brevity.
Balearics – Ibiza and Formentera
We arrived in the territory of Ibiza/Formentera, of the Balearic Islands of Spain's Mediterranean coast, on March 7th. We were in a small harbour named Portinatx, on the north end of Ibiza, when the Spanish state of alarm was issued because of Coronavirus on March 14th.
Initially, based on uncertainty and local advice, we were afraid to go anywhere with our boat in case we were refused entry to another port. And so we remained in Portinatx, and went the 7km to the nearest grocery store for food. We obeyed restrictions as issued.
Water Dogs at anchor in Portinatx, north of Ibiza.
But the harbour was open to the north and getting very uncomfortable indeed, even for us. Val met a local Guardia Civil (Spanish National Law Enforcement Agency) officer while getting food. He gave us advice, spoke to the local coast guard, and gave us his phone number. We were advised we could move our boat around to San Antonio or further south as we wished. On the assumption that this advice and phone number protected us from getting in trouble, we moved our boat to a nearby port and gathered food in San Antonio. That port was too dirty for our watermaker, all boats were using a tap to collect water from jugs or buying water, and we had been told by the same Guardia Civil officer that anchorages further south were acceptable too.
At anchor in San Antonio, west Ibiza.
On March 27th we moved our boat further south as advised, and anchored off a private island with about three weeks of food onboard. One local boat was anchored, and one family was living inland as caretakers of the private island.
A week or so later, the Guardia Civil Maritimo came and inspected both us and the other boat. The local boat was told to return to his home port. After the officers realized we could not return to our home port, and we could make our own water, and after us giving them the name of the officer we initially met, they left us there as we were.
On April 11th, a Guardia Civil helicopter spotted us and deployed another, much bigger, Guardia Civil boat. They asked us if we were living in the anchorage and I said yes. They told me I had to remain there for the duration of the quarantine, not move our boat, and only go to the nearby town for supplies. I said thank you.
S'Espalmador – our anchorage south of Ibiza, north of Formentera.
Expelled
On April 16th, on the advice of the owner of the other boat that had been there for weeks (we had been sending messages by phone), I called the coast guard for permission to go to town for food. I was instructed to send an email to the local government agency asking for permission. And they responded telling me that all ports were closed, I could collect provisions as a humanitarian gesture, and then return to my home port. I was expelled from Spain.
I wrote a letter of clarification explaining my situation, and included the officer's name and telephone number who had advised us. I explained that we had been visited several times by other Guardia Civil. I explained that our home port was in Canada and we could not go there safely now. And they reiterated the exact same response, we were to leave Spain.
I called the local Canadian and British Embassies, as I am both a Canadian and UK citizen. Both were able to clarify the message to me. Both advised I comply and leave as instructed.
Initially I was told to leave Spain, subsequently the Canadian embassy was told I just had to leave the Balearic Islands, but ultimately all ports of Spain are closed and so I had to leave Spain.
A local maritime lawyer heard of us and volunteered to represent us because what was happening to us seemed unjust, and in his opinion actually illegal. A local ship's agent volunteered to help us find a place "because sailors help sailors", but all attempts were denied. The officials in Ibiza has spoken to the officials in the other Balearic Islands and so the ship's agent's hands were tied.
The ship's agent was very well-connected indeed and spoke to people in high places in the capital, Madrid. He informed me that our case had found its way up from the local administration all the way to Madrid capital offices. We were to be advised that Spanish ports were closed and no details of our situation anchored in complete isolation for weeks, or the Guardia Civil's assurances, or the fact that we were doctors who had volunteered to help fight Covid-19 for free in Spain, would change anything.
It became clear that the local Guardia Civil were looking at our case, and offering us grace or discretion given our unique situation living on a boat, far from home, and presenting no coronavirus risk. But the Spanish authorities looked at us as a boat arriving in Spanish waters after the state of alarm and advised us that all ports were closed. We could not step foot on Spanish soil. We could collect fuel and food and water and "continue our journey". It became clear that had our presence remained only in the eyes of the Guardia Civil, we would have been fine. But once the local government authorities had us on their radar, we were not fine.
Many local people tried everything to help but to no avail.
The authorities initially told the Canadian embassy that the Spanish mainland was an option for us and specifically said the city of Alicante would take us. Many sailing contacts pulled strings and got us permission at various marinas nearby. BUT, each time the marina was asked to provide evidence that the local authorities would let us in, and our boat name was given, we were denied access with the same language: "We are sorry but all ports in Spain are closed due to the state of alarm". Email evidence of this denial in Alicante was forwarded to both embassies and the local government office. No change.
In the end, I received an email from the Canadian Embassy informing me that they had spoken to the local authorities again who had made their position very clear. By remaining anchored as we were I risked a fine and arrest. No further advocacy was offered by either embassy.
Sardinia
The ship's agent mentioned trying to get into France as Canada and France have relations. But that proved impossible. It did get me thinking about other countries, and I found information about Italy on Noonsite. It said that Italian ports are technically open, but it's difficult to get a marina to accept you and marina acceptance is mandatory. I emailed three, was accepted by two, checked the weather and we sailed 320 miles to Carloforte on an island off the coast of Sardinia.
The process of arrival was simple. After being accepted in advance, we notified them one hour prior to arrival. Docking was as per normal and very relaxed. One coast guard officer met us upon arrival at the dock and casually advised us of the 14 days onboard rule. We were one of several yachts to arrive there since lockdown. Supplies are delivered as requested. Forms are emailed to the marina who forward them to authorities. An online form is submitted to the Italian authorities and email confirmation received. Fifteen minutes work for a family of five.
And the next thing we knew ice cream was delivered!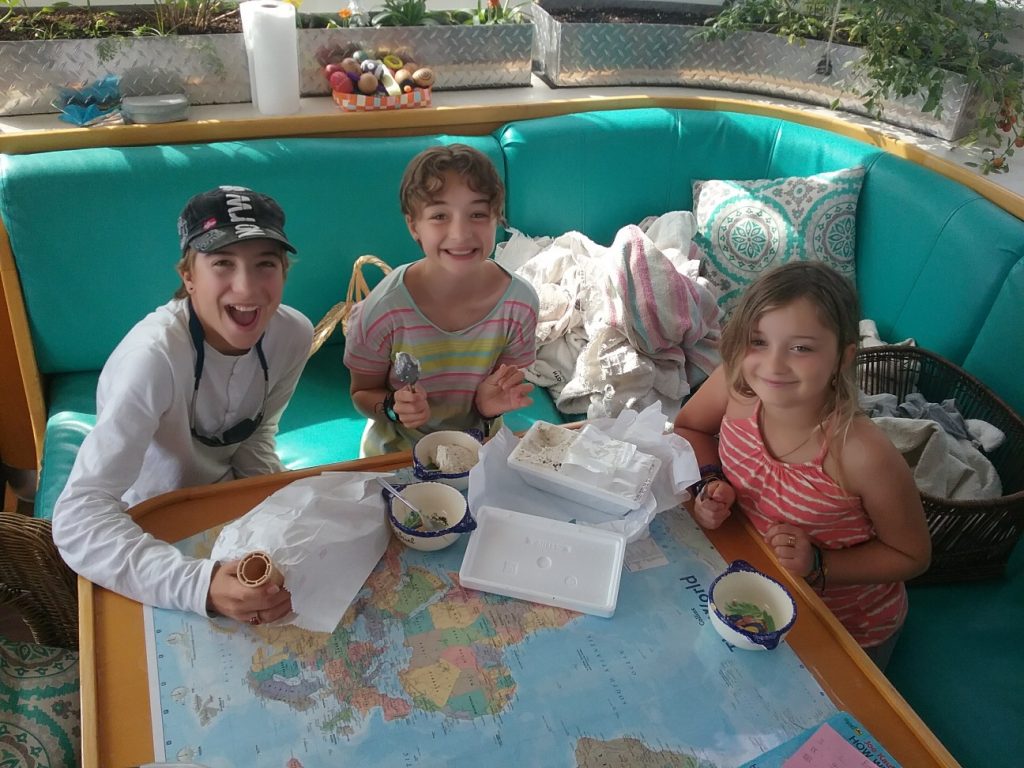 And so we fled Spain as refugees to Italy.
I had read about people fleeing to Italy, but I never expected to be one of them. Life is great here in Italy – friendly, welcoming, kind,… both marina staff and coast guard officials. We are awaiting the end of our 14 day quarantine and the easing of the Italian lockdown.
Gavin French
SY Water Dogs
…………………………………………………………………………………………………………………………………..
…………………………………………………………………………………………………………………………………..
Please share your current experience with COVID-19 restrictions and how it has affected your cruising plans. Contact Sue at [email protected] with your field report.
…………………………………………………………………………………………………………………………………..
The opinions expressed in this article are the author's own and do not reflect the view of Noonsite.com or World Cruising Club.