Caribbean, Antigua: Covid19 Field Report
SY Roxy were in Antigua to meet up with family, but plans had to be cancelled. Now they are hoping to try and get to Trinidad for a haulout in May if border restrictions permit.
Published 3 years ago
Falmouth and English Harbors from Fort George
We are ROXY in Falmouth Harbor, Antigua
We came to Antigua from Dominica and arrived the day the enhanced border requirements began. This was about two weeks before the border was closed. We were to meet our oldest daughter and family for a week stay. All cancelled.
Presently, departure may be from any regular customs and immigration office. No vessels are allowed in at the present time. Barbuda is totally closed.
The total lockdown is in effect, 24 hours per day for a week. It is highly likely this will be extended.
You must remain in your harbor. You may move if you obtain permission after notifying the Coast Guard. This appears to be an easy formality.
The CG patrols the harbors twice daily.
Officially you must be on your vessel after noon till 6am. They appear to be permitting swimming from your boat and SUP, kayak etc. around the harbor without socializing. You may not even individually go hiking on the many mountain trails.
Essential stores are open 8am till noon. The number of people in the store is regulated and the line outdoors must be spaced out. There are adequate supplies.
The fuel dock is open normal hours for water and diesel. Gasoline may be found only at gas stations and the schedule is unpredictable.
Budget Marine is open by appointment.
Bars and restaurants are totally closed.
Repair and service is presently not available although it is arguably critical business. I cannot get service or replacement for my blown alternator.
No incoming air flights except cargo.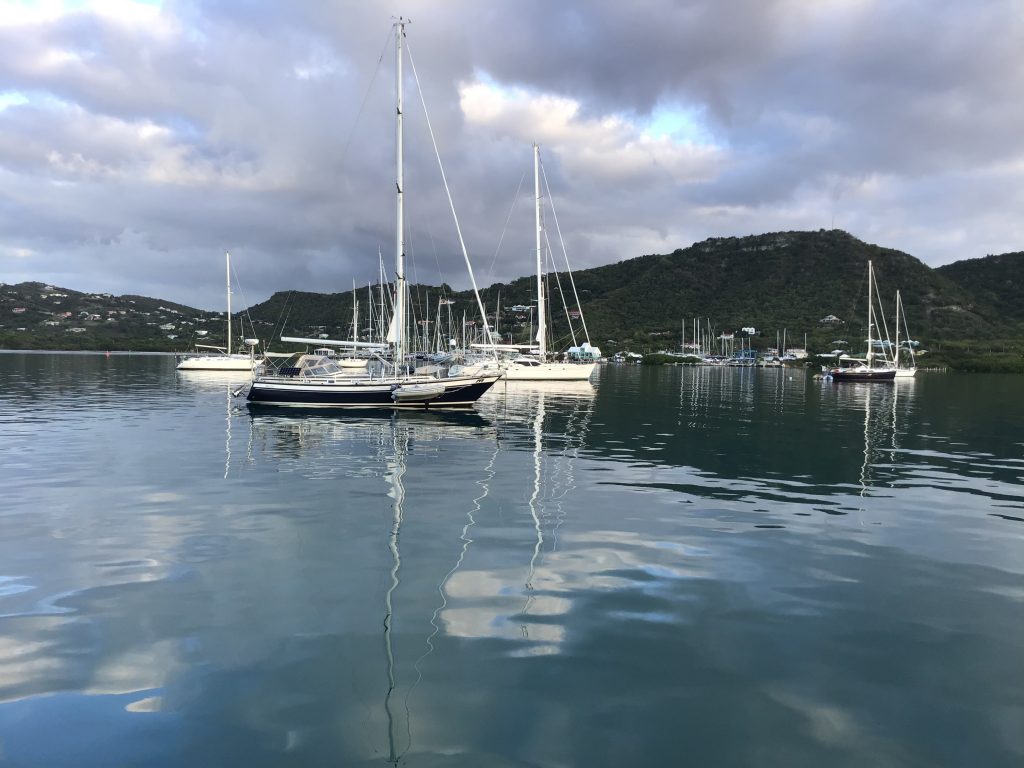 We are experiencing several consecutive days of hot weather and near zero wind. The lagoon has warmed 4 F in three days. The algae bloom is terrible.
What now? We are still hoping for OCC port captain, Jesse James in Trinidad to work a bit of magic so we can haul out there in May or June. If the other islands remain closed or if Trinidad requires, the transit from Antigua may be non-stop. Trinidad is unlikely at this time to permit stops in the French islands. This is a bit over 350 miles, about 48 hours.
Mark Hoenke
SY Roxy
…………………………………………………………………………………………………………………………………..
…………………………………………………………………………………………………………………………………..
Please share your current experience with COVID-19 restrictions and how it has affected your cruising plans. Contact Sue at [email protected] with your field report.
…………………………………………………………………………………………………………………………………..
The opinions expressed in this article are the author's own and do not reflect the view of Noonsite.com or World Cruising Club.