Atlantic Spain and Portugal: Covid19 Field Report
German cruisers Dörte & Jens of SV Tendrel-Aurelie have been cruising the Atlantic coast of Spain and Portugal for the last 2 weeks. Anchored off Portiamao when the country went into lockdown, they report on their current situation and concerns for onward cruising if restrictions on recreational vessels tighten further.
Published 3 years ago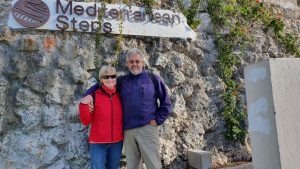 Cruising Spain and Portugal:
08-03-2020
We arrived from GIBRALTAR to SPAIN and the town of Ayamonte at the river estuary of the Guadiana river. The right side of the river is Spain (SP), the left side Portugal (PT).
09-03-2020 to 16-03-2020
We travelled up and down the river, especially between Sanlucar de Guadiana (SP) / Alcoutim (PT) and upriver to Mertola (PT).
12-03-2020
The officials of Sanlucar de Guadiana (SP) closed the pontoon and pushed away the sailing vessels lying at the pontoon.
17-03-2020
We sailed down the river Guadiana from Sanlucar de Guadiana to Ayamonte at the river estuary. At anchor we saw for the first time the police in small boats, but they had no interest to come to our sailing vessel at anchor.
18-03-2020
We sailed from Ayamonte (SP) to Portimao (PT) and anchored in the outer harbor without being disturbed. Two other sailing vessels were also at anchor.
19-03-2020
We moved from the outer harbor to Ferragudo, a 0.8 nm trip, and anchored there. We then went ashore by dinghy and did some shopping at Lidl supermarket.
By the time (we got back on board) we heard about a lockdown and found this on Navtext:
In Force – Navigational warning
RA41
CENCOMAR
181727 UTC MAR 20
NAV. WARNING NR 0632/20
PORTUGAL-CONTINENTAL PORTUGAL
1. IS NOW INTERDICTED, UNTIL FURTHER NOTICE, THE MOORING OF RECREATIONAL VESSELS WHOSE HOME PORT IS NOT PORTUGUESE AND ALSO THE DISEMBARKATION OF PASSENGERS FROM THOSE BOATS/VESSELS, EXCEPT FOR URGENT LOGISTICAL OR SANITARY REASONS. ANY DISEMBARKATION CAN ONLY
TAKE PLACE AFTER EXPRESS AUTHORIZATION BY LOCAL PORTUGUESE MARITIME AUTHORITIES.
2. COMMANDERS AND SKIPPERS OF BOATS WISHING TO ENTER IN A RECREATIONAL PORT OR MARINA MUST CONTACT THE LOCAL PORT CAPTAINCIES BY VHF CH16, EMAIL OR PHONE.
20-03-2020
We moved again a little bit inside the harbor of Portimao, because of lack of swinging room and poor holding ground. Now we are in front of the comercial basin and the fishing docks. A second sailing vessel from Denmark is lying beside us.
You are able to see us at vessel finder and so forth by our MMSI 211808250.
Up to now, we have not seen any officials. We hope that the NAV. WARNING is aimed at new arrivals and not for vessels moored up before 19-03-2020.
Our greatest concern is about restrictions on anchoring or being asked to leave the Portimao harbor, because then there would be no possibility to go anywhere. The way up the Portuguese west coast will only be possible come May or June and to the south there is possibly only Gibraltar.
In the river Guadiana there are about 40 to 50 sailing vessels moored. Two thirds of them with sailing crew. About half of them UK nationals.
Dörte & Jens
SV TENDREL-AURELIE
MMSI 211808250
…………………………………………………………………………………………………………………………………..
Please share your current experience with COVID-19 restrictions and how it has affected your cruising plans. Contact Sue at [email protected] with your field report.
…………………………………………………………………………………………………………………………………..
The opinions expressed in this article are the author's own and do not reflect the view of Noonsite.com or World Cruising Club.