Previous Page
General Info
ALERT:
As of July 2019, all vessels are currently banned from entering Havannah Harbour due to an infestation of the Coconut Rhinoceros Beetle. Click here for more detail.
General Information
Port Vila, the Capital of Vanuatu, is a sheltered anchorage for yachts with one of the most beautiful natural harbours in the world.
Marine businesses here have worked hard together to make Port Vila a yachtie welcoming place with good repair facilities. The Port Vila boatyard has recently been upgraded and offers DIY options as well as full service, plus cyclone proof moorings.
There are good local medical services and Yachting World provides diesel, potable water, laundry and a dinghy dock. The Waterfront Bar and Grill with its Cruisers Corner is where cruisers get together and meet and the next door Connect Cafe has excellent Wifi and Internet facilities.
The port lies on the SE side of the island of Efate (Shefa).
The town and port have huge infrastructure and beautification project upgrades in progress during 2017. These including rebuilding the sea wall, a new container and inter-island shipping wharf and a new shipping channel giving access to the inner harbour from Pontoon Bay.
New Shipping Channel
A +- 5 meter deep +- 50-meter wide channel has been dredged through the previously shallow area south of Iririki Island, between Iririki Island and the Port area. This Channel is to the south of Iririki. This means that yachts with a draft of over three meters or a mast taller than 20 meters can now get access to the inner harbour from Pontoon Bay and around the south of Iririki Island through the new deep passage, also bypassing the overhead power line which was previously restricting access (for tall masts) to the inner harbour and also to Yachting World's seawall and mooring area. The new deepwater channel now has channel markers fitted.
It's important for yachts to know the following: Due to ever-increasing commercial activity, in Pontoon Bay and also the South part of Paray Bay, any yachts intending to use the new channel must obtain permission from the harbourmaster by calling Port Vila Harbourmaster on VHF Channel 16 or 12 prior to entering Pontoon Bay and/or prior to making use of the channel from either side.
The new international wharf and container terminal has now been completed as has the improvements to Port Vila's seafront.
Vanuatu has banned single-use plastic bags, straws and takeaway food containers – so make sure you have suitable bags with you before going shopping.
Position: 17° 44.51'S, 168° 17.52'E (entrance to the bay)
Clearance
This is one of the four official clearance ports for Vanuatu. See Vanuatu Formalities for detailed information on Clearance.
Remember: 24 hours prior notice of arrival is required by Customs.
Clearance here is reported to be simple, fast, friendly and painless.
When you arrive in Port Vila, anchor in the quarantine zone near the YELLOW buoy. This is just north of the lead markers in some 8 to 20 meters depth. Have your yellow quarantine flag flying.
Call Port Vila Harbor Control on Channel 16. They keep radio watch from 07:30 to 16:30. If they do not answer, try Yachting World on Channel 16 or 60. They will contact Customs and Quarantine for you.
Most offices are open Monday to Friday from 08:00 to 16:00 hours, Saturdays from 08:00 to 12:00 and are closed on Sunday and public holidays. They also tend to be closed for lunch, between 1130 and 1300/1330.
If you plan to arrive on a Saturday afternoon or Sunday, the boat must remain in the quarantine area until Monday. Do not go ashore without first clearing in or without explicit instructions by radio or telephone from Customs officials instructing you otherwise.
If you or a member of your crew expect to take an aeroplane flight out of Port Vila on a Sunday, be sure to see Immigration and Customs on the previous Friday.
Customs, quarantine and immigration are reported to be very helpful, as are the Yachting World crew. See Vanuatu Fees for Clearance costs.
Location of Offices
Most offices are located on the main wharf. Quarantine and port dues are payable at the respective offices behind the Customs office. This is just a 10-minute dinghy ride from the mooring field.
The Immigration office is now located near the centre of town in the old French Embassy building.
Last updated: September 2018
Docking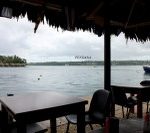 The view from the waterfront cafe – photo from James Ellingford
After clearing in it is advisable to head for the protected inner harbour behind Irirki Island. Contact Yachting World on VHF 16 and they will action your request for a berth on the Yachting World Marina or a swing mooring in the harbour.
Click here for Yachting World's sailing directions for entering the inner harbour.
Anchoring is possible ahead of the quarantine area and outside of the mooring field. An anchor light must be used between sunset and sunrise. The yachting world staff, in their yellow shirts and yellow striped dinghies, will meet you and assist you to the Marina or to an available swing mooring in the harbour.
Yachting World uses the VHF call channel 16 then asks you to switch to another designated channel of the day. Please note that the Harbour regulations prohibit boats from rafting up on moorings, throwing trash or garbage in the water or pumping oily bilge water into the harbour.
Non – compliance with these regulations may damage marine life and disrupt the various recreational activities that are enjoyed in Port Vila Harbour. So please do the right thing and keep everyone happy.
Havannah Harbour – North West of Efate
ALERT:
As of July 2019, all vessels are currently banned from entering Havannah Harbour due to an infestation of the Coconut Rhinoceros Beetle. Click here for more detail.
This is another beautiful spot to spend some time and is well sheltered. Visiting yachts can hire a private mooring known as 'Daves Mooring' by contacting Jane on +678 779 2227. The buoy can be found at approx. position 17 35.35S 168 14.53E (opposite Jane's house with orange walls). Water is available from Jane and rubbish can be left ashore.
Rubbish Disposal in Port Vila
For visiting yachts, there are Quarantine Rubbish Bins behind the Waterfront Bar and Grill, as well as an area to dispose of old oil. Rubbish in any bags can be disposed of here.
Yachting World will take their customers' rubbish but do not want non-customers using their bins as YW obviously have to pay for the rubbish to be removed.
The Port Vila Boatyard will take any yachts rubbish and/or waste oil/fuel and used oil/fuel filters. Take your oil in sealed plastic containers and empty them into the waste oil drums. You can pull up your dinghy on the boatyard beach, drop by the office to say hello and put your rubbish in their bins.
Port Vila rubbish disposal in public rubbish bins is handled using pre-paid bags. If rubbish not in these bags is left, it will not be collected and there are very few public rubbish bins available.
Luganville also operates on the pre-paid bag system but has many more public rubbish bins available for use.
Last updated: March 2017
Yacht Clubs
Places
Efate, Port Vila, Vanuatu