Previous Page
General Info
This bay lies at the southern tip of this rugged, long and narrow island. It has many creeks and rivers.
Position: 15° 23.18'S, 168° 08.56'E (Asanvari bay)
Clearance
This is not Port of Entry. Make sure you check in/out from one of the four ports of entry in Vanuatu on Efate, Santo, Banks or Tanna Islands.
Docking
Asanvari Bay is the calmest anchorage on Maewo. The anchorage is well protected from tradewinds (open to NW to SW winds). Anchor over rock and coral in 30 to 60 feet. You can land your dinghy ashore in front of the yacht club. A small dinghy channel is marked by 2 range posts ashore and a green LED light at night.
Yacht Clubs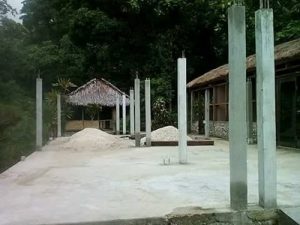 Chief Nelson and son Nixon have welcomed yachts here for many years. Earlier cruisers helped them get foreign aid to build a proper Yacht Club and to install a small hydro-electric generator near the Bay's waterfall.
Asanvari Bay Yacht Club is in the process of being fully reconstructed with funds from a superyacht captain, Sean Meagher, who is a good personal friend of late Chief Nelson's son, Nixon Sarai.
The plan is for a soft opening in July 2017 with bigger more formal opening celebrations in August.
Last updated: March 2017.
Places
Asanvari Bay, Maewo Island, Vanuatu