Previous Page
General Info
COVID-19: OPEN PORT
For details of entry protocols see Biosecurity
The three approved agents that can assist with yacht entry are:
– Asia Pacific Superyachts – [email protected]
– Porntip Logistics – [email protected]
– Asia Yacht Agency – [email protected]

Make an appointment for clearance with your authorized agent and go straight to Ao Chalong One Stop Services on arrival (see Clearance below).
Description:
Phuket Island is one of the Southern provinces of Thailand and its biggest island. It is world-renowned for its fine white sand beaches making it a major tourist destination.
Phuket and its adjoining bay (Phang Nga) has some of the most interesting limestone geology in the world.
Cruiser Highlights:
One-stop-shop clearance; good anchoring; choice of marinas and yachting services (but not low cost); anything tourist-related you want to do; great beaches; close to Phang Nga Bay, the Phi Phi Islands, and the Similan Islands.
http://ams-sea.com/downloads/ – Phuket Marine Directory
http://www.phuket.com/ – Phuket Travel Guide
Entrance Notes and Cautions:
It is now necessary for all foreign boats coming to Phuket island to first visit Ao Chalong Pier to complete formalities before they can travel anywhere else around Phuket.
Since January 2016 it has been mandatory for all incoming and out-going yachts to have AIS. Failure to have an AIS transponder will result in a substantial fine. See further details below in Clearance.
Warning: In Chalong Bay, there is a submerged object not marked on charts. See news item for more details. In addition, a submerged metal pillar near Chalong Pier has now been marked with a line of small red and white flags.
There are now two large and substantial white concrete channel markers (Port – starboard) in Chalong Bay.
Boat Lagoon and Royal Phuket Marina have restricted access to some keelboats due to lack of depth in the long approach channel (maximum depth of 10 ft (3.20 m) at high tide). Night entry should not be attempted as the channel is not lit.
Position:
07° 49.08'N, 98° 21.05'E (Chalong Pier)
Related Businesses
Morn Car Rentals

Address: C/- 12/15 Moo 2, Thepkasatree Road, Kho-Kaew, Mung, Phuket Island, Thailand, 83000

Small shop on the highway just outside Boat Lagoon Marina

Rents cars and motorbikes. Laundry service. Book lending library. Poste Restante service for cruisers (have mail... Read More
Clearance
Ao Chalong Pier
This is a Port of Entry. For full details on clearing into and out of Thailand see Noonsite's Thailand Formalities.
Note: Current pandemic protocols require alternative clearance protocols. See Biosecurity for details.

Pre-Arrival:
Prior to arrival in Phuket it is now possible to do pre-registration online for your check-in. This will make the whole clearance process much quicker and simpler. Remember if your crew are leaving the boat in Phuket, they should be registered as passengers (see Thailand Immigration for more details).
To pre-register your yacht go to: http://yachtcontrol.depa.cloud/index.php

On Arrival:
The pier at Ao Chalong has offices at the end housing all the officials required for clearance (Ao Chalong One Stop Services). This is intended to be a one-stop check-in/out service. Immigration, Customs and the Harbour Master are all based in this building.
Office hours: 09:00 to 11:00 and 13:00 to 15:00 [updated May 2022].
All the crew need be present for clearance which can take as little as 20 minutes depending on how many "boats" are ahead of you in the queue.
Remember, your AIS must be on at all times.

Docking at the "marina" attached to the pier is not advisable as the pontoons are breaking up. It's much safer to find a suitable anchoring spot and dinghy into the marina. At the foot of the one-stop centre is a makeshift dinghy dock. It is also possible to bring your dinghy to the beach on the tide.
The pier shuttle buses carry passengers for 10 Baht (return) – tickets purchased at the office near where the buses park. Bicycles are no longer allowed down the pier unless they have special permission.
General Process:
Remember to take your passports, yacht registration (have three copies of everything) plus the original of the zarpe from your previous port. It does make the whole clearance process much quicker and simpler.
Whilst all the paperwork and forms can take some time the first time you do it, once the information is in the system subsequent visits are much faster. Visit the authorities in the following order:
1. Harbour Master / Port Captain
Yachts must check in with the Harbour Master as well as Customs and Immigration – visit him first; some vessels caught without a harbour clearance have been fined 5,000 Baht.
Even if a boat leaves Phuket province and cruises to Krabi Province, clearance should be done at the Harbour Masters office for the trip.
2. Immigration
A photograph is taken of all crew and passengers, who must be present during clearance (both in and out). The camera in the immigration office is the same as they use at the airport.
According to officials, regular checks of vessels will be carried out by Immigration officers to ensure compliance with Thai law. However, in reality, limited manpower means that this particular new rule is very difficult to maintain and enforce.
Visa Extensions: Yachts get a 30 day on arrival visa and can extend it by 30 days at immigration. Immigration now requires proof of residence for visa extensions, which can be a letter from a marina and your berth number or a hotel etc. if you are living ashore. The fee has gone up to 1900 Baht.
If crew overstay their 30-day visa they are subject to a fine. This must be paid before checking out with your boat.
Immigration are open 09.00-15.00.
3. Customs
The best time to check-in with Customs is 10.00-11.30 as they often have an extended lunch break. They close at 15.00.
Documents required include Customs Declaration Form in duplicate, Schedule 1 or Form No. 372 (and a copy), Ships Registration Certificate (and a copy), Original Port Clearance from previous port, Passports (and copies), AIS Certificate (copy).
Photocopies can be made at the reception office for 10BHT each. Make sure you have the right change.
Customs here are abiding by the new rules and give boats a 6-month permit to stay straight away before any extensions are applied for.
4. Quarantine
Fees:
Local council fees for yachts checking into Phuket no longer exist during normal working hours (Monday to Friday). All fees are paid on departure.
Immigration:
Normal Hours: 200 Baht
Sat/Sun & Holidays: 300 Baht
If you have left Thailand by plane since you cleared in, there will be an additional fee of 1,000 Baht on departure.
Customs:
Normal Hours: No charge for inward clearance, 200 Baht for outward clearance.
Sat/Sun & Holidays: 800 Baht inward, 1000 Baht outward.
Harbour Master/Port Control:
No charges.
Make sure you have the correct money and try not to turn up with 1000 Baht bills. All officials should give correct receipts.
Arriving from Langkawi
Yachts which take over 7 days to make the passage from Langkawi to Phuket may have some difficulties with Customs. There is no written regulation as to how long a yacht should take and this is what Customs take advantage of if they need some "tea money". If you are unhappy about the proceedings don't feel threatened – but inform the person (after writing his name down) that you wish to go to Phuket Town main office to discuss the issue of added charges. In reality, it should be no more than around 300 Baht. You might be shown a book of supposed fines receipts to convince you the request is legitimate. All you will be seeing are others that have been fooled and paid. Be cool, noticeably not agitated, in control and calm as well as polite when questioning any added charges. Anything above 200-300 Baht should be questioned.
AIS Requirement
As of 1 January 2016, AIS is now mandatory for all in-coming and out-going yachts. Failure to have an AIS transponder can result in a substantial fine.
The Authorities have stated the following:
IMPORTANT NOTICE (EFFECTIVE 1 JANUARY 2016)
It is mandatory for all foreigner yachts coming into Phuket, Thailand and outgoing from Phuket, Thailand to be equipped with an Automatic Identification System (AIS) or AIS Class B system or higher class appropriately. AIS must be ACTIVE when coming into Thai water or leaving Thai water or moving to somewhere else. Marine department allowed to turn off the AIS transmitter while the yachts stay in Marina or Hardstand. For more information, please contact Marine Department, Phuket Branch.
Clearing Out:
Note that office hours are now 1000 to 1200 and 1300 to 1500. The clearing out process will take at least an hour, so arriving at 1100 or 1400 could easily see you out of time. Leave your AIS switched on and know your MMSI number, or there will be a delay at the Harbour Master's office.
Go first to Immigration, then Customs, then the Harbour Master, back to Immigration then finally back to the Harbour Master.
Notes:
On departure Customs will want to see the Customs Declaration issued on arrival, schedule 6 or form no. 373 Declaration for Ships Outward, Registration Certificate (and a copy), Passports (and a copy), AIS Certificate (copy).
If sending someone to carry out arrival or departure clearance for you, be sure to send them with a letter of authorization.
You only have to check out with the Harbour Master if you are cruising to another province, i.e. Krabi.
Last updated: January 2020
Related Businesses
Docking
Moorings
Dozens of free moorings have been dropped in Chalong Bay and its surrounds by the local marine department (December 2012) to help protect the fragile reef environment and deter visiting yachts from anchoring. Beware, as these moorings are reported to be unsafe. It is also wise to be certain a mooring is not occupied (by an absent dive boat for example) before picking it up.
Anchoring
Locals advise finding a safe spot to anchor (note comments below under security). The area north of Phuket Yacht Haven offers excellent holding, although keep a good distance off the outer pontoons to allow space for turning. A nominal monthly fee can be paid to use the marina facilities, including dinghy dock.
May 2016: Anchoring restrictions were put in place in certain bays in Phuket province that are popular with tourist boats. These are best avoided. See news article here for details.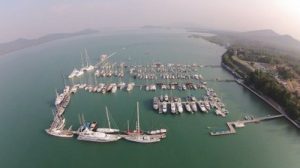 Marinas
There are marinas at the Yacht Haven (see photo), conveniently close to Phuket airport near the north of the island, and at the Boat Lagoon and Royal Phuket Marina close to Phuket Town.
Boat Lagoon and Royal Phuket Marina have restricted access to some keelboats due to lack of depth in the long approach channel. Both marinas, however, are very full and should be contacted in advance of arrival.
Boat Lagoon is located 8km from Phuket Town and is part of a hotel, resort development. The entrance channel starts at 07°58.65'N 98°24.9'E. Entry is difficult and has tide controlled access, with a maximum depth of 10 ft (3.20 m) at high tide. For boats over 50 feet with a draft in excess of 2 meters, the entry may not be possible even at the highest tides. It is marked all the way with concrete and steel pilings set 13 meters apart (takes approx. 45 min. to navigate at 4 knots). Night entry should not be attempted as the channel is not lit. Check that they have a berth available first.
Strong currents at Yacht Haven Marina permit movements only at slack water.
There are now two large and substantial white concrete channel markers (Port – starboard) in Chalong Bay.
Ashore
If unfamiliar with Phuket, this marine directory will help with finding the right marine service provider for the job. Free to download at http://ams-sea.com/downloads/
Security
2017: Break-in and theft at Railay Beach
2016: Several yachts staying in Chalong Bay during the off-season (around August to November) were broken into; other anchorages are safer, such as of The Yacht Haven Marina.
Take care with securing your dinghy properly on board and it is recommended not to leave it unattended ashore as dinghy theft is a problem here.
Last updated: April 2017
Related Businesses
Yacht Clubs
Related Businesses
Phuket Cruising Yacht Club (PCYC)

Address: On the beach at Chalong, 300m N of jetty, yacht check-in office & town centre, Phuket Island, Thailand,

Welcome visitors. Showers, marine guides, tide charts, book swap, dinghy lines under lights, WIFI, water, preferred contractors list, bar & restaurant and much more.... Read More

Phuket Yacht Club (previously Ao Chalong YC)

Address: 52/25 M. 9, Soi Po, Chaofa Rd, T. Chalon, A. Muang, Phuket, Thailand, 83130

Visitors welcome. Modern clubhouse, dinghy ramp & jetty, members dinghy storage ashore, professional restaurant, New Zealand chef, club racing, showers, WiFi, flat screen TV.Roast &... Read More
Courtesy Flag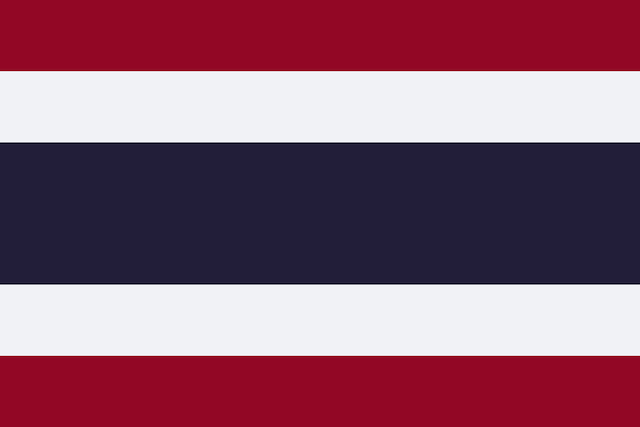 YachtFlags.com offers a discount to Noonsite members.
YachtFlags.com provides high quality courtesy flags that are manufactured in durable Knitted Polyester fabric. Knitted so that the fabric itself does not deteriorate in the constant movement that marine flags are usually exposed to, and polyester so that the flag does not weaken in the strong UV-light usually found in the main sailing areas of the world.
Use the coupon code NOONSITE_5A2B when checking out to get 10% off today.
Buy Now On YachtFlags.com
Places