Previous Page
General Info
Anse Marcel lies on the northern tip of the island.
Position: 18º 07'N, 63º 02'W. (marina entrance)
Clearance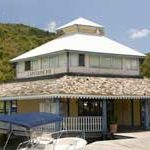 Yachts can clear at the Capitainerie office between 08:00-11:30 and 14:00-17:30. The telephone number for the Capitainerie is 0590 873194.
Photo courtesy of SV Zanshin.
Last updated: April 2015.
Docking
The marina is approached through a narrow channel at the eastern end of the beach. Once inside, the marina offers perfect shelter. The channel is only 9m wide and 3m deep.
This deep bay has a fine sheltered beach.
Last updated: December 2014.