Previous Page
General Info
COVID-19: OPEN
Description:
Jamestown is the capital of St. Helena and its only port, located on the NW coast. Sandwiched between the rough terrain of steep cliffs (that form James Valley), the town is rather long, thin and densely populated, with tightly knit, long and winding streets. Jamestown is known as "quintessential" and "one of the best examples of unspoiled Georgian architecture anywhere in the world", boasting the oldest Anglican Church in the Southern Hemisphere and other interesting historic buildings.
A popular tourist attraction here is Jacob's Ladder, a staircase of 699 steps, built in 1829 to connect Jamestown to the former fort on Ladder Hill, 600 feet above the town. The ladder is lit at night and the record ascent time is just over five minutes. People come from all over the world to take on the challenge of the climb.
Jamestown, St. Helena
Cruiser Highlights:
Mid-Atlantic stopover with provisioning, water, fuel and emergency repairs; mooring buoys; Yacht Club; water-taxi; extremely friendly and helpful locals; population of boat owners; airport; museum; diverse mix of terrain and micro-climates; Category VI MPA.
Entrance Notes and Cautions:
The mooring field is located close to the steep cliff on the western side of the harbor and the swells can be substantial both from the cliff and from the sea. Care should be taken to approach the field from the West and not through the local boats due to a large number of mooring lines and painters for the local fishing boats.
See Clearance for detailed arrival information during the day, darkness and at weekends.
Moorings have no painter and are difficult to pick up. See helpful notes below in Docking.
The swell here is substantial therefore great care must be taken to ensure your mooring lines are secure. Regular checks are recommended as boats have reported coming loose here.
Do not run your watermaker if tied to the moorings at West Rocks as this is exactly at the position of the Jamestown and Half Tree Hollow effluent outlet.
Position:
15° 55'11″S, 05° 43'19″W (approach to moorings)
Clearance
Related Businesses
Immigration Office – St Helena

Address: Coleman House, Market Street, Jamestown, St Helena Island, STHL 1ZZ

The Immigration Office is in Jamestown town. If arrival is on weekends, yachts should still present themselves to Police Headquarters to complete paper work. They will... Read More

Port Control – St Helena

Address: St Helena,

Port Control runs on a call service 24/7 so contact details for the Harbor Master, Deputy Harbour Master and Port Logistics Coordinator are included below.Harbor... Read More

Solomon and Company Plc.

Address: St. Helena,

Solomon and Company Plc. (Agent on St. Helena)... Read More
Docking

Moorings:
Port Control operates on VHF Ch 14. They are responsible for the allocation of mooring buoys. Moorings are allocated on a first-come-first-served basis and cannot be pre-booked.
There are 23 moorings currently in place and they are situated on the western side of James' Bay (15° 55′.400S, 05° 43′.5W) and are designed to accommodate yachts of up to 60ft LOA. There are two types of moorings:
YELLOW BUOYS (18) – for vessels up to 20 tons and up to 50ft LOA;
RED BUOYS (5) – for vessels of up to 50 tons and up to 60ft LOA (read full spec. here).
Larger yachts may also be accommodated by the arrangement of the Harbor Master.
The buoys are flat and round (like a large Swiss cheese) and are of a foamed material that will not scratch or mark your yacht. They are however very difficult to pick up as they currently have no painter. Cruisers report that the best way is to go stern-to and pass a line through the fixed eye of the buoy and then work it to the bow. This also works well in the heavy swells. You cannot lift the buoys on board.
Notes:
In the case of difficulty at night, call St Helena Radio on VHF channel 16.
There is no time limit for staying on the buoys. See Fees for a breakdown of costs.
You can find the allocation and use policy for the new moorings and other advice at St Helena Information for Yachts

As previously described, the swell here can be very substantial, therefore great care must be taken to ensure your mooring lines are secure. Regular checks are recommended as boats have reported coming loose here.
James Bay, Jamestown, St. Helena
Anchorages:
It is still possible to anchor in James Bay when the moorings are full, or if you prefer, however holding in this bay is very poor.
The normal anchorage should be to the North or West of the current government mooring facility (please see above reference). Do not anchor too far east as there is a telephone cable on the seabed – notice and indications to this effect are painted on the rock overlooking the anchorage.
Yachts are advised that, due to the depth of the harbor, it is recommended that the amount of chain or cable required for safe anchoring should be at least 3 times the depth of water. If you have to anchor, be sure your anchor is well set before going ashore and check the position of your vessel on a regular basis. Many a vessel has had to be collected on the horizon after it had dragged anchor.
The entire local harbor has a depth of less than 16m and is occupied by the local fishing and lighter fleet. All are moored with floating lines that interconnect the boats and various buoys. Any vessel that draws more than several cms or that cannot safely pass over floating lines needs to stay well outside the area.
During operational hours the ferry service (VHF 16) may assist you with tying up to a government mooring buoy (Red or Yellow), please do not pick up a local mooring.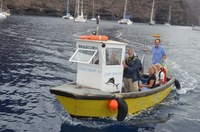 Getting Ashore:
Dinghies can be used but swell conditions on the wharf can be challenging and visitors are advised to make use of the regular ferry service. Call "ferry service" on Ch. 16 between 07:00 and 20:00hrs. Have plenty of fenders ready on the side towards the quay. The ferry runs every hour and costs £2/person each way. The fee is payable to the coxswain.
While the ferry does run to an approximate schedule, the weather and swell can often cause the service to be suspended. Be sure to ask about the last ferry back on your trip in.
The Harbor Master is very helpful and a mine of local information. He is the best person to ask for local advice on repairs.
Shore Facilities for Yachts:
Next to the blue yacht club building, on the quayside, are solar showers (a small fee is payable to the yacht club for the use of these facilities), toilets and a double sink for laundry (please check with the yacht club for opening times). There are also toilets and showers at the top of the landing steps and are free to use (no running hot water though).
If you must take your rubbish ashore, please do so in sturdy bags (double bagged) and dispose of it inside the bins near the ferry landing. Permission must be granted by the Port authority in the first instance, this is to ensure that Bio Security protocol is adhered to, no plant material, honey products or chicken products are too brought shore side.
There is a free water tap by the steps at the landing point.
Shower facilities and WiFi are also available at the Consulate Hotel – Tel: 22962.
Stores can be purchased from Thorpe's Wholesale, Solomons supermarket, Rose and Crown stores, Queen Mary stores plus other local shops all within Jamestown, who may offer discounts for bulk buying and delivery to the end of the wharf.
Port Control are able to facilitate the lifting of yachts for maintenance/repairs, please contact the harbour master or logistics coordinator Gene Henry. See Boatyards for more information.
Last updated: August 2021
Related Businesses
Marine Maven

Address: PO Box 212, Jamestown, St Helena,

Help and advice with navigating/pilotage approach to St Helena, yacht moorings and local facilities and services.

Can provide fuel, sail, canvas and upholstery repairs, lifejackets and... Read More

Port Control – St Helena

Address: St Helena,

Port Control runs on a call service 24/7 so contact details for the Harbor Master, Deputy Harbour Master and Port Logistics Coordinator are included below.Harbor... Read More
Yacht Clubs
Related Businesses
St Helena Yacht Club

Address: Jamestown, St. Helena,

The Yacht Club on the island does not open on a daily basis. Unfortunately, it does not have the resources yet to operate as a... Read More
Courtesy Flag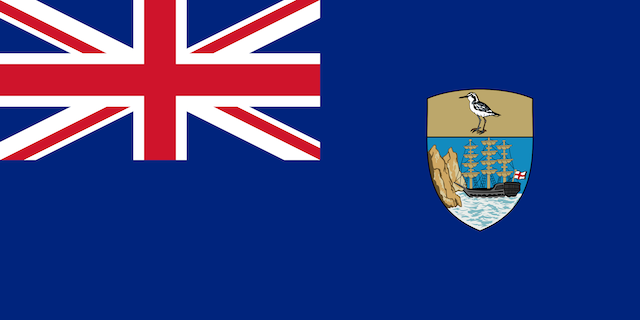 YachtFlags.com offers a discount to Noonsite members.
YachtFlags.com provides high quality courtesy flags that are manufactured in durable Knitted Polyester fabric. Knitted so that the fabric itself does not deteriorate in the constant movement that marine flags are usually exposed to, and polyester so that the flag does not weaken in the strong UV-light usually found in the main sailing areas of the world.
Use the coupon code NOONSITE_5A2B when checking out to get 10% off today.
Buy Now On YachtFlags.com
Places