Previous Page
General Info
The sheltered port of Victoria lies at the northern end of Mahe's east coast. It is the capital of Seychelles and the world's smallest capital city. There are 2 good boatyards here for hauling out and boat work/storage.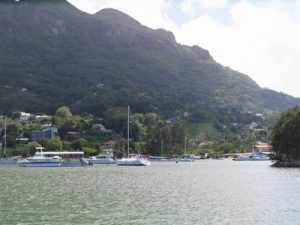 Photo: Victoria Harbour, Mahe ©Bent Haug
Position 04°37.51′S, 55°27.62′E (yacht club anchorage)
Docking
Whilst yachts can remain at the quarantine anchorage where they are directed on arrival, it is rather far from the Seychelles Yacht Club and a bumpy, wet ride ashore in the dinghy.
Alternatively, it is possible to anchor in the area around the yacht club safely, or close to Eden Island, once all the entry formalities have been dealt with.
Yachts can use the facilities of the Seychelles Yacht Club in Port Victoria's inner harbor, where visitors are welcome.
The anchorage in front of the club is well protected but rather noisy in proximity to the boatyards (good if you need repair work done). In addition, yachts are anchored close to shore and in July 2015 a number of boats were boarded at night and burgled. See report here. Local Police recommend cruisers lock their boats at night, lock and lift their dinghies and check their outside decks for anything that can be used as a weapon against them.
The club has a bar, restaurant, and laundry; there is also fuel on an adjacent dock. The yacht club charges a monthly fee for the use of its facilities.
The Eden Island marina is part of the luxury hotel complex on the east coast of Mahe. The Wharf Marina is opposite the island, on the mainland, just south of the bridge. Boats have also been boarded at night here too.
Angel Fish marina is a smaller marina, closer to the harbor and north of the Eden Island causeway. It is a charter operation with a single dock and a small bar/cafe. There is also a dive shop located at this marina.
The old port of Providence lies further down the east coast, about 3km south of Victoria and closer to the airport. Cruisers have reported a "small" marina here, where people can leave boats long term.
Latest update: July 2015
Yacht Clubs
Places
Mahe, Port Victoria (Mahe), Seychelles