Previous Page
General Info
COVID19: SUPPLY PORT FOR YACHTS IN TRANSIT
As of the amended state of emergency order 13 May, all boats and ships or yachts are prohibited access except:
(a) for trade and petroleum; and
(b) fishing boats approved for offloading, refueling and the restock of necessary supplies only;
(c) any other category of ships, boats and yachts for offloading, refueling and the restock of necessary supplies only.
Contact the authorities as per normal clearance procedures to obtain permission to stop for re-supply.
Description:
Apia is the only city in Samoa and lies in a natural harbor at the mouth of the Vaisigano River on Upolu's north coast. It is the only clearance port for Samoa.
Position: 13° 49.7′ S, 171° 45′.75 W.
Clearance
See Samoa/Clearance for full details. Clearance in Apia is reported to be hassle-free with friendly and nice officials.
Inward Clearance
Vessels are expected to call Apia Port Control two hours before entering the harbor on VHF Channel 16 but in fact, that frequency isn't always monitored so you may not get a response.
You will be directed to anchor at the head of the bay (21 feet mud, decent holding). The anchorage can easily accommodate a dozen or more boats and is very well protected.
Alternatively, head directly to the marina who will likely call all the authorities in advance of your arrival. Officials will come on board and clearance is reported to be straightforward and simple.
All arriving boats may come into Apia Marina for official clearance, even if they are anchoring, without paying any additional fees for clearance. However, there is a fee for dinghy access to the marina.
Outward Clearance
Visit first Immigration (in the Prime Minister's office building) where you will have to fill in two forms. They will provide a letter for you to give to Customs (located next to the marina).
Because of several cruising vessels departing without paying mooring fees, Customs now needs to see a receipt from the marina as proof of payment of dockage or dinghy fees before issuing an outbound clearance.
Last updated: August 2019
Docking
Marina
Apia Marina has two pontoons, however only one is available for visiting yachts (the other one full of local boats). There are approx. 22 berths available and so limited space.
The pontoons are floating concrete fingers with rubber guards fitted. All in good condition with power and water at every berth. Draft in the marina is limited to 2.5m.
The marina is owned and run by Trevor and his business partner who have a long term lease. Trevor is Samoan and went to school in New Zealand so speaks perfect English. However, he is the only certified commercial dive company on the island and is very busy so is not often to be found at the marina office.
Visiting yachts are given keys to the gate and showers, and the Marina ask that yacht crew lock the entrance gate in the evenings. In the past, there have been incidents with petty theft here, but nothing recently.
Photo from MY Pendana June 2015
Anchoring
Anchoring in the harbour is at the discretion of Samoa Ports Authority and appears to be somewhat dependent upon how many commercial vessels are at anchor.
There is no charge to use the Port's dinghy dock (behind the main wharf). Vessels on anchor can pay $50 per week or part thereof for the use of the marina to access shore. This includes the use of the dinghy dock, bathroom/showers and security. Alternative shore access is on the main beach in front of the Sheraton Hotel.
For the latest fees for anchoring download the Apia Marina Information sheet or see the Related User Comments section.
The harbour is clean and the marina, although subject to some swell, is well sheltered.
For information on anchoring elsewhere see: Savaii Island Anchorages
Facilities Ashore
All garbage must be put into sealed plastic bags.
See the Samoa/fees section for the details.
The building facing the marina houses four restaurants/bars, all playing music until the early hours at weekends and on Wednesdays.
Note:
Ensure that rat guards are fitted to mooring ropes as those in the port have learned to climb them. Ensure there are none aboard your boat before moving on.
Charts for anywhere but the north coast are not to be relied upon as accurate.
Last updated: August 2019
Related Businesses
Apia Marina

Address: Apia (Upolu), Samoa,

All arriving boats may come into Apia Marina for official clearance, even if they are anchoring, without paying any additional fees for clearance. However there... Read More
Courtesy Flag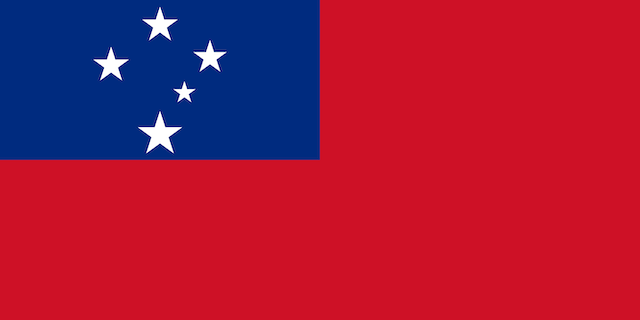 YachtFlags.com offers a discount to Noonsite members.
YachtFlags.com provides high quality courtesy flags that are manufactured in durable Knitted Polyester fabric. Knitted so that the fabric itself does not deteriorate in the constant movement that marine flags are usually exposed to, and polyester so that the flag does not weaken in the strong UV-light usually found in the main sailing areas of the world.
Use the coupon code NOONSITE_5A2B when checking out to get 10% off today.
Buy Now On YachtFlags.com
Places