Previous Page
General Info
COVID-19: OPEN PORT

It is mandatory to show evidence of being vaccinated as a pre requisite to entering Port of Salalah premises.
See Biosecurity for Yachting Protocols.

Description:
Port Salalah is the largest port in Oman and deals with a huge amount of commercial vessels on a daily basis. It is not suited for yachts and has no yachting facilities. An agent is needed in order to complete clearance formalities and as all our used to dealing with commercial vessels, yachts are of little interest and fees are high. Expect long waiting times and heavy costs. All yachts should contact the Port Captain for permission to enter.

Entrance Notes and Cautions:
Port of Salalah is entered from the NE between the East Breakwater and the Container Terminal.
Tidal range averages 1-2 m.
During the monsoon season (June to August) waves can be up to 4 m.
The navigation lights are reported as being in the perfect condition
indicating the fairway and the approach is without hazards. There is a
new, longer breakwater to the east and the container port has been
extended.
Port Control listens on VHF: Ch 16, 12 (24h watch) and 2,182kHz (24h watch).
E-mail: [email protected]
Tel: +968 23 219 052 / 23 219 500 Ext 423& 424
https://www.salalahport.com.om/

Position:
16° 57.23'N, 54° 01.75E (port entrance)
Clearance
For full details on clearing into and out of Oman see Oman Formalities.

All vessels are required to use an agent to deal with formalities here. See Clearance Agents.
Port of Salalah Vessel Clearance and Berthing Information [note the information relating to yachts is not current as an agent must be used at this time].

On Arrival:
If possible, e-mail Port Control 24 hours prior to arrival to advise of ETA and intentions. Port of Salalah operates 24 hours a day, seven days a week, divided in day and night shifts. The officials do not operate 24/7.
Call Port Control on VHF Channel 16 half an hour before entering the harbor, they will advise about any big ship movements and direct you where to anchor [normally outside the port to the north of the big port breakwater in 12m/sand. Yachts must remain at anchor until their agent has secured permission to enter the port (based on volume of ship movements). This could be several days.
Clearance Procedure:
For clearance you will likely be instructed to tie up to one of the high concrete wharfs for commercial ships, with very large black rubber tyres. Allow enough mooring line for the 2.5m tidal range here. There are no proper berthing facilities for yachts in the port and anchoring is not permitted. Your agent will organise for any officials that need to come on board and collect passports and documents to clear with Immigration and Coast Guard. Again, be prepared for this to take some time.
Once your stamped passports are returned, you and your boat are cleared into the country and you you must then pay your port fees before departure through your agent. If you are under 15m in length and under 20 tons, it's possible you won't have to pay any fees for docking.
Once cleared, yachts cannot stay in the port and must depart or transfer to Hawana Marina, 12NM east of the port.
All vessels calling at Port of Salalah should have a valid insurance policy covering Wreck Removal and Third Party Liability. Vessels failing to produce correct insurance documents or having insufficient cover may be denied entry.
Departure:
Prior proceeding out of port you are required to call port control on VHF Channel 12 and give your Port Clearance number to port control on VHF.
Port control will advise on the suitability of time to leave the port according to the prevailing traffic.
In case of doubt, call Port Control on +968-23219052 or VHF CH12; Port Control works round the clock 24/7.
Notes:
It is no longer possible to pay clearance fees by cash.
The authorities are reported to not be keen on yachts being left unattended while you travel inland or leave the country, so it is advisable to arrange for someone to keep on eye on the boat while you are away.
Agents also offer services to yachts such as helping obtain fuel and car rental (very useful for getting about), and also looking after the yacht if it is to be left.
Last updated: November 2021
Related Businesses
Al Sahool Agency

Address: Port Salalah, Oman,

Contact Mr. Omar Moosa. Familiar with private sailing yachts. Can assist with clearance, berthing, diesel, spares, repairs etc.... Read More
Docking
Anchoring:
There are three anchorage areas designated for vessels calling at the Port of Salalah.
Port Control (VHF Channel 16) will advise on where to anchor. The holding in the harbor is not always good in anything of a wind.
A small building next to the dinghy landing has basic facilities: shower, toilet, hand laundry facilities and water. It will be locked so ask at the Port Police office for a key.
Note: The port gate hours are 08:00 to 20:00, Saturday to Thursday.
Marinas:
The Hawana Salalah Marina is located approx. 12NM east of the port. It has a floating dock with limited space. The taxi fare into town is US$50. There is a mini-market on site and a few restaurants, but very little else.
Last updated: October 2021
Related Businesses
Hawana Salalah Marina

Address: Salalah, Oman,

This marina was built primarily for the superyacht market with 170-berths planned, apartments and retail units. However it was never completed and has an abandoned... Read More
Yacht Clubs
Although not a yacht club, the Oasis Club, situated just outside the port gates, is reported to be very welcoming to visiting yachties, providing great food, alcohol and WiFi. Amenities include a swimming pool and bowling alley.
Last updated: February 2016
Courtesy Flag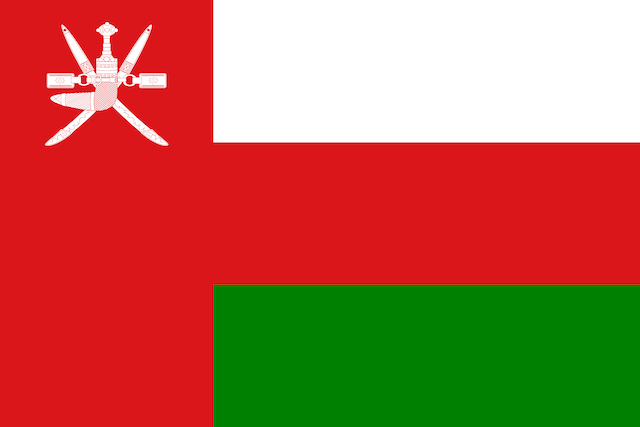 YachtFlags.com offers a discount to Noonsite members.
YachtFlags.com provides high quality courtesy flags that are manufactured in durable Knitted Polyester fabric. Knitted so that the fabric itself does not deteriorate in the constant movement that marine flags are usually exposed to, and polyester so that the flag does not weaken in the strong UV-light usually found in the main sailing areas of the world.
Use the coupon code NOONSITE_5A2B when checking out to get 10% off today.
Buy Now On YachtFlags.com
Places