Previous Page
General Info
Geographically, the Musandam Peninsula juts into the Strait of Hormuz, the narrow entry into the Persian Gulf, from the Arabian Peninsula. It is an exclave of Oman, separated from the rest of the country by the UAE. Its location gives Oman partial control, shared with Iran, of the strategic strait.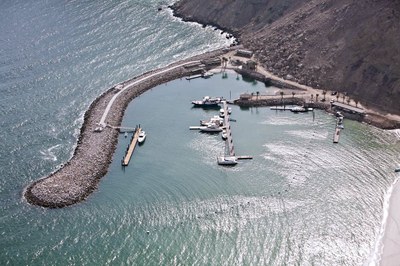 Prior to 2008, access to the Peninsula (other than by private yacht) was rather difficult, with the only options being limited flights or a 10 hour drive through four immigration posts. The world's fastest passenger ferry service now runs between Muscat and Musandam to alleviate this problem and make the region more accessible.
The Zighy Marina is situated here on the SE coast of the peninsula. Previously run by ART Marine Marinas it is now independent. Zighy Marina is only two hours away from Dubai and is a 15 minute boat ride from Dibba Port, Musandam.
Position:  26° 12.63'N, 56° 15.12'E (Harbor entrance)
Docking
Zighy Marina has been designed to capture the spirit of indigenous Omani heritage, which respects both the environment and the traditional architecture of Oman. The marina is also sensitive towards the original inhabitants of the bay, a local fishing village, ensuring the least disturbance to nature and their community. Since their livelihood stems from fishing, Zighy marina built and currently maintains a docking platform for the fishing boats and their equipment.
Last updated:  June 2013.