Previous Page
General Info
Muscat is the capital of Oman and lies on the Arabian Sea along the Gulf of Oman. The landscape here is dominated by the rocky Western Al Hajar Mountains.  Low-lying white buildings typify most of Muscat's urban landscape, while the port district of Muttrah, with its corniche and harbour, form the north eastern periphery of the city. Muscat's economy is dominated by trade, petroleum and porting.
Position:  23° 35.12'N, 58° 36.49'E (Marina Bander Al Rowdha)
Clearance
For full details on clearing into and out of Oman see Oman Formalities.
The marina office will contact the relevant officials for clearance.
Docking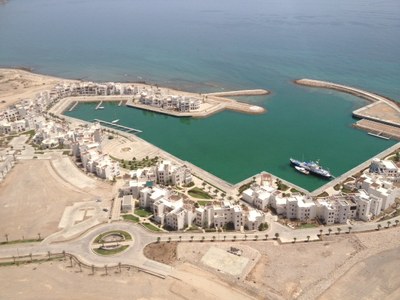 Marina Bander Al Rowdha. While the marina welcomes visitors, it is pretty much full with permanent berth holders.  Marina Manager Bob Looker [email protected] will however always ensure visitors can have a berth, but skippers should be aware that if a yacht is much smaller than the long-term berth available, it may be necessary to pay for the size of the berth and not of the yacht, if one wants to make sure that this berth would be guaranteed.
The Jebel Sifah Marina (see photo) opened in February 2012. This is part of a resort and is situated around 30 kms (18 miles) from downtown Muscat.
The new Almouj Marina, located within The Wave, is now welcoming visiting yachts with 121 berths completed.
Last updated:  November 2014.
Related Businesses
Al Sahool Agency

Address: Port Salalah, Oman,

Contact Mr. Omar Moosa. Familiar with private sailing yachts. Can assist with clearance, berthing, diesel, spares, repairs etc.... Read More

Almouj Marina

Address: The Wave, Muscat, Oman,

Location:   23°37'55"N 58°16'03"E

Berths for 10 meters to 40 meters. 121 berths operational. Special offer for visiting yachts. State of the art facilities. Very protected from... Read More

Jebel Sifah Marina

Address: Muscat, Oman,

The first inland marina in Oman with a docking range of up to 60 meters in length. Designed to comfortably accommodate 86 boats. In addition,... Read More

Marina Bander Al Rowdha

Address: P.O. Box 940, (Postal Code 100), Muscat, Oman, 113

Visiting yachts are charged according to their LOA. Water and electricity to all berths. Good internet, restaurant and bar. Travel lift and some small repairs... Read More

Mina Qaboos Port

Address: Muscat, Oman,

Mussanah Marina

Address: Muscat, Oman,

Full-service marina, purpose-built to host the Asian Beach Games in 2010. The marina has 54 berths for boats up to 26 meters long, a boat... Read More

Shangri La Barr Al Jissah Marina

Address: PO Box 644, Muscat, Oman, 100

This is a private resort marina, with berthing for up to 80 boats. The marina, anchored with powerful sea-flex shock absorbers, features 58 full-service berths... Read More

Zighy Bay Marina

Address: Musandam Peninsula, Oman,

Boutique marina designed to blend into the landscape. Situated on Zighy Bay – a 1.6 km stretch of white beach backed by rocky mountains. 45... Read More