Previous Page
General Info
ALERT: Following major damage to Niue mooring field from Cyclone Tino in mid-January, combined with the COVID-19 emergency, no yachts will be allowed entry into Niue for the 2020 season.
Description:
Alofi is the capital of Niue and consists of the two villages: Alofi North and Alofi South where the government headquarters are located. It is located at the centre of Alofi Bay on the west coast of the island, close to the only break in the coral reef that surrounds Niue. The bay stretches for 30% of the island's length (about seven kilometres) from Halagigie Point in the south to Makapu Point in the north.
Niue Mooring Field: © NYC
Entrance Notes and Cautions:
Approaching Niue there are two FAD positions for Alofi Bay. These fish aggregation rafts are lying low in the water and are unmarked. They are moored in 300 metres of water and while the GPS location is for the concrete attachment blocks below, the rafts swing on a wider arc than these marked positions. Please be aware of these FADs as there are no other impediments to your safe arrival to Niue.
Position:
19° 3'11.80″S, 169° 55'23.16″W (moorings)
Clearance
Docking
Important Note: The end of May is a busy time here as World ARC stops over and normally moorings are restricted due to cyclone damage. Visiting here from June 1st is recommended in order to ensure mooring availability. See Comments for the latest update from Niue Yacht Club.
Approach
Although there are navigation lights marked on most charts, some of these north and south of the wharf approach have not been repaired after Cyclone Heta damage. There are two red leading lights that indicate the approach to the wharf and two bright white lights illuminating the wharf area after dark which can be seen for a distance seaward.
See notes above about the FADs in Alofi Bay which should be avoided.
It is advisable to approach in daylight and, if possible, to use radar to establish distance off. Provisions have been made for a night approach – see below – however, the FADs are not lit. Depth soundings will offer no help due to the steep-to nature of the coast.
The Niue Yacht Club website has some useful aerial photographs of the mooring field, anchorage, and wharf.
Anchorages
Anchoring is discouraged because of the seabed topography where anchors can get into crevices etc.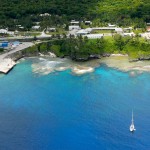 Moorings
The Yacht Club mooring field is fully operational. Moorings are installed in April and removed in November for cleaning, checking, repairing and replacing.
During rally visits throughout the cruising season, there is limited availability. Whilst advance booking is not possible, it's worth contacting the NYC in advance of your arrival to check no big fleets are due in.
Moorings are available at $20NZ per night.
All moorings for Niue Yacht club are regularly inspected and photographed, made even easier in 2018 with the NYC's new ROV (underwater drone).
The moorings are approx. 5-ton concrete blocks with polyester lines and pink pick-up floats (detailed mooring specs can be found on the NYC website). The concrete blocks have been placed on sand patches between the coral outcrops, to minimize environmental impact. Pass your rope through the stainless steel eye on top of the mooring, tie off on board and put the float back in the water.
Note that the far north mooring is a privately owned mooring for a local fisherman and is not available for yacht use.
All mooring buoys have reflective tape on the pick-up float to ensure easier mooring in the dark.
There is also a large Niue Fisheries mooring available all year round that is designed for very large yachts. A $25 per night fee is payable to the Niue Fisheries Department
Contact Niue Yacht Club on Channel 16 (monitored throughout the day) for mooring allocation. You will be asked to go to CH 10 by their operator. Niue Radio also monitors these calls.
Niue is the base for a Sailmail station.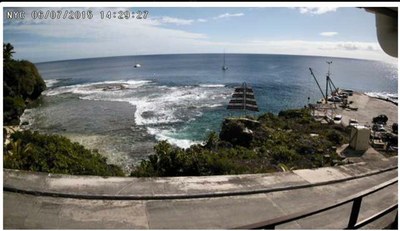 Getting Ashore
Landing with your dinghy can be an interesting experience as there is no beach, just a concrete jetty/wharf (see view from the wharf camera adjacent showing the southern mooring buoys and winch for tenders). Your tender must be lifted out by the dock crane onto the wharf, where there is a trolley for moving it clear of the landing zone. You will need a 3 point bridle for your dinghy.
Last updated: April 2018
Yacht Clubs
There are two washroom units, with solar-heated showers, a large Stainless steel basin and "head", situated 100 meters up from the wharf landing, just above the bright blue "Welcome to Niue" sign.
Keys for the shower and toilet block on the wharf are available at Niue Yacht Club HQ who maintain these facilities.
Related Businesses
Niue Yacht Club (NYC)

Address: P.O. Box 50, Alofi, Niue,

COVID-19. Niue Border closed to ALL Yachts Until Further Notice!The Niue Yacht Club Committee is in hiatus and will form a new committee when Niue... Read More
Courtesy Flag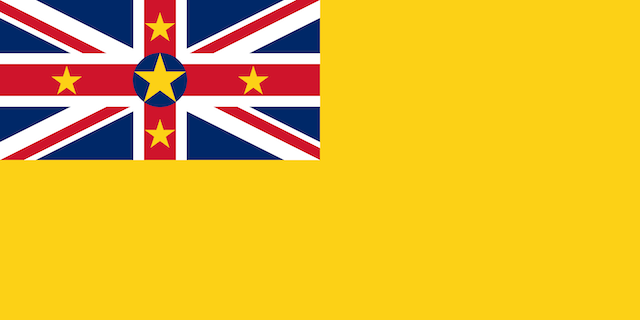 YachtFlags.com offers a discount to Noonsite members.
YachtFlags.com provides high quality courtesy flags that are manufactured in durable Knitted Polyester fabric. Knitted so that the fabric itself does not deteriorate in the constant movement that marine flags are usually exposed to, and polyester so that the flag does not weaken in the strong UV-light usually found in the main sailing areas of the world.
Use the coupon code NOONSITE_5A2B when checking out to get 10% off today.
Buy Now On YachtFlags.com