Previous Page
General Info
Description:
Mahajanga (also known as Majung) lies on the north-west coast of Madagascar and is its second largest port and the closest clearance port to the Cap Saint Andre where cruising boats typically jump to cross the Mozambique channel.
It provides a safe harbour for domestic and foreign fishing fleets. Local trading schooners and dhows are thick on the water at sunrise and sunset as they carry cargo to coastal towns and cities.
Security:
Because of the large amount of boat traffic in the harbour, the potential for theft exists. A number of armed robberies occurred here in the past, and sadly in October 2016 an Italian yacht was boarded at night by armed men and robbed. See report here.
With careful security planning, however, this harbour can be visited if the boat is anchored away from the port.
Mahajanga is an option if wishing to explore inland (Marovoay, the Reserve Forestiere d'Ampijoroa, the Parc National d'Ankarafantsika, or the capital, Antananarivo) and guardinage can be arranged.
Position:
15° 43.61′S, 46° 18.43′E (small craft harbour)
Clearance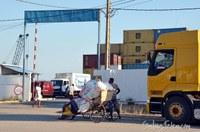 This is a Port of Entry.
See the main Noonsite/Madagascar/formalities page for the full details of clearance.
Mahajanga is a reasonable place to do exit clearance if bound for South Africa, but not planning to sail as far south along the coast as Tulear. It is reported to be quick and easy.
Clearance with immigration/police is inside the port, behind the blue gate (see photo courtesy of SY Totem).
Last updated October 2015.
Docking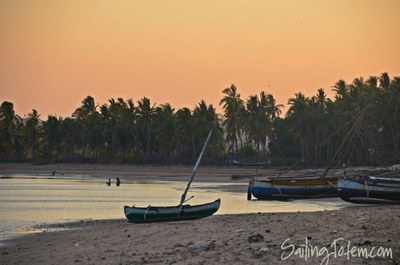 Shallow draft vessels might consider the small craft harbour. It is VERY busy with local fishing and trading boats. It is possible to anchor off the eastern end of the commercial wharf, but this is rather exposed.
Another option is close to Schneider Bay as possible, (GPS  15deg 42.91' S  46deg 17.79' E) right on the edge of the shallows. The bay itself is too shallow for mooring except for a cat. This position is close to a mooring buoy used by oil tankers but they tie-up between the buoy and the mole so there is no problem. From here there is a small beach where you can land a dinghy and pay 5000 Ar as a minding fee. It is a 3000 Ar taxi ride to town.
Do not anchor near Point de Sable as shown in "East Africa Pilot"; you will be told to move.
The sleepy village of Katsepy (see photo courtesy of SY Totem) is five miles across the mouth of the delta from Mahajanga's inner harbour. The village is a terminus for bush taxis to drop passengers to be ferried to Mahajanga. This is an easy and convenient place to provision and fuel (by jerry can from a gas station near the harbour via tuk-tuk). There are 2 two well-stocked supermarkets walking distance from the waterfront.
The river delta here is extremely muddy.
Last updated October 2015.
Courtesy Flag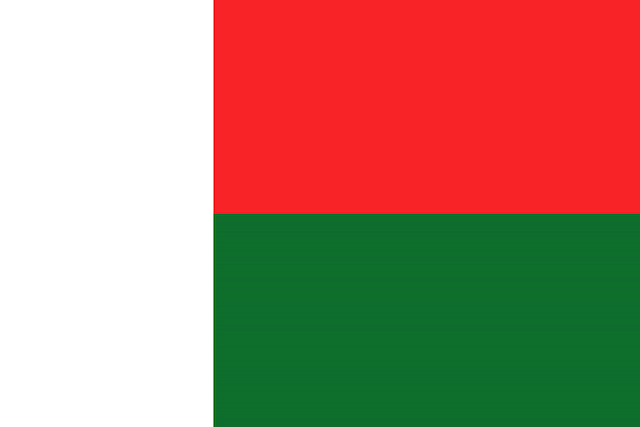 YachtFlags.com offers a discount to Noonsite members.
YachtFlags.com provides high quality courtesy flags that are manufactured in durable Knitted Polyester fabric. Knitted so that the fabric itself does not deteriorate in the constant movement that marine flags are usually exposed to, and polyester so that the flag does not weaken in the strong UV-light usually found in the main sailing areas of the world.
Use the coupon code NOONSITE_5A2B when checking out to get 10% off today.
Buy Now On YachtFlags.com
Places