Previous Page
General Info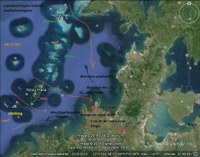 Located on the NW tip of Madagascar, Nosy Hara is 20 miles from Antsiranana and 75 miles from Nosy Be.
The Nosy Hara archipelago is made up of about 12 small islands surrounded by coral reef and is one of the first large-scale marine protected areas in Madagascar.
Half the islands are made up of unique Malagasy 'tsingy' ecotype, producing cliffs and crags of weathered limestone popular with climbers. The other half is sand. Four of the islands (Nosy Hara, Nosy Lakandava, Nosy Anjombovola, and Nosy Andranzara) have a forest growing amongst the crags inhabited by endemic birds, frogs and lizards.
Nearby Nosy Hao is also worth a visit, with an abundance of sea turtle from March to August (the largest population in Madagascar) and wonderful views at low tide.
There are 2 rangers living on Nosy Hara who have carved paths into the jagged rock for visitors.
Position 12° 13.79'S, 49° 0.99'E (anchorage at N end of the island)
Docking
Nosy Hara
Nosy Hara has high cliffs, which help shelter the anchorage. During the Varatraza wind (east and south-east wind) the west side of the island offers protection and when you have the Talio wind (west wind) the east of the island offers protection (only in the summer).
The anchorage is quite small but spectacular. Cruisers visiting in 2014 reported that if you go ashore, the Rangers will ask for a daily fee of approx. $4 per person. Take care ashore as the limestone rock has been carved by wind and rain into razor-sharp rocks.
Ampasindava Courrier Bay
Tucked inside of Nosy Hara on the mainland is Ampasindava Courrier Bay (12 15.6S 49 06.2E) which offers a sheltered anchorage for visiting yachts with good holding and no charge. Google Maps showing location have been provided by Guillaume Pignol who runs a "yacht club" and snack bar on the beach here and offers lots of help and services to visiting cruisers.
Last updated August 2017.
Related Businesses
Guillaume Pignol

Address: Ampasindava Courrier Bay, Nosy Hara, Madagascar,

Runs a "yacht club" and snack bar on the beach. Can assist with repairs. Water, provisions. Multihulls can be beached here for hurricane season. The... Read More