Previous Page
General Info
The Island of Roatan is located 30 miles off the coast of mainland Honduras.
Roatan Town, known locally as Coxen Hole, is the largest city on the Island and the main port of entry into the Bay Islands. The town has little to recommend it and security for yachts is reported to be bad, so skippers might be advised to take a taxi to the Port Captain's Office in Coxen Hole from one of the marinas or the anchorage in French Cay Harbour.
Position 16° 21.07'N, 86° 27.00'W (entrance French Cay harbour)
Clearance
See Honduras Formalities for full details of clearing into and out of Honduras.
The Q flag and Honduran courtesy flag should be flown.
Port Clearance is done in Coxen Hole. Latest reports are that clearance here for yachts is much improved, English spoken and the system much more efficient than in the past.
It's an easy walk between Immigration and the Port Captain. Have 4 copies of passports, boat registration document, crew list, and a copy of your Zarpe for immigration. The Port Captain will want a picture of the boat (on your phone is fine).
If Customs and Immigration officials in Coxen Hole are busy with cruise ships, yacht skippers can check in at Utila.
Cruisers report it is free to clear in here, but clearing out requires a small fee for an exit Zarpe (approx. $3).
Last updated: March 2019
Docking
Anchoring in Coxen Hole is not recommended.
French Cay Harbour and West End are the two favourite anchorages for cruisers on Roatan. There are a number of marinas in both places and around the Island. Facilities in these harbours are improving and there are good marine supply stores available.
Brick Bay Marina is 4 miles East of Coxen Hole.
Cruising the eastern end of Roatan should be done with care and avoided during the low-season when the crime rate increases. The same applies when exploring ashore. Use extreme caution when off the main path, especially when in a highly noticeable rental car.
West End
West End is a small town and West Bay is the beach. Noonsite has been advised that anchoring is now permitted here and that there are also a few mooring buoys available.
In Gibson Bight, West End, there is a marina.
West End/West Bay is badly exposed to northwest and north winds. Most local vessels move to the south side of the island if strong northerly winds are forecast.
Anchoring on the reef at Sandy Bay, West End Marine Park, within Half Moon Bay and West Bay, is prohibited. National Park mooring buoys are provided in these bays. Anchoring is permitted to the left of the entrance at West End.
Security: There have been burglaries reported here whilst owners are ashore, and outboard thefts.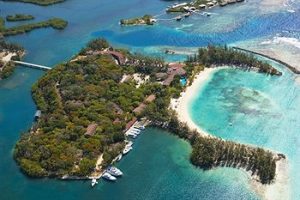 French Cay Harbour
French Cay Harbour is a large, very well protected anchorage with good holding. We have been advised that there are no mooring buoys available here. There are 2 marinas: Brooksy Point Yacht Club and Fantasy Island Resort & Marina (see photograph left courtesy of Fantasy Island). A new haulout facility catering, especially to cruising boats, is also planned for French Harbour.
Approach: Entry to French Cay Harbour waypoints. Line up the entrance at 16.20.86/86.27.02 with the Blue Roof. Proceed past the starboard marker to 16.21.17/86.26.97, turn starboard to 16.231.16/86.26.79, paralleling the reef. This will keep you clear of the (sometimes) marked shoal to Port. Once past, the way is clear to the Marinas & anchorage, in no less than approx. 13' of water.
Almost everything needed by cruising sailors is available within the French Cay Harbour area, including the best provisioning on the island, banks, hardware & marine supplies, doctors/dentist, a variety of dining options and a wealth of marine services. Access is via 2 dinghy docks, bus or "collective" taxi. Almost all goods and services needed are within a 15-minute walk of either dinghy dock.
The dinghy dock commonly referred to as the 'Shrimp Dock', is private property. The owner 'Mr. Bobby', has generously granted its use to cruisers. Your co-operation to maintain the shrimp dock as an access point is required by following basic guidelines – do not take water from the dock, do not dispose of garbage, and do not wander around the property. Please be courteous to all whom you meet. If there is someone on the dock, ASK for permission before you tie up. Finally, the gates are locked and the dogs released at 4 pm, so be aware, and beware!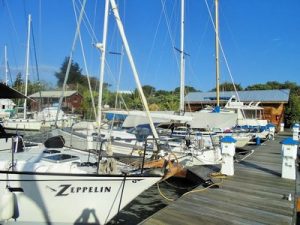 The another dinghy dock is at the Roatan Yacht Club (see photo right) which is now closed but the security guard there will watch your dinghy for $2
Fantasy Island marina also can be used for a dinghy for $2 per day. Trash can be dropped off here.
Note: The whole harbour is a marine reserve and taking ANY marine life is prohibited.
It is easy to take a taxi or bus from French Harbour to Coxen Hole to check in.
Restrictions
Cruisers visiting Roatan should understand that spearfishing is not permitted by anyone, including Honduran nationals, anywhere in Roatan. (The sole exception is for taking lionfish and for that you must take a class and get a license.) Foreign nationals are not permitted to take lobster and conch at any time anywhere in Roatan and Hondurans can only take them outside the park boundaries during the open season. Fishing is only permitted by hook and line.
Roatan Marine Parks
In all designated marine parks no one must touch the coral or remove anything from the sea including endangered species such as conch and lobster. Dive buoys (white with a black RMP logo) and fishing moorings (black fishes) cannot be used by yachts. No sewage is to be released into the sea within 5 miles of any Honduran coast. Failure to observe regulations may result in a jail sentence or vessel being impounded. Spearfishing is prohibited to tourists in ALL areas of Roatan. There is virtually no enforcement capability.
The latest Marine Park regulations can be found at the Roatan Marine Park website (see entry below).
Security
Use extreme caution travelling to the eastern end of the island where tourists have suffered violent attacks. Avoid leaving the main roads, especially when in a highly noticeable rental car.
Last updated April 2016.
Fantasy Island Beach Resort Marina
Yacht Clubs
Places
Bay Islands, Honduras, Roatan (Coxen Hole)