Previous Page
General Info
COVID-19: OPEN PORT
Description:
The island of Kosrae is beautiful, with the only forest of Ka trees in the world. The ruins of past civilizations are staggering. Enormous basalt blocks weighing tons assembled sometimes in 20 feet tall walls.
Cruiser Highlights:
Visitors can dive, snorkel, rent kayaks, go fishing, hike, windsurf, mountain bike and more… The few waterfalls are most of the time deserted and some are spectacular.
Good provisions are available here and getting around is very easy as a friendly local will normally pull over and offer you a ride.
Lelu Harbour, protected by the reef and Lelu Island, is the harbour of the capital Tofol, and is on the eastern side of the island.
Entrance Notes or Cautions:
The best time to arrive here is Monday to Friday after 08:00 to avoid any overtime charges.
Position:
05º 19.48'N, 163º 02.10'E (pass into the harbour)
Clearance
Coronavirus (February 2020): There are strict controls in place as to who can and cannot enter FSM. See Formalities for all the details.
See the FSM Formalities page for full details on clearing into and out of the Federated States of Micronesia.
See Fees for details of clearance and port charges here.
Smith Sigrah lives on the water next to the ACE hardware store which he manages. Normally a member of his family will notice a yacht arriving and call the 4 authorities that will check the yacht in (Immigration, Quarantine, Customs and Port Authority).
Yachts can either tie alongside the main pier or anchor just west of ACE Hardware in 35 feet and a mud bottom. Go ashore to the steps at the back of ACE Hardware and ask Smith or his family for assistance, they are all very cruiser friendly.
Either they will call the authorities or you could hitch-hike or get a taxi to clear in yourself in Tofol at the Custom & Immigration offices in the same building as the post office.
A copy of your Micronesia Cruising Permit will be required by Immigration. They will call the quarantine officer so he can inspect the boat. Quarantine might confiscate any fresh fruit.
Do not delay checking in, but do so directly on arrival.
Clearance is also possible at Okat Harbour on the western coast, although Lelu is the preferred Port of Entry. The airport is there.
Note: Following a dramatic increase in fees in January 2013 due to the appointment of a new Port Authority Manager, action was taken to improve the fee structure for visiting yachts. Current fees are greatly reduced making Kosrae a viable port to visit once again.
Latest update: October 2017
Customs, Kosrae Office – Lele/Leluh Harbour
Docking
Due to concern about the coral, boats are asked not to anchor around the island except in Lelu harbour (mooring buoys are provided elsewhere).
In Lelu harbour the bottom is mud and about 30-40ft deep. Put plenty of scope and allow for possible dragging in wind gusts and squalls. Your boat might not lay in the wind, due to currents going in/out if you anchor too far away from shore.
Anchoring Eastwards of ACE Hardware building is said to be firmer bottom with less dragging. From this anchorage, you can easily leave your dinghy at the shore and access the island.
You can also go by dinghy in the mangrove channel to the very cruiser-friendly Bully's Restaurant at Pacific Treelodge Resort.
Mooring Buoys
About 63 orange mooring buoys are laid all around the island. These are usually fastened to concrete blocks screwed into the reef and are generally thought to be suitable for a medium displacement yacht up to 35ft. They are free to use, but care should be taken if using them overnight as they are often close to the reef or surf line. These are dive sites and you are welcome to tie up your dinghy to dive.
After checking in, it may be depending on the weather, be more comfortable to move to Okat Harbour, on the west side of the island, close to the airport. 3 big yellow moorings are installed here for transiting yachts as it is requested that you do not anchor anywhere in the marine preserve. The only drawback is that you are much further away from anywhere except the airport.
Utwe harbor, on the southern coast of the island, can only be accessed after getting permission from the local chief.
Smith Sigrah (Ace Hardware) has taken over his father Ted's welcoming attitude to cruisers (since the early '70s) and Mark & Maria (Pacific Treelodge Resort) make a visit to Kosrae a memorable experience.
Latest update: October 2017
Courtesy Flag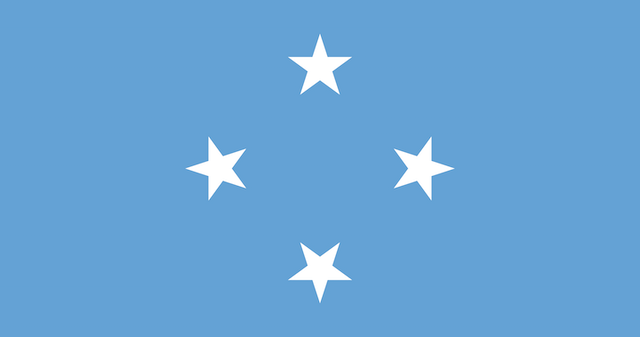 YachtFlags.com offers a discount to Noonsite members.
YachtFlags.com provides high quality courtesy flags that are manufactured in durable Knitted Polyester fabric. Knitted so that the fabric itself does not deteriorate in the constant movement that marine flags are usually exposed to, and polyester so that the flag does not weaken in the strong UV-light usually found in the main sailing areas of the world.
Use the coupon code NOONSITE_5A2B when checking out to get 10% off today.
Buy Now On YachtFlags.com