Previous Page
General Info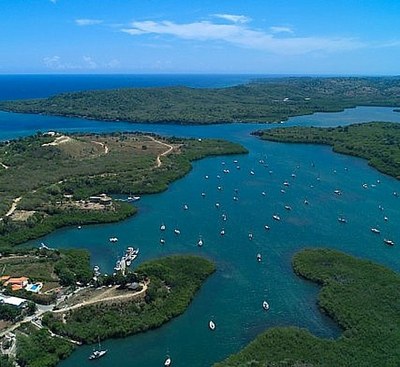 Luperon harbour (also known as Puerto Blanco) is a large enclosed bay providing excellent shelter (hurricane hole). Its position on the north coast, opposite the Turks and Caicos Islands, make it a useful shelter for yachts with southbound cruising plans and is the first and only really major anchorage for boats heading East.
Unfortunately, however, whilst Luperon has a welcoming long-term cruising community, the Local Authorities (in the recent past) have not been so friendly towards yachts and "made up" charges seem to increase on an annual basis. Cruisers considering cruising to this port should read all the information below, including feedback from cruisers at the bottom of the page, before deciding if they want to deal with the potential problems that may arise should they visit.
Cruising reports elsewhere on the net in 2016 have been more favourable, so perhaps the "illegal fees" are a thing of the past. A new commandant has been appointed and he appears to be more sympathetic towards the yachting community. Note however that commandants change on a regular basis in the DR.
Luperon is a small rural town, has markets and hardware stores, discos, a hospital, police, and two dentists.
A useful cruisers' guide to Luperon.
Position 19° 54'22″N, 70° 56'34″W (bay entrance)
Clearance
See DR Formalities for detailed clearance information and fees.
Whilst the authorities in Luperon have received many negative reports in the past, it does appear in 2016 that they are showing greater compliance with the official rate list (see Clearance Fees for the DR).
Anchor anywhere and hoist a Q flag and wait for Dominican entry officials. You will likely be visited by 3 officials: the Military, Immigration and Drug Control. It is customary to offer them a cold soft drink.
After the inspection on board, take your dinghy to the government dock and walk into town to complete paperwork ashore. At the outskirts, to the left is a path leading to a small bridge and the hilltop naval outpost. The commandant will record your presence, giving you legal permission to land.
All officials are situated in a group of temporary portacabins at the end of the pier next to the dinghy dock. Visit Immigration first where you pay for your vessel and number of passengers and get your tourist cards. Then the Port Authority who just want vessel information. Finally, the Department of Agriculture where there is a small fee to cover garbage disposal etc.
Obtaining an international zarpe here is reported to take some time, so visit the authorities 2 days before departure to ensure you get the zarpe the day you need it.
Ocean World Marina, just East of Luperon, is also an official port of entry.
Important Note re. Clearance Charges in Luperon
Luperon has a long history of "made up charges". In the past cruisers have reported being charged harbour entrance fees, pet landing fees and a daily anchoring fee etc. These charges are all "made up" by the local officials. Read feedback from cruisers (in comments at bottom of page) before considering this port as an option.
Cruisers Net: VHF channel 68 Sunday & Wednesday: for local help and knowledge, fuel etc.
The Tourism office is also happy to help with any problems, complaints or advice on local information.
Last updated July 2017.
Docking
The Puerto Blanco Yacht Club, Marina & Restaurant is a gathering place for cruising sailors and various social activities are organized. It underwent a major renovation during the Autumn of 2014 and re-opened in December 2014 with a new owner Leonard Perdomo (Leo).
There are now also two new marinas, the refurbished one at the Luperon Yacht Club and another, Marina Tropical, further improving facilities here.
Papo (call on VHF channel 68) can help with moorings.
See Report on Luperon, for tips on anchoring. Be aware of the risk of entering Luperon bay at night due to numerous fishing nets located outside the channel.
Access to the harbor is shallow and the harbor water is foul. One should avoid swimming or using a watermaker here.
Non-potable water is available at the boatyard and the dinghy dock near the old yacht club. Potable water can be delivered to your boat (as can fuel).
Security
In response to the recent increase in thefts and boat burglaries in this port, on November 14, 2018, stakeholders in Luperon met and roles/jurisdictions were clarified, including correct crime reporting procedures. To enhance the security on the water the Navy comandante from Puerto Plata reinstated a patrol boat in Luperon bay with immediate effect. Initially, provisional equipment will be used, but a bigger patrol boat in association with a small patrol boat is expected.
Locally, the Navy (call name: Richard) can be reached on VHF channel 68 24/7 in case of emergency. The National Police indicated that a 911-call will activate the patrols around the bay at all times.
Cruisers have reported that it is wise to lock your dinghy at the public dinghy dock and at night. It's also important you lock your boat when going ashore and at night. Thefts were common here in the past and appear to be more prevalent this year after a period of relative calm.
If leaving your boat here for any length of time it is recommended you appoint a caretaker. Only use caretakers recommended and used by other cruising boats.
See latest security reports for Luperon in comments at bottom of page and adjacent under reports.
Last updated:  December 2018
Places
Dominican Republic, Luperon