Previous Page
General Info
COVID-19: OPEN PORT
See yachting protocols at DR Biosecurity.
Only vaccinated yachts are permitted to enter the DR in Luperon.
Contact the Commandante de Armada de Luperon on VHF Ch. 68/16 on arrival. If no answer, WhatsApp Richard the Armada interpretor +1 (849) 855-5987 or +1 (809) 397-5574. Do not leave the boat until you have been seen by the Armada – this may take some time.
Drop anchor to starboard towards the Government dock, or pick up a reserved buoy, with the'Q' flag flying.
If any of the crew has a fever or cough or any other symptoms the Captain should let the Commandante know and stay on board under quarantine until the Public Health Officers deem it safe to go ashore.
If none of the crew are exhibiting symptoms, after checks on safety and security, all fully vaccinated crew will be authorized to go ashore by dinghy to the government dock (take care as this dock is sinking), wearing facemasks and practicing social distancing, plus handwashing 24/7.
When you get back to the boat, lower the Q flag and hoist the DR courtesy flag.
Yachts that are required to stay under quarantine are expected to strictly observe their quarantine. The tourist office will have a list of authorized suppliers who can assist with fuel, water and provisions.
Note it is not recommended to swim, or use a watermaker here, as there is no pump out facility. You are not allowed to work on your boat as it's a marine reserve.
All fees are posted on the wall of the Portuaria office.
If you want a 24 hour test then you will have to hire the only Luperón taxi Nino +1 (809) 493-6950 or hire a car (various options) to drive 1.5 hours down to Bournegal hospital in Puerto Plata or a private clinic (Nino will know same) and they will email you the results. If you wait, you can possibly get the results quickly.
Description:
Luperon harbor (also known as Puerto Blanco) is a large enclosed mangrove bay providing excellent shelter all year round. Its position on the north coast of the DR, opposite the Turks and Caicos Islands, makes it a useful shelter for yachts with southbound or even northbound cruising plans. It is the first and only substantial anchorage for boats heading east and is popular with both liveaboards as well as transient cruisers. It is also regarded as one of the safest hurricane holes in the world.
Luperon is a small rural town with very humble and friendly Spanish-speaking locals. They rely on fishing, farming, and cruisers for their income. It has markets and hardware stores, a laundry, discos, a hospital, police, and two dentists. It is very quiet with not much to do except take it easy.
Luperon Harbour
Cruiser Highlights:
Plenty of anchoring space; excellent shelter; easy water, propane and fuel; WiFi in the anchorage; welcoming long-term cruising community; lots of free cruiser activities; friendly locals; sheltered kayaking; safe ashore and on the water; beach at bay entrance; good cheap medical care; dog-friendly; limited groceries (good supermarkets in Puerto Plata); good restaurants; Puerto Plata (45 mins) and Santiago (1 hour) by car.
Cruising guides, apps and happy-hour chitchat can all be good sources of information for sailors in the Caribbean. Tune into the DR – Luperon Cruisers Net at 09:00 on VHF Channel 72.
The Tourism office in town (English speaking) is also happy to help cruisers with any problems, complaints or advice on local information.
The Cruisers Information Center for the Ocean Cruising Club and Seven Seas Cruising Association (members and non-members) is run by Michael Donovan and Denise and Natasha Simpson. Call on Vhf 68 "Fair Lady" 2NM off the entrance for free assistance with entry into the bay, plus information on official procedures and general information regarding services available. E-mail:
[email protected]
Entrance Notes or Cautions:
Luperon bay entrance is clearly marked with small markers. A night entrance should be avoided as there are many unmarked fishing nets off the entrance. Once inside the bay proceed carefully as there are a number of shallow spots inside the anchorage.
If you need assistance you can call yacht "Fair Lady" on VHF Channel 68 once by the entrance and they will assist guiding you through the shallow spots inside the anchorage and help you with finding you a mooring, anchor spot, etc."Denise on "Fair Lady" is the SSCA host for Luperon and OCC Port Officer, and is happy to assist with check-in advice and cruiser information. Email: [email protected] Whatsapp + 1 (829) 926-9392.
There are lots of power outages in Luperon with not many back up generator systems, so be careful when purchasing fresh/frozen produce, plus when eating out.
Notes:
Anchoring or securing your boat amongst the mangroves is not permitted, nor is undertaking work on your boat in the mangroves. All works that are seen as polluting the ecosystem, must be carried out at a licensed marina or boatyard.
It is not recommended to swim, or use a watermaker here, as there is no pump out facility. Take your dinghy to a beach to swim.
You are not allowed to work on your boat as the bay is a marine reserve.
Luperon Links:
Position:
19° 54'22″N, 70° 56'34″W (bay entrance)
Clearance
See DR Formalities for detailed clearance information and fees.
Ocean World Marina, just East of Luperon, is also an official port of entry.
While the authorities in Luperon and other ports in the DR have received negative reports in the past, Luperon has been complying with the official rates list now for several years.
Clearance is straightforward with an English speaking Armada translator in their ranks, it can however be slow and you may be delayed a day until the correct officials are present.
General Clearance:
The armada/navy require all vessels to call "Romeo" Channel 68/16 when inside the bay to arrange check-in. They will instruct as to how to proceed.
If there is no answer on the VHF, then make sure your Q flag is hoisted and all crew should proceed to the dinghy dock at the government dock.
Inspection on Board:
You will likely be visited and boarded by 3 official departments for security (i.e. the Navy, M-2 (Intelligence) and the Department of Drugs. It is customary to offer them a cold soft drink.
Authorities Ashore:
After the inspection on board (if that happened after check-in), the officials will advise you of the next step – usually for the skipper and crew to go ashore to complete paperwork.
With your dinghy head towards the government dock where the authorities are located. The cruiser dinghy dock is half way down the government dock on the NW side. Through the dinghy dock security gate is a small path leading to a small bridge and the hilltop naval outpost. The commandant will record your presence, giving you legal permission to land.
All remaining officials are situated in a group of port-a-cabins at the end of the govt. dock. There is a garbage disposal area on the way to the official offices down the dock.
Visit Immigration first where you pay for your vessel and number of passengers and get your tourist card.
Next the Port Authority will want to see your boat papers (vessel information) and will ask for a small fee for entry into the harbor and one month's harbor fee.
Finally, you will see the Department of Agriculture where there is a small fee to cover garbage disposal etc.
Fees:
Entrance to the Bay: US$10
Boat Clearance Fee: US$60
Agriculture: US$20
Tourist Visa: US$10
One month Harbor Fees: US$15-20 per month depending upon the length of your vessel.
In Luperón there is no card facility but they will let you go into town to the "Banco Reservas" ATM to draw pesos. It is recommended to take your passport and get cash from the cashier as the ATM's in this town have been known take money but not dispense the right amount of cash, or worse, swallow your card. Better still, bring US cash to pay the authorities.
Domestic Clearance:
Obtaining clearance to sail to another port in the DR is free of charge from the Navy. To arrange day-sails down to Cambiaso beach, go and see them to ask permission.
International Check-Out:
Obtaining international clearance is also free of charge. Please give 1-2 days notice as the Navy and officials will have to board your vessel again for a security check as per international law (especially if you are sailing to USA/Puerto Rico).
Please remember that you MUST obtain permission to leave port. Guard are stationed at the entrance monitoring what boats are on the "Despacho Exit List".
You cannot leave the anchorage to drop anchor just inside the entrance to the port/bay [Pinzon anchoarge] and wait for the correct time to leave at night/early morning. You must leave before 6pm if the despacho is on that day.
Notes:
The Armada will issue local and international despachos at the latest 6pm.

Port Authority/Customs/Immigration hours are 0800-1600 7 days a week.

There are various overseas consulates in Puerto Plata (45 min. drive) plus embassies in the major cities in the DR.
If putting your boat in long-term storage in Luperon, or living on board in the harbor and not visiting any other DR ports, then prior to 90 days it is possible to get a 1 year navigation permit. See Documents for more details.
Last updated: November 2021
Docking
In general, there is no wind in the early morning in Luperon. The easterly wind only picks up to a fresh breeze during mid-morning and then drops off totally at night.
Anchoring:
Access to the harbor is shallow and care should be taken to avoid the shoals. Bruce van Sant's website has a useful chartlet showing the shoals, leading lines and recommended anchoring spots.
Once inside follow the main channel slowly down towards the government dock and anchor on the starboard side coming in towards the govt dock. There is a 4ft tide twice a day with depths of 12-22ft in the harbor. The bottom is sand and mud so be sure to lay out lots of chain.
Inside, the harbor is typical mangrove water with poor visibility. Many cruisers prefer not to swim here but there is a nice beach just at the entrance to the bay for swimming, easily reached by dinghy, or you can walk to the main beach.
Due to poor water quality, it is advisable to not use a watermaker in the harbor. Many yachts anchor out at the bay entrance to make water and buy RO water in 5 gallon bottles from the locals in the harbor along with Fuel and LPG. See here for more details.
See Report on Luperon, for tips on anchoring.
Moorings:
There are long-standing moorings in the bay run by Papo and Handy Andy (both English speaking). Can also assist with anchoring spots and harbor entry. Papo, Handy Andy and Domingo can also assist with boat watch, cleaning and polishing, fuel, water and LPG, laundry, outboard service, dinghy repair and much more.
Papo: WhatsApp +1 (809) 272-0131, VHF 68 (moorings & services)
Handy Andy: WhatsApp +1 (829) 891-4797 (moorings & services)
Domingo: WhatsApp +1 (809) 849-7701, VHF 68 (services only)
Make sure to back down on moorings and ask when last checked as you would anywhere in the Caribbean, as none of them carry liability.
There are a great number of illegal moorings in the bay owned by cruisers over the years that are now being rented out illegally or have abandoned boats on them. This means that during strong winds there are often broken moorings and drifting boats.
Please note that it is illegal to hire the services of a non-Dominicano on the water unless they can show you proof of a registered DR company and written permission from the Armada/ports and tourism to trade in the harbor.
Dinghy Docks:
There is a place to tie up dinghies at the government dock, halfway down on the starboard side. This dinghy dock, however, is in a bad state of repair and there have been reports of fuel theft from this dock, so be careful. There is also a big fixed dinghy dock at Puerto Blanco marina, hotel, and restaurant. If you use this option it's easy to catch a taxi into town.
When tying and securing your dinghy to a dinghy dock, be sure to use a long painter/chain from the bow so that others can access the dock easily. Remember to leave your outboard down so your prop does not damage other dinghies.
Security:
Luperon suffered in the past with a high crime-rate against yachts. The situation did improve considerably during 2019 with the active liveaboard community working hard with local officials to try and combat any crime. A number of incidents were reported in 2020 but in 2021 only one incident has been reported so far.
Cruising yachts visiting here should leave someone on board when going ashore at night to keep the boat safe and if leaving your boat for any length of time, it is recommended you appoint a caretaker/boat watch company with credentials and references who have a proven track record.
It is safe to walk in town both day and night.
In case of emergency contact:
The Navy (call sign Romeo on VHF Ch. 68) available 24/7
VHF Ch. 68 24/7 in case of any medical emergencies, vessels taking on water etc.
National Police – call 911
There is a Luperon tourist policeman based in the town which the tourist info. office can contact on your behalf.
Be prepared not to expect Western standards when it comes to crime and officialdom.
Marinas:
The Puerto Blanco Marina, Restaurant & Hotel is a good place to get your bearings after checking in and is a gathering place for cruising sailors and locals alike with many social activities, including a Sunday BBQ. Recently renovated the marina has space for approx. 15 boats plus moorings, a laundry, dinghy dock and new smart hotel adjacent with very affordable room prices.
Tropical Marina, although primarily a boatyard, does have a wall with stern-to docking. This facility is closed till further notice due to environmental and license/permit issues. If your boat is currently on the hard and you have any concerns, please contact Luperon Tourism Jose Ovidio +1 (809) 232-4624.
There is also a private property with 2 x 50ft docks with 110 electricity (must be pre-booked). Contact Kathay Garcia on + 1 (829) 219-2830, email [email protected]
Ocean World Marina, just East of Luperon, is also an official port of entry.
Last updated: September 2021
Related Businesses
Marina Tropical

Address: 5 min. walk from town, Luperon, Dominican Republic,

CLOSED until further notice due to environmental and license/permit issues. If your boat is currently on the hard and you have any concerns, please contact... Read More

Ocean World Marina

Address: Calle Principal #3, laya Cofresi, Puerto Plata, Dominican Republic,

Port of Entry - Marina and Boatyard. Top class marina with resident Customs and Immigration. Full facilities plus a chandlery and mini-market, laundry, fuel dock... Read More

Puerto Blanco Marina, Hotel and Restaurant

Address: Puerto Blanco Marina, Luperon, Dominican Republic, 5700

This is more than just a marina; it is the headquarters for the cruising community in Luperon. Recently renovated. Can provide alongside sheltered dockage for... Read More
Courtesy Flag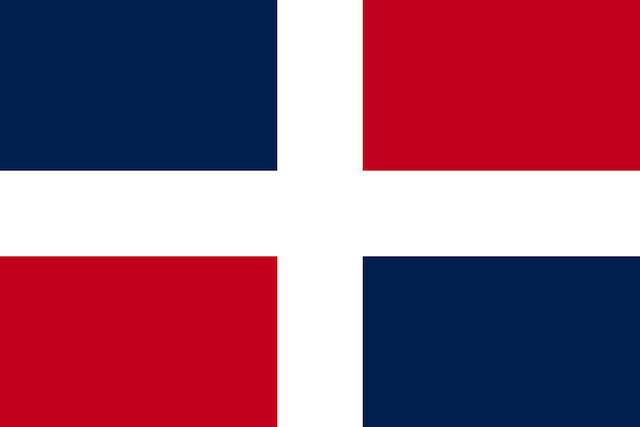 YachtFlags.com offers a discount to Noonsite members.
YachtFlags.com provides high quality courtesy flags that are manufactured in durable Knitted Polyester fabric. Knitted so that the fabric itself does not deteriorate in the constant movement that marine flags are usually exposed to, and polyester so that the flag does not weaken in the strong UV-light usually found in the main sailing areas of the world.
Use the coupon code NOONSITE_5A2B when checking out to get 10% off today.
Buy Now On YachtFlags.com
Places