Previous Page
General Info
Sapodilla Lagoon is located approximately 10 nautical miles from the Belize Barrier Reef in southern Belize and is considered by many to be the safest natural harbor in the region.  Nestled in a tropical setting of lush palms and giant mangroves, the lagoon offers refuge to those cruising the western Caribbean.
The entrance to the lagoon is located between two spits of mangrove that overlap each other in such a manner that it is completely protected from the prevailing easterly winds and the Caribbean Sea. The Lagoon is approximately two miles long and ½ mile wide.
Position:  16° 46.13'N, 88° 18.17'W (entrance to the lagoon)
(Note:  Google Earth identifies another Lagoon – also called Sapodilla – to the north of this location so we suggest checking location co-ordinates before your journey.)
Clearance
Sapodilla Lagoon lies between Punta Gorda and Belize City, two of the closest locations to clear into Belize.
For full details on clearing into and out of Belize see Belize Formalities.
Last updated: August 2018
Docking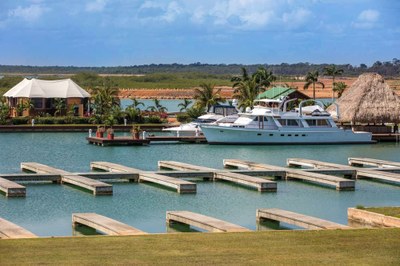 Sapodilla Lagoon has a reasonably deep entrance and is well protected with good holding. There is a new Marina at the northern end of the lagoon.
Anchoring
This is a good foul weather anchorage and yachts can anchor anywhere outside the channel in depths of 12ft (3.5m).
Marina
To reach the marina, yachts must cross the northern end of the lagoon in a well-marked deep water channel and proceed through deep water cut for almost ½ a mile.  The entrance channels and the marina basin are dredged to a minimum of 12 feet (3.5m). The entire marina and channels maintain a 12ft minimum depth at low tide.
Construction of the marina is now complete, however, there are limited services available currently. The marina is offering an introductory rate for the time being (see details below under comments).
(Photo courtesy The Marina at the Reserve)
Last updated:  December 2018