St. Helena: Worldwide Restrictions Breathe New Life into the Cruising Community
With the onset of the Covid-19 pandemic worldwide in early 2020, St. Helena's normally quite short yachting season became unusually extended. So grew a new community of yachties, stranded in this small island nation until borders elsewhere opened up. These new arrivals have rejuvinated the Island's yachting scene and bring positive waves for the future welcome of yachts in St. Helena.
Published 3 years ago
James Bay, Jamestown, St. Helena
St. Helena has a rich and varied history of sailing. The small island is an Overseas British Territory in the middle of the South Atlantic which has been an important stepping stone for sailing vessels as they traversed the Southern Atlantic Ocean between Europe, Africa and Asia since the 16th Century (including HMS Beagle – with Charles Darwin aboard – writing his book describing Volcanoes of the Southern Atlantic and notes for 'Origin of Species' in 1836). It has a unique history as an outpost for the East India Company and the fortress that held Napoleon.
More recently, since 1996, the island has been the destination and finish for the Governor's Cup, or Cape to St. Helena Race as it is now known. It has also been a stop off for Cape to Rio racers in the past and is seasonally frequented by cruisers when crossing the South Atlantic.
It is normal on St. Helena for something to be spreading around the world that never seems to reach the island. For example cars, TV, radio and the internet didn't reach her shores as soon as they did many places. The same is true of the Spanish Flu in 1918-1920 when St. Helena was one of very few places to report no deaths. March 2021 and Covid-19 has still not reached the island, largely due to the single weekly flight having been restricted since early April 2020 and strict quarantine measures enforced upon those arriving by the odd plane or by ship and yacht.
St. Helena Yacht Club
Yacht season extended:
One surprising thing that occurred in 2020 was an extension of the yacht season. Ordinarily yacht traffic is concentrated between approximately October and April, however, last year there were still over 20 yachts in James Bay during May and many remained throughout the whole year, with no plans to go anywhere in the immediate future.
Stephen Coates, Commodore of the St. Helena Yacht Club told Noonsite "There has been so many characters stopping off and becoming part of the community and so many tales that would never have come about or be shared, if it were not for the restrictions across the globe.
The Yacht Club has flourished as a result and benefitted from many 'yachties' becoming regulars in the bar and even taking turns behind it.
New task force:

"As their itchy feet turned to looking for jobs, the island has inherited a new task force, many have held down jobs for a number of months; working in shops, bars and more specialised work including architectural planning. I was most fortunate to benefit from an electrician with marine spares on board doing the best part of a complete refit on the wiring of my Colin Archer: 'Finisterrae', which has been a work in progress for a couple of years. More recently we have seen one of our Hobie Cats fixed up and back in the water, which has been on the list of jobs to do for a long time."
St Helena Yacht Club is run by volunteers who have day jobs and a registered charity, so all the additional help has been gratefully received.
Regular racing with the locals:

But it hasn't all been work and no play, back in March an invitational trophy was established with regular racing to which many of the cruisers stranded on St. Helena turned their hands to.
Stephen expands; "There are only four functional yachts that are resident here currently and so seeing more than one or two yachts out sailing on the water has been wonderful to see. A number of locals have enjoyed a day out sailing and good friendships have been forged. There were subsequent repairs to be made on a number of yachts as well as the bruised egos of one or two skippers!"
A fascinating spot to sit out the pandemic:
Covid 19 coincided with Whale Shark season through December to April and on into Humpback season in 2020, as it looks likely to do once again this year. Of course tourism has suffered on the island, however the cruisers have filled the void somewhat and it is hoped that St. Helena government may consider investing some resources into attracting more yachts here in the future.
Stephen is keen to dispel the myth amongst cruisers that St. Helena is prohibitively expensive meaning many pass by without stopping. It is true that internet is expensive (purchased in 30 minute bundles for £3.30), however groceries, fuel, accommodation and car hire are not as expensive as many places. Mooring fees are just £2-£3 per day and the Ferry Service runs between 4am and 7pm for £2. The island is uniquely beautiful, friendly and rich in culture and history and as Stephen says, "It is terribly sad to think that many sail across the Southern Atlantic without visiting the island."
Jamestown, St. Helena
Karl and Karla of SY "Grainne Mhaol", who were moored in St. Helena for a number of weeks, demonstrate how active a social life they enjoyed on this Island: "We've actually had a pretty busy social life to keep up with here that has helped the weeks to fly by. There are the regular events: Sunday netball, Wednesday night gathering on one of the boats, Thursday farmers' market excursion, Friday Mafia (roleplay/boardgame) and Sunday afternoon at the yacht club. Then the special events: various birthdays (everyone seems to be having one), sailing races, pig roast evening, lobster BBQ afternoon and St. Helena Day celebrations (a sailing race, a Miss St. Helena contest for the boys, an afternoon of general merriment at the yacht club and the arrival of the MV Helena supply ship, yay!).
"And we've done some tourism – hired a car and went camping and hiking as a change from watery stuff. All in all, St. Helena's been a fascinating spot to sit out this pandemic. We'll miss the Saints with their barely intelligible New England (to my ear at least) accents, ethnic mix of various Asian, European and African countries going back hundreds of years and their seemingly endless ability to wave at every passing car (even taxis which begs the question of how exactly you go about hailing a taxi). And we'll miss the fabulous community that's developed among the sailors here, both visitors and locals."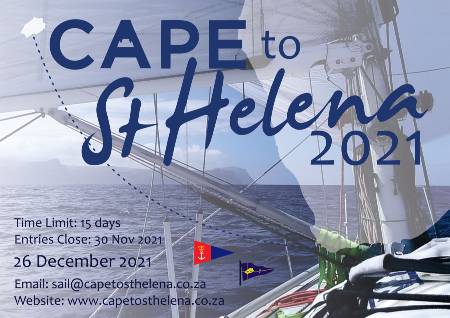 New Race for 2022:
Off the back of the St. Helena Yacht Club Invitational Races during the Covid-19 period, the SHYC have decided to organise an annual 'Around St. Helena Yacht Race'. The race will take place in January 2022, following the finish of the Cape to St. Helena race, which arrives in early January, along with many of the cruising fraternity.
The 2020 Cape to St. Helena race was postponed early March (with an entry list of more than 20 boats 9 months before the race start) until Boxing Day 2021. There are currently 11 entries for this year's race. Previously the Cape to St. Helena race took place every two years, however since the airport has opened there has been much more interest in the race and there is talk of making it an annual event.
St. Helena Yacht Club:
Currently, the Yacht Club building is the focus of some TLC. The exterior has been repainted and the upper floor has been fitted out as the kitchen. The Yacht Club roof needs renewing and at the same time an upper floor balcony will be restored after an absence of many decades. The restoration of the balcony will restore the Yacht Club to its original, historic appearance.
Funding for this next project is already underway but, as usual, more funds are needed. To move the fund-raising forward, the St Helena Yacht Club has set up a crowd funding page.
Despite the tough economic climate it is hoped overseas friends and supporters of the St Helena Yacht Club may join in the fund-raising.
With the Royal Cape Yacht Club forging ahead with the organisation for the Cape to St Helena Race 2021, The St Helena Yacht Club members plan to have a much improved venue ready and waiting to welcome old friends, familiar faces and especially first entrants to the Cape to St Helena Yacht Race when they arrive in January 2022.
St. Helena has supported transiting yachts throughout the pandemic and has not once closed its doors to yachts in need of supplies, assistance or shelter.

Our thanks to Stephen Coates, Commodore of the St. Helena Yacht Club, for providing the information for this article.

Find more reports about St. Helena here.