A Dedication to Patrick Childress – Cruising Legend
It is with great sadness we report that Patrick Childress, circumnavigator, DIY specialist, sailing ambassador and inspiration to so many, has passed away in a South African hospital after battling with COVID-19.
Published 3 years ago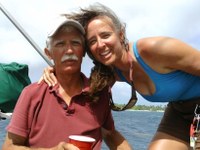 Patrick and Rebecca Childress were getting closer to home (USA) as they crossed the Indian Ocean and arrived in Richards Bay, South Africa in May, 2020. On arrival in Cape Town, however, both were diagnosed with COVID-19. Patrick was directly placed in the ICU and Rebecca sent back to the boat to self-quarantine for 14 days.
It has been an agonizing and stressful few weeks for Rebecca who, unable to see and be with Patrick during his struggle, has had to cope with daily calls from the hospital updating her on Patrick's progress. Sick herself with the virus she has had a mountain of decisions and arrangements to deal with fortunately with support from family, friends and fellow cruisers.
Local boaters have been incredibly supportive making her healthy meals, doing her shopping, prepping Brick House for stormy weather and helping out with all the normal mundane boat tasks that she's been unable to do. You can read more about this on their website.
For over 40 years the ocean has been Patrick's home, building and owning many small boats as he grew up. He sailed a Catalina 27 "Juggernaut" around the world in his late 20s and was on course to repeat a second circumnavigation with Rebecca at his side, who he married 13 years ago in 2007 with a simple ceremony on board their beloved Valiant '40 "Brick House".
Patrick and Rebecca were one of the first to take part in our Portrait of a Cruiser series exactly three years ago, having been long-term supporters of Noonsite. Their slow, varied circumnavigation included not only getting married on board, but fighting off pirates and a dismasting. One gets the feeling that life around these two was never dull! The outpouring of sympathy from the cruising community demonstrates what an incredible impression Patrick left on those he met.
Patrick's message to any newcomers to the cruising world was, "You don't need water makers and satellite telephones. Get back to basics and you can go a long way on a little bit of money". He was a prolific poster on You Tube sharing advice and experience with others and has written many articles for sailing magazines, helping countless cruisers over the years.
During Patrick's stay in the hospital while he valiantly fought the virus, a friend Leanne Coffman set up a gofundme page to help with the medical bills as Patrick and Rebecca's insurance company would not provide cover.
Leanne wrote; "Patrick and Rebecca Childress are icons in the cruising and sailing world–writers, authors, vloggers, leaders in the blue water sailing industry and truly, awesome, inspiring people. For over thirteen years, we've followed them and SV Brick House as they've circumnavigated while sharing advice and experiences with others who embrace their passion for sailing or travel. They've helped countless people in these years. They are my friends and I'm honored to know these two amazing folks. If you've ever had a conversation with either of them, you'd feel the same. Rebecca and Patrick are kind, transparent and lovely—the first to help other sailors with weather advice, support or technical advice."
Read Noonsite's Portrait about Rebecca and Patrick here.