Portrait of a Cruiser – Patrick and Rebecca Childress
Previous Page
News Intro
The second in our "Portrait of Cruiser" series, this time we are profiling American double-handers Rebecca and Patrick Childress. Regular contributors to noonsite during their slow circumnavigation, their cruising life to date has had plenty of variety – including getting married on board, fighting off pirates and a dismasting.
Last Update - June 15, 2017
News Item Content
Portrait of a Cruiser – www.noonsite.com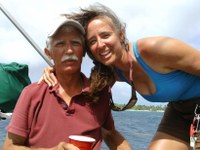 Names of Owners:
Patrick and Rebecca Childress
Nationality: 
USA
Boat Name: 
BRICK HOUSE
Boat Type/Model and Size: 
Valiant 40, 40 ft.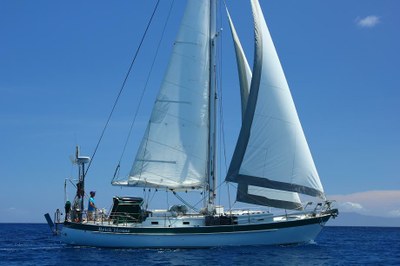 Your Home Port: 
Middletown, RI USA
Describe what sort of cruiser you are: 
Full time, live aboard, couple
How did you start cruising?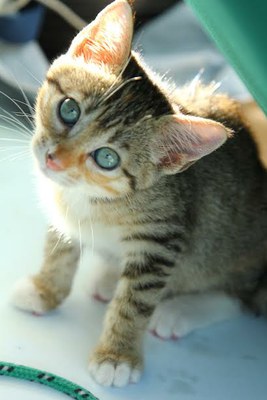 We set a goal for a certain dollar figure for 4 years of cruising, flipped small junker houses until we had that money, quit and left!
What type of cruising are you doing currently?
A slow circumnavigation.
What were the key reasons you selected your current boat?
When I, Rebecca, bought the boat 16 years ago, I wanted a very strong, proven bluewater cruiser to convince (my then) husband that we could do this! My current husband Patrick and I contemplated changing her for a bigger newer boat but realized we may be working forever to do that, so we took what we had. We have been working on this old boat ever since!
What other boats have you owned?
Patrick built and owned many smaller boats growing up. He sailed a Catalina 27 Juggernaut around the world in his late 20s. I owned a MacGregor 17, Catalina 27, Catalina 36, and now a Valiant 40.
What changes have you made to your current boat?
Too numerous to mention. Almost everything…
Most useful equipment fitted:
Monitor Windvane, Raymarine chart plotter and autopilot,  AIS transponder, Mack Sails.
Equipment regrets, or things you would do differently:
We would have preferred to have had a much larger chart plotter screen when we started, but we now have a bigger one, so no more regrets on that one. We still wish we had bought an aluminum hulled RIB dinghy instead of the heavy fiberglass one we have. And still kinda wish we got the bigger boat…but sure don't want to start over!!
List the countries you have cruised:
USA, Bahamas, Mexico, Belize, Honduras, Columbia, Panama, Ecuador, French Polynesia, Cook Islands, Niue, Tonga, American Samoa, Western Samoa, New Zealand,  Fiji, Tuvalus, Kiribati, Marshall Islands, Vanuatu, Solomons, FSM (Pohnpei, Yap, Chuuk), Palau, Philippines, Indonesia, Timor Leste, Malaysia, Brunei, Singapore, Thailand, Cambodia.
Future cruising plans:
2018 – Across Indian Ocean…Sri Lanka, Chagos, Rodriguez, Mauritius, Reunion, North Madagascar, Mozambique Channel, South Africa….2019 – Atlantic Crossing.
Scariest day on the water:
When we dismasted, not because of the actual event, but because I was scared for our finances of being able to continue sailing!
http://www.cruisingworld.com/how/when-stick-comes-down
For Patrick, it was the day he pulled in the 22-foot hammerhead on his fishing pole, or possibly the day he fought off 11 pirates with a kitchen knife!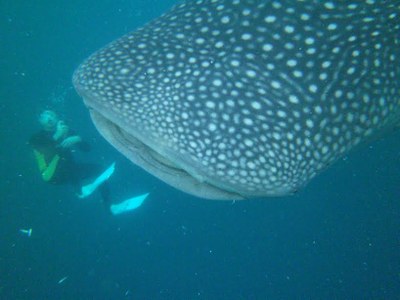 Best cruising moment:
Swimming with Whale Sharks most mornings for weeks, in Triton Bay, Indonesia.
And…
We had a beautiful, simple wedding on Brick House, July 4, 2007. But we never had a "honeymoon". So to make up for sailing off into the sunset for almost 10 years (is that not honeymoon enough?), we stay in a fancy hotel on our anniversary night each year.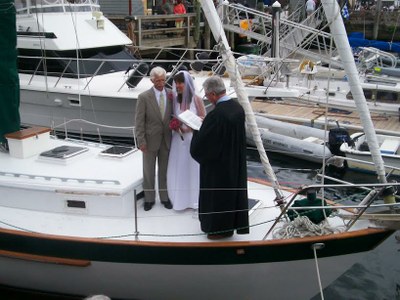 So far, our honeymoon has been celebrated for 9 nights in:
Providencia, Colombia
Huahine, French Polynesia
Savu Savu, Fiji
Majuro, Marshall Islands
Kwajalein, Marshall Islands
Robinson Crusoe Island, Fiji
Cairns, Australia
Kuching, Malaysia
Koh Phangan (East coast), Thailand
This year: Phuket (West coast), Thailand
What a honeymoon it's been!!
Favorite cruising area and why:
It has to be Triton Bay, Indonesia…because of swimming with Whale Sharks, but also for exploring where few cruisers had gone, putting new anchorages on the books!
Favorite anchorage:
There are many favorites and for different reasons:
For the most picturesque: Nuka Hiva (French Polynesia)
For most comfort: Yacht Haven, Phuket
For most fun: Santubong, Malaysia, or Moorea French Polynesia
For best snorkeling: Raja Ampat, Indonesia
For best fishing/food gathering: Bahamas: Cay Sal Banks
It's hard to decide an all-around favorite!
Favorite cruising apps:
OpenCPN, Google Earth, Ge2Kap
Favorite cruising books:
Jimmy Cornell's World Cruising Routes
What advice or message would you want to pass on to anyone new to cruising or thinking about casting off the dock lines?
Rebecca: Live like a pauper, don't try to keep up with the Joneses…someday they will understand why…
Patrick: You don't need water makers and satellite telephones. Get back to basics and you can go a long way on a little bit of money.
What is it that inspires you to keep cruising?
It's by far the cheapest way to live in your own home and travel. After nearly 10 years, I'm not sure how else to live. When I get sick of where I am, we just move the boat…how else can we do this?
SY Brick House's website: 
http://www.WhereIsBrickHouse.com
Related content
Places
User Comments
You must register first or be logged-in to leave a comment.
No comments for this post.