Tonga, Vava'u: Local Customs, Laws and Cruising Options
After leaving Niue, Maria and Allen Wadsworth arrived at the port of Neifau in Vava'u, Tonga, which is becoming a popular destination for boats heading west from French Polynesia. However, those planning to visit here should be mindful of local customs and laws, as Maria outlines in her latest report for Noonsite.
Published 1 month ago
Local Customs and Laws
There are a few local customs and laws that some people seem not to be aware of and which we noticed on arrival. In Neiafu we saw at least two cruisers naked on their boats, maybe people are not aware that it is illegal.
We also saw cruisers water skiing in the town harbour on a Sunday while wearing hardly anything. Apparently this is unacceptable and disrespectful to the local customs. Cruisers were also seen chasing whales in their dinghies, so following our visit, here are some updates from our visit as well as notes on customs and laws in Tonga as we understood from our visit.
Cover your legs below the knee and cover shoulders in public.
Swimwear should not be worn outside of resorts – Tongans swim at public beaches fully clothed.
It is illegal to go topless outside of resorts for both men and women – you should not be naked on your boat deck.
It is prohibited to conduct business, do sports or chores on a Sunday. E.g. water sports of any kind or even just hanging out laundry from your vessel.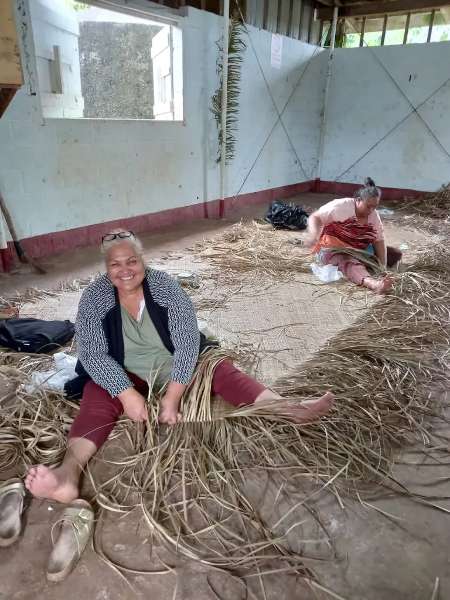 Arriving at Neiafu and Clearing into Tonga

Upon arrival we switched to VHF Channels 26 and 16 and went into Neiafu. We didn't call on the radio because there were three boats already on the dock and we didn't hear anyone else calling.
We went alongside another monohull and tied up, we were actually on the Fisheries dock. Make sure you avoid the end of the dock nearest to the channel as there is a fishing boat that has sunk right next to the quay and is only visible at low tide.
If you are going to radio customs before you come in, then call on VHF Channel 16 inside the town or VHF Channel 26 outside. We've heard them call boats on both channels. Customs monitor boats arriving into the bay and you must go into Neiafu to clear in before going to anchor in a bay. They will hail you to come in.
The Customs and immigration lady passed us 6 or 7 forms for us to complete and then went away, returning about two hours later. We ticked the boxes to declare any food and alcohol that we were carrying.
After Customs/Immigration, Biosecurity and then Health came on board. There is no fee for customs. They took our rubbish for which we paid a small fee. No food was confiscated and no searches were undertaken. We paid the Health person US$43, the equivalent of 100TOP, but he said he would accept many currencies. Biosecurity wanted local currency only. So we had to go to the ATM and get cash. It is just around the corner. We also had to pay for using the Fisheries dock with was 14 TOP. Once cleared in we stayed on the dock, went for lunch and got cash to pay Biosecurity and the fisheries.
After leaving the dock we went and picked up a mooring ball and called Beluga Diving (the mooring operators) after we had picked it up.
Mooring balls
We were told by Brian at Vava'u Radio that the mooring balls in Neiafu have not been maintained since before Covid. Some of the yellow balls belong to Beluga Diving and you can reach them on VHF Channel 9, some have their name and number on them.
If you can't contact them by radio, then just pick up a buoy and dinghy to their office, the name is painted in big letters on the roof. The ones closer to shore are for smaller/ lighter boats. It was 20TOP for a night. It's deep here – 30/40 metres. Anchoring is possible in places, but better to get a mooring ball if you can.
Anchorages
It's my understanding that The Moorings charter company numbered the anchorages to make it easier for their customers to find them and that numbering scheme has been generally adopted. So that's what I've used for the following spots that we visited.
Port Maurelle
Number 7
Two mooring balls in good shape but shortish lines. A lot of bommies here with live coral. If anchoring – be prepared to float your chain to protect the environment.
Ovaka Island
Number 38
We anchored here in 12 metres in sand, but there was quite a swell and it was not comfortable in the night. There's a village here with a few fishing boats coming and going.
Euakafa island
Number 32
Many living coral bommies between sand patches. Anchored in 5 metres, but found that there was not enough room to swing if the wind changed (we would have been in 1.5 metres over bommies).
Vaka'eitu Island
Number 16
No moorings. Sand with some coral bommies or sand over coral. We anchored in 15 metres to avoid going near to the shore as the depth drops quickly and there is lots of living coral.
David, who lives on the island with his family, usually holds a dinner for cruisers on a Saturday at 6pm. Advance notice is required as he will go shopping in his boat to Neiafu the day before. There were many dishes, but the roast piglet was disappointing as there were 20 people and only enough for a small amount for each person. Take your own drinks. Cost was 100TOP per person. David also sells fruit which you can buy.
Lovely snorkelling at high tide, anchor your dinghy on the other side of the reef at coral gardens.
Afo – Tapana Island
There are moorings, but we weren't sure how secure they were so we anchored in sand to the left of the moorings. We didn't go ashore here because it was gusting 30+ with torrential rain.
Vauleleva Bay, near Lotuma island
Number 5
Extremely sheltered anchorage. It was blowing 30 knots outside and 3 knots in this bay. Anchor in sand, but has a lot of dead coral which is now like rubble. Anchored in 12 metres.
You can dinghy to the Tongan Beach Resort and have a drink at the restaurant. You can tie your dinghy up and they are currently building a jetty for boats, but I think it would be too high for dinghies when the tide goes out. You can have dinner here – but may need to book in advance.
Mystic Sands is next door, but is a private resort and does not accept visitors.
Unknown Name
Number 39
Friends of ours picked up a mooring ball here. We could only see one.
Avalau Island
Number 40
We anchored here in 5m in sand with some very visible coral – but flat on the floor. The bottom looks like hard coral with sand, but was in fact full sand. Beware of large flying ants. They seem to come out at night and will lose their wings once they land on the boat. We closed our hatches when it got dark as someone said they are attracted to the lights at night.
Mounu Island
We anchored in the bay of this private island. It shelves dramatically and unlike the other side of the island it goes from 10 metres to 2 metres very quickly, not as charted by Navionics.
We telephoned the Muona resort and asked if it was ok for us to go over in the evening for a drink. You can go for dinner if you book it in advance. Kirsty, the owner, was lovely and very welcoming and James got all our drinks prepared. An excellent place, we absolutely loved the few hours we spent there. Please ring on 7554331 or (676) 8866403 or radio on VHF Channel 77 before heading onto the island.
Whale snorkelling
We went snorkelling with whales with Vaka Vave Charters. They picked us up from our boat about 7.30am, lunch was included and it cost 500TOP per person. The excursion ended about 3pm and was an excellent day out. Isi (the skipper) and Muli ( the whale spotter) have many years experience and make sure that you and the whales are safe in the water.
Other notes
Provisioning is not as expensive as French Polynesia – but not as extensive.
We hired a car for the day (100TOP) and went around the island, there are a few lookout points to see and a cave. Some of the back roads can be a bit challenging. We also used the car to fill our diesel cans. Afterwards we found out that Greg, at Tropicana cafe, will loan you his car for a smaller fee.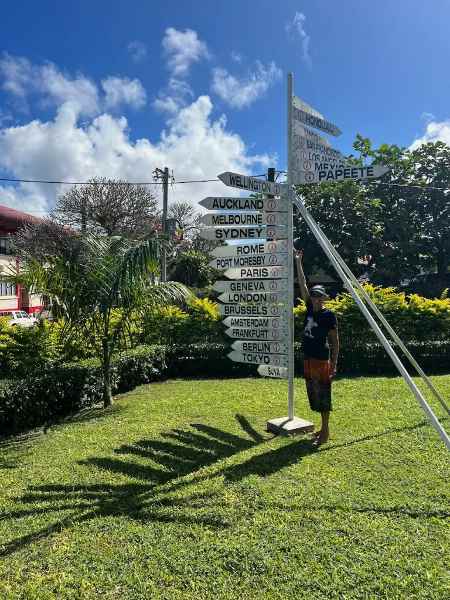 We ate in Bella Vista Restaurant a few times and also went there for coffee, service and the food is very good. They also have good WiFi.
We also ate at Kracken and thought the food was excellent and the service good. They also have a quiz night on a Thursday.
We ate at Mango and the food and service were good.
The Yacht Shop on the main road is a well stocked chandlery. If you can't see what you need, just ask.
Tropicana Cafe
Greg will arrange to take your (LPG) gas to be filled and they can fill any type of fitting. He does regular runs. We also got Digicel data SIM cards that we could top up online. They didn't have WiFi when we were there. If you need anything, Greg is very helpful and will know where to get things done.
Fuel
You can walk to the petrol station to get petrol or diesel in cans or you can call to get your boat filled along side the quay.
Laundry
Bubbles laundry 25TOP per load – large top loading USA machines. Washed/dried/folded. Open 8.30 – 5.00 Monday – Friday, 8.30 – 1.00 Sat. Excellent service and will do it the same day if dropped off early enough.
Local market open Monday – Saturday
Place an order with Lily to get what you want for the next day or see what she has left on her stall. She can also provide fresh trays of eggs.
Clearing out
They require you to take your boat to the dock, however if the weather is bad they will allow you to anchor off (at 50 metres) and dinghy ashore. Payment to clear out came to 47TOP, it was based upon weight of the boat and length of time in Tonga.
The duty free alcohol shop is near to Tropicana Cafe and you can get duty free alcohol after you have cleared out and have your clearance documents. You can pay by credit card. We found a well stocked shop selling alcohol opposite the fire station on the side street.
Hope that helps other cruisers. We are off to Fiji now.
All the best
Maria and Allen Wadsworth
SY Jamala
………………………………
About the Authors
Maria and Allen Wadsworth sailed from England in June 2017, crossed the Atlantic, with Jimmy Cornell's Islands Odyssey. After a season in the Caribbean, they headed to Bermuda, then the USA for hurricane season, before heading south via the Bahamas, Cuba and Jamaica to Panama where they transited the canal in March 2019.
After a stop in the Galapagos, they headed for French Polynesia where they spent several seasons due to the COVID pandemic before resuming their trek across the South Pacific to New Zealand in 2023.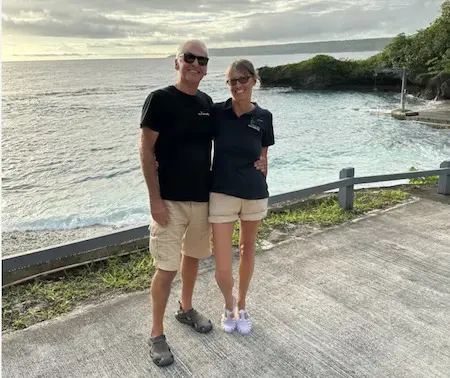 ………………………………
Follow their voyage at:
………………………………
Read their Noonsite Portrait of a Cruiser:
Related Reports:
………………………………
The opinions expressed in this article are the author's own and do not reflect the view of Noonsite.com or World Cruising Club.