South Pacific: Sailing the Society Islands during Difficult Times
Previous Page
Report Intro
While many cruisers have been stuck in French Polynesia unable to move on, a great many have made the most of their time by exploring the Islands. Here are 2 reports from cruising boats that are particularly enjoying the isolated anchorages away from the main ports.
Last Update - September 17, 2020
Report Content
Cruisers gathered aboard Taipan for sundowners.
Sailing the Society Islands – a privilege in these difficult times
By SY Taipan
So much has already been written about the difficulties encountered around the world during the pandemic, but we've been fortunate to be in French Polynesia throughout. We were lucky to not be separated in different countries when I had to fly back to Western Australia in January and then encountered difficulties with my return due to a Visa mix up. An injury forced us to rush to Tahiti from Nuku Hiva, causing us to miss the Tuamotos, a vast cruising area of atolls to the east of Tahiti.
Subsequent lockdown in Papeete coincided with my back injury recovery and thus didn't inconvenience us much at all. We were able to fit in annual bottom maintenance on the hard before the end of lockdown. We were ready to head out as soon as it was announced that travel within the Archipelago was permitted.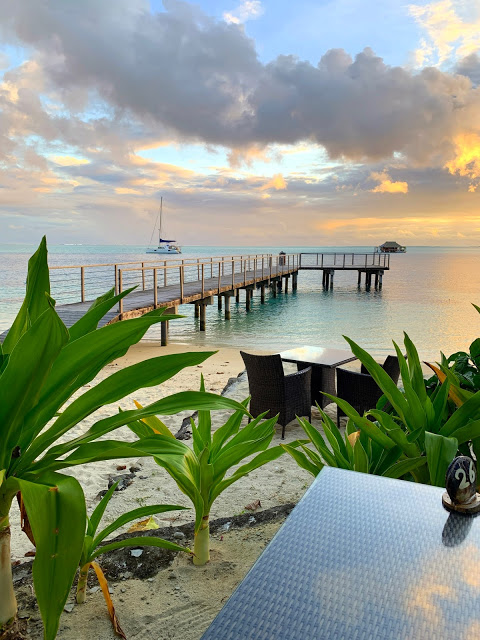 To stay or to go??
Our first destination was Moorea, just a 15nm west. Then our promised return to Tahiti. By now French Polynesia was totally CV19 free. Everything was normal except the country was closed to the world. Destinations to the west remained closed but there were promising signs of Fiji opening up to yachts. So we decided to wait it out.
With the weather particularly unfavourable because of the big southerly systems heading well north this year, we were pleased we did. Watching the progress of some boats which chose to head directly to Australia was enough to convince us that waiting was the better option. Added to the long sail and Australia's forced Quarantine for all international arrivals without any consideration of sea time, was another reason for delaying our departure.
Australian Border Force regulations count sea time from the last port, but Health Authorities in each state has been given the power to impose their own rules. One couple spent 35 days alone at sea, nonstop from Tahiti (COVID Free for 2 months), and were forced to quarantine in a Queensland hotel for 14 days. This was not an isolated incident. The rules were not applied consistently and occasionally we would hear of Australian sailors who were not forced to quarantine on arrival. The application of the rules seems indiscriminate, which is also very annoying.
So here we are, still in French Polynesia, which has opened borders and has CV cases rising. We are not worried about that so much, as we are fortunate to be able to keep contact to a real minimum.
Our anchorage is the red spot at the bottom. Avea bay.
Huahine
Huahine is located 86nm NW of Morea and we made the overnight passage arriving on July 5th. Huahine has a population of only 6000. There is an excellent supermarket (in Fare) and we try to load up and stay on anchor somewhere remote for weeks at a time.
Our favourite bay, Avea, is at the southern end of the island and it has a long white sandy beach with a few houses and a resort, La Mahana, which also welcomes yachties…. (we don't frequent it now the tourists are back.) The entire island is surrounded by fringing reef providing excellent protection from swell. There's a road right around and not a lot of traffic so maybe the bikes will come out soon. Within the bay and only meters from Taipan is some satisfactory snorkelling in warm clear water where we can happily while away several hours every day.
Huahine like most islands has its ancient stone ceremonial sites called Marae. On an afternoon drive with some new friends we met in the resort before the tourists were allowed back, we visited some of these sites. They are quite different from the sites in Tahiti.
Marae at Huahine
It's incredible to think these huge stones were assembled with no machinery. Lots of slaves I think!. Aside from the Maraes we also visited the Rum distillery in Fare, the only town on the island. Chocolate Rum!!
Tracks between Huahine and Raitea Tahaa.
Raiatea and Tahaa
Just 30 miles west is a double island with an enclosed reef. Raiatea and Tahaa offer a little more facilities with a couple of marinas and boatyards. There are airports out of most islands except Tahaa which is only a short boat ride from Raiatea airport. A lot of charter boats operate out of Raiatea. From Raiatea to Bora Bora its only 16nm but we've not ventured there yet. It's not a very cruiser friendly destination. No anchoring and quite steep fees for the moorings.
Taipan is visited by whales in Fare, the small town on Huahine.
For now, we remain in Huahine and wait to see how the rest of the world, particularly Australia and the countries to the west of us, Cook Islands, Tonga, Fiji, New Caledonia and Vanuatu, handle the CV situation. Cyclone season commences on Nov 1st which means we have to head directly to Australia or back East and north. Maybe as far as the Marquesas again.
David and Kris
SY Taipan
https://svtaipan.blogspot.com/

David Frost and Kris Adams left Perth Western Australia in July 2004 aboard Taipan, a 50 foot, GRP, cutter rigged. Kaufman designed yacht.
Related Links:
Self sufficient living on Taravai, Gambier
Glad we didn't circumvent the Dangerous Archipelogo
By SY Luci (Sailors for Sustainability)
After Gambier and the Tuamotus, we have arrived at another archipelago of French Polynesia: the Society Islands. We made landfall in Tahiti, the archipelago's largest island. Almost everything is available here, so it has been a good base to buy fresh fruit and vegetables, use the internet, and do boat maintenance. We have ordered a few spare parts but they have still not arrived, so we have been staying in the area for the past six weeks.
The covid-crisis is far from over in the Pacific region. The number of confirmed cases is still growing in French Polynesia, so the authorities have recently announced new restrictions. We can still move freely but need to wear face masks and maintain social distancing when on shore. Unfortunately, New Zealand's maritime borders are still closed. As we plan to sail there later this year, we have asked the government for an exemption. Please keep your fingers crossed for some good news from Wellington in a month or so!
Sustainability in Gambier
Now that we are back in an area where almost everything is readily available, we have to think about a family we met in Gambier. Hervé, his wife Valérie, and their sons are well known among sailors, as they host Sunday barbecues at their house. We also found that they are remarkably self-sufficient, thanks to their large fruit and vegetable garden, solar panels, and rainwater collection system. It's not only a great example of sustainable living from which we can all benefit. It's also a smart way to increase local resilience in times of crisis. Read all about them in our featured Sustainable Solution article "Self-Sufficient Living on Taravai".
Our anchorage in Amanu, Tuamotus
After we said goodbye to them, we sailed on the ocean again for the first time in months. The ocean felt a bit unfamiliar after having been sheltered by Gambier's coral ring for more than three months, the swell of the endless Pacific Ocean was not something we looked forward to. Fortunately, the sea was calm and the wind just strong enough to fill our sails.
The journey took us to the Tuamotus, also known as the Dangerous Archipelago. The islands here are historically notorious among seafarers because they are not more than coral rings which rise about a metre above sea level. It makes them difficult to spot from a distance. Waves violently break on their shores as if to warn: stay away!
For three days we pass atolls without an opening in the coral ring. Our first Tuamotus destination is the atoll Amanu, which does have a passage through the coral ring to the sheltered lagoon. Because the oceanic tide pushes the water in and pulls it out of the lagoon here, the pass is notorious for its strong currents. When we arrive there in the middle of the night after more than 400 nautical miles and four days of sailing, we decide to heave-to until dawn. When daylight breaks, we sail towards the pass. It's exactly high-tide according to our digital chart.
Once inside we gasp at how big it is! The island, or rather the lagoon, measures no less than 17 by 5 nautical miles, so we can't even see the other side. A lagoon this big offers only relative protection. A strong breeze from the northeast causes a significant chop at our end of the lagoon but we manage to find a sheltered anchorage behind a reef. Exploring the small village, the people's livelihood here seems mainly based on coconuts.
The next island we visit, Tahanea, comes highly recommended. Our pilot books and sailors who went before us cite it as a highlight of the Tuamotus. It has multiple navigable passes, is uninhabited, and its underwater biodiversity is unparalleled. How right they are.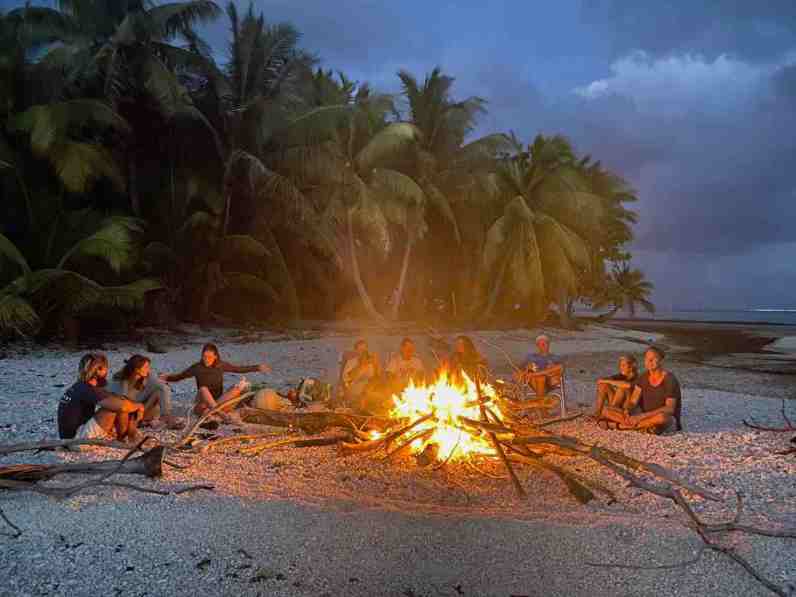 For the first time in months we meet "new" boats. Most of them sailed to the Pacific via the Panama Canal and spent the lockdown months in the Marquesas. It only takes one barbecue to get to know the British, Australians, Americans, and French crews of the other boats. It's a potpourri of ages, food, and languages, which everyone seems to enjoy so much that it is soon repeated.
We move to Fakarava, which we reach after a long day trip. Measuring 30 by 10 nautical miles, it's one of the largest atolls of the Tuamotus with a lagoon as large as the entire Dutch IJsselmeer. Much of the atoll has been designated a UNESCO World Heritage Site to protect its impressive biodiversity. It makes the island popular with tourists, who mainly come here to dive.
Fakarava is not only popular with tourists, but also with other sailors. As a result, there are facilities for sailors here, unlike what we have encountered until now. We sail halfway towards the northern end of the island and pick up a free mooring buoy in front of a small lodge. It is where Mathieu runs Pakokota Yacht Service, which caters to all of our needs. There is reasonably fast internet, a large washing machine tackles our mountain of laundry, and Mathieu drives us to the village for groceries. After the shopping spree, we enjoy fresh fruits and vegetables again, the first since leaving Gambier.
French Polynesia is one of the few places in the world where sharks are protected. Its entire exclusive economic zone, larger than the EU, is a shark sanctuary. It explains why we almost always see reef sharks whenever we go snorkelling. By now we know from experience that these types of sharks are harmless to people, just like our guidebook says. But now we are in for a treat. The south pass of Fakarava is known for the many sharks that live there. We deflate our BCDs and dive down to 22m. As soon as we reach that depth, hundreds of them appear out of the blue, literally. We stick to the side of the pass and cling to dead pieces of coral to avoid being carried away by the current. Slowly they swim by, undisturbed by our presence. They are grey reef sharks, which hunt at night and rest during the day. Even then, they need to keep moving to take up oxygen. The current in the pass is perfect for them, as they can stay almost motionless while the incoming water slips through their gills. It's a spectacular sight, and feels as if we are in an underwater theatre with a live shark performance.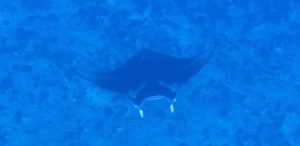 We visited three atolls and saw picture-perfect scenes with white coral sand, palm trees and light blue water. The underwater world was perhaps even more spectacular with awesome marine life and sharks playing the lead. At the same time, we realise that there are many serious threats to the atolls and their marine life, such as sea level rise and warmer seawater due to climate breakdown, plastic pollution, and illegal fishing. Yet there is still a lot of nature left. Fortunately, we still have time to preserve it for future generations.
Floris & Ivar
Sailors for Sustainability
https://sailorsforsustainability.nl/
Ivar and Floris' gave up busy jobs to circumnavigate with Sustainability being their main goal. They are keen to learn from others worldwide and research and visit as many projects in the countries en route, to take home positive ideas for today's and tomorrow's generations. They left Amsterdam in June 2016.
Related Links:
…………………………………………………………………………………………………………………………………..
The opinions expressed in this article are the authors' own and do not reflect the view of Noonsite.com or World Cruising Club.
Places
User Comments
You must register first or be logged-in to leave a comment.
No comments for this post.