Mediterranean: Coping with Schengen Schenanigans
Doing the "Schengen Shuffle" is a well-known dance that non-EU cruisers have to deal with when cruising Europe and the Med. Following Brexit, this is now a dance that UK boats also have to learn to manage. In this report, a UK Skipper gives his first-hand experience of sailing the Med and dealing with the Schengen Zone.
Published 2 years ago
We left the U.K. in a small yacht in September 2019, sailing towards the Mediterranean. We arrived in Jersey to winter and ended up staying seven months due to the Covid-19 outbreak and travel restrictions.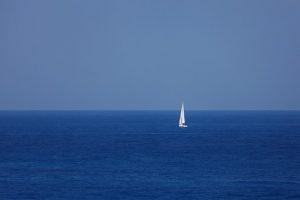 We eventually left Jersey in June 2020 and reached the Balearics where we spent the winter, but with Brexit 90 day regulations beginning on 1 January 2021 we had to face the What Do We Do Now? question.
We looked at extension visas, but that avenue looked troublesome and bleak.
 We felt we were in a Catch 22 situation that we had no chance of escaping.
A Calculated Risk
We waited very patiently for a safe weather window to cross to Sardinia that finally appeared after 100 days which rendered us as 10 day overstayers! Two days before departure we had serious engine problems which meant waiting about six weeks for spare parts and finding reliable engineers that were up to the job.
We finally departed for Sardinia where we ended up anchoring in various locations, sometimes next to Coastguard vessels, that was close, phew!
 We then waited for a weather window to get us to Sicily. From Sicily we were approached by Coastguard and spoken to very briefly which yielded another narrow escape!
Finally, we made it to Montenegro where we got our passports stamped which were the first stamps in our passports as we had only ever visited EU countries since we obtained them new in 2014.
 Then it was on to Italy where we got our passports stamped on arrival and stamped out on departure by reluctant Coastguards, in doing this, technically, we were beginning our 90 day stay doing the Schengen Shuffle.
We're now on our way to Cyprus before our 90 day period is up but can we do it?
 The Meltemi winds can blast for a whole week or more making progress very slow, the winds south of Corfu are sparse, generally minimal and last for a few hours at best, it is very easily possible to wait a week just for the wind to flow in your general direction.
We have felt like we were on the run, worried, on the look-out 24-7, unable to visit a marina, we were raiding by tender for water!
 There existed the bitter nasty hostility surrounding Brexit combined with the fear that Coastguards would be over zealous and hungry for an arrest or large fine due to much inaction, we had dark fearful visions of being taken away in handcuffs.
Incredibly Incredulous!
I have read that the U.K. was initially offered a reciprocal 180 day period of stay in the EU for sailors but this offer was declined by the U.K. government and I am now incredibly incredulous. My experience tells me that 90 days isn't enough to sail in the Mediterranean, 180 days isn't really practical either and once Croatia, Montenegro and Albania become part of the Schengen zone, the only other viable safe havens will be Turkey, Cyprus and Morocco.
The current situation in Tunisia is tentative and travel outside of any marinas there isn't really recommended. There's also the chance that Turkey might possibly join the EU Schengen zone in the next decade!
Perilous Pressure
The greatest danger amongst all of this schenanigans is the perilous pressure to undertake a risky offshore passage anything from 12 hours up to 60 hours where the weather forecast is finely balanced just between safe and very unsafe, the pressure to meet such short deadlines will eventually culminate in deaths and a much much higher number of rescues at sea.
OceanMaestro
…………………………………………………………………………………………………………………………………………
The opinions expressed in this article are the author's own and do not reflect the view of Noonsite.com or World Cruising Club. The Schengen rules and enforcement of them are quite serious. It can mean your passport could get flagged at borders and denied entry. Sometimes they will literally stamp a big "OVERSTAY" in your passport. The fines are serious. And/or you could be arrested. Official rules and formalities for entering all countries visited by pleasure yachts can be found on Noonsite.

………………………………………………………………………………………………………………………………………
Related Links:
Related to following destinations: Albania, Channel Islands, Croatia, Cyprus, Italy, Jersey, Montenegro, Morocco, Sardinia, Sicily, Turkey, United Kingdom