INSIGHTS: Diary of a Circumnavigation – 2. The Caribbean
Rick Delfosse and Candy Wood began their circumnavigation in 2019 when they left Connecticut, USA, on Christmas Eve aboard their 43 foot Pan Oceanic Pilothouse Cutter "Independence". Currently they are mid-Pacific, but in this series of articles for INSIGHTS we follow their voyage from the start until we catch up with them as they circle the globe. This second circumnavigation installment features their experiences on passage to the Turks and Caicos from the USA and their time cruising these Islands.
Published 1 month ago
It took nine (9) days of sailing – much upwind in 20-25 knots – to get from Saint Augustine Florida to Providenciales, Turks and Caicos Islands (approximately midway to the San Blas Islands in Panama).
Four people on a 43 ft sailboat can be a challenge! We did not count on grey water pumps failing and the alternator and new wind generator starting to cook the batteries. Fortunately with engineers on board, quick fixes were made. Seasickness, leaking portholes, shifty winds and squalls, learning how to manage sleeping patterns with watch schedules, managing water usage and unpredictable Gulf stream weather, made for an interesting passage. Even with all the challenges, watching the moon glisten on the water and the magnificent sun sets over a 360 degree horizon with dolphins racing on the bow is truly mesmerizing.
Passing the time on passage.
Tired, happy and well-fed
Candy's pre-cooked meals enabled us to arrive well fed and happy, albeit very tired. It then took some homework to find a marina that could take our six foot draft vessel and offer diesel fuel. Caicos Marina & Shipyard could provide all that, plus laundry, hot showers, internet connectivity and a police escort in! (The marina is the home base of the Turks and Caicos Marine police). Thanks to our land based family and friends, who remotely googled the information and responded to us using our Iridium Satellite terminal (via SailMail).
The coastal approach was disconcerting, going from 8000 ft depths to 24 feet in less than a mile, with reefs surrounding us. The water changed from dark blue to beautiful hues of green and light blue, with 30 ft visibility!!
The Turks & Caicos Islands boast incredibly clear water.
The Turks & Caicos are part of the consortium of islands that used the common pre-arrival small craft application form. A brilliant and efficient way to be able to travel in the Caribbean without having to find and send multiple forms usually with the same information. On the approach, Sapardillo Bay was full of reefs and low water depths for our draft, so we had to wait for high tide. We anchored in "Clear Sand Channel" outside the entrance to the bay to await for the tide and the marina to open.
Dodging reefs and flying eggs

It was supposed to be a simple one day/overnight passage to Grand Turk. With so many reefs to dodge we chose the long route outside, but with strong winds on the nose it was a slog. An uncomfortable ride healing heavily and 18 eggs taking flight with sea spray everywhere and everyone feeling grumpy. We arrived in Cockburn Harbor at nightfall and anchored to wait for day break.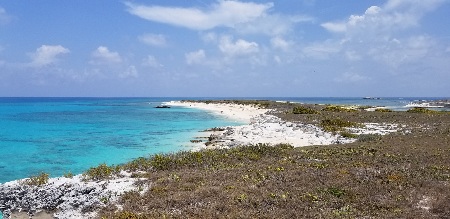 We rented a car to sight-see and provision and went swimming on both sides of the island – first the laid back kite-boarder side (Long Bay Beach), then the high end ritzy resort side (Grace Bay). We preferred the laid back side that took a dirt road and winding tiled pathway to find the beach. On the way back to the boat we discovered a take-out margarita bar (which should be available worldwide!!). We then found ourselves at a Turks and Caicos (TCI) "locals" Caribbean beach bar called "Froggies on da Beach" where we sampled the local TCI beer and margaritas and Conch prepared five different ways! We finished the night at Hemingways, a high end restaurant where they have a bell to ring when the local trained dolphin comes to visit.
Grand Turks Island
After two days we set off for a 38 hour upwind slog into 18-26 knots of breeze to reach Grand Turks Island. A mooring ball in Cockburn harbor on the edge of the island's drop-off ocean wall awaited our 03:00 arrival. Beat up and tired, we easily crashed for some needed sleep!
Upon our arrival on Grand Turks Island we were greeted by a Red Cross bake sale fundraiser with banana bread pudding and chicken sousa (a true Caribbean dish)! The island was a ghost town – an island day off awaiting the arrival of the cruise ship when everything and everybody springs to business. We spent three days at on the island and rented a golf cart to see the seven mile long strip, which allowed us to get a feel of the island vibe. Touring the main street we were saddened by the devastation from the hurricanes a few years back, reconstruction is very slow.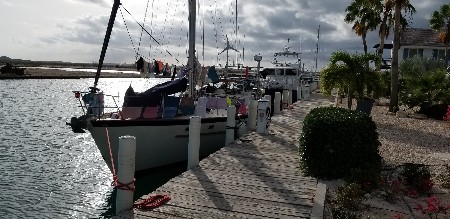 Customs was on the other side of town in a warehouse and we needed to checkout before the weekend. The customs officer had an engagement to attend and seemed put out to check us out, but did so for an additional fee and didn't seem to care we were going to visit other cays before leaving the T&C. We were given seven days after checkout to wander. The kids had kiteboarded and checked out the infamous Margaritaville and too soon it was time to move on.
On to Salt Cay
We pressed on to the next island in the chain, Salt Cay (with 62 residents), and baptized the new BBQ with some great steak for supper. We took the south anchorage at Duncombe Point – off the famous "white house" – the center of the salt industry which has been in the same family since the days of slavery. The house was badly damaged in the hurricanes and the owner was on the roof at sunset, trying to make repairs.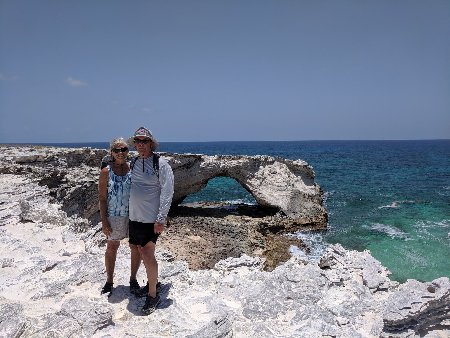 He said it "wasn't built in a day and won't be fixed in a day". We spent hours snorkeling the reefs by the bluffs and saw one nurse shark and two barracuda along with beautiful coral and tropical fish. We took a dinghy excursion to find a kiteboarding site and ended up on a small beach sharing the only tree for miles with a donkey and her newborn. It was disappointing to see the beaches covered with trash.
Salt Cay to Big Sand Cay

A quick three hour trip brought us to the next island in the chain, Big Sand Cay. We anchored in beautiful blue-green water with 20-30 foot visibility, a great sandy anchorage right off the beach. The anchorage was near the point and exposed ocean, so the boat was a bit rolly in the swells. Not unlike swimming in a tropical fish tank! No barracuda this time, but one small reef shark visited. The island is officially a bird sanctuary island with no buildings or trees, only wreckage of a US Govt. marker beacon and ancient Apollo tracking station.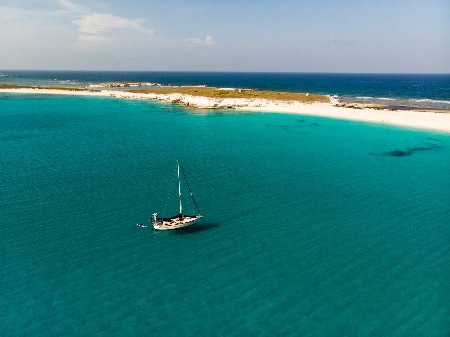 Discarded batteries were lying around everywhere and we questioned why the US government doesn't clean up their own mess. The natural beauty of the island was mesmerizing, but with no natural water it was very desert like, complete with prickly cactus. The eroded rock formations, natural arches and coral remnants were captivating.
All too soon our time there was up and it was time to move on and continue our journey. The next leg to Shelter Bay Marina in Panama will be 8-9 days 900 NM with good wind out of the SE. It's a great day to go sailing!
Rick Delfosse and Candy Wood
SV Independence
………………………………………………………………………………………………………………………………………….
About the Authors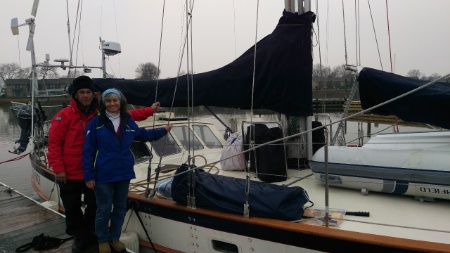 Rick Delfosse has been in the marine industry for most of his life. He is a Coast Guard captain, National Safe Boating Council close-quarters boat-handling and open water boat handling instructor, Connecticut and New York certified safe boating instructor and a US Sailing-certified instructor. He also conducts on-the-water courses and classroom seminars on coastal and offshore cruising and boating skills. The owner of "Independence", a pilothouse cutter, he has coastal and offshore racing experience. He has known Candy since high school and reconnected with her some eight years ago. Her first sailing experience goes back to high school, when she and other brave friends went out on Rick's fathers Herreshoff ketch on Rick's first time out without Dad! Then he popped the question in every sailor's heart… Want to sail around the world with me?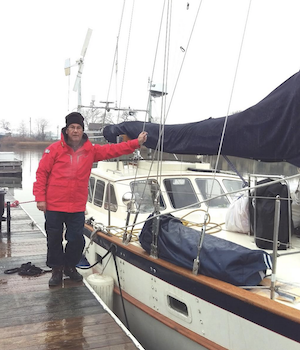 Candy Wood is a CPA, with a private practice in Connecticut. She has been a town Public Information officer and part of the Emergency Management Team and holds Wilderness First Aid, AED and CPR certificates. Her adventurous side led her to take sailing and basic keelboat courses, enjoy cruising on Long Island Sound and chartering in the Caribbean. After a 25 year sailing hiatus, she joined Indian Harbor Yacht Club and re-immersed herself in sailing, becoming chairman of the clubs "Focus on Sailing" program. Some years later Candy and Rick found each other again. After some coastal cruises and a horrible boat delivery from Bermuda to gain offshore experience, Candy got her US Coast Guard Captains License and agreed to join Rick on Independence and set off around the world.
Their Boat
"Independence" is a 43 foot Pan Oceanic Pilothouse Cutter designed by Ted Brewer. Although she appears to be a heavy boat, she is very responsive in light air with her medium displacement hull, sizeable keel and low center of gravity, she also copes well with strong winds and rough seas. She is spacious and comfortable, with lots of deck space, an ergonomic cockpit, a large saloon and pilothouse with inside steering, complete navigation station and sofa/bed.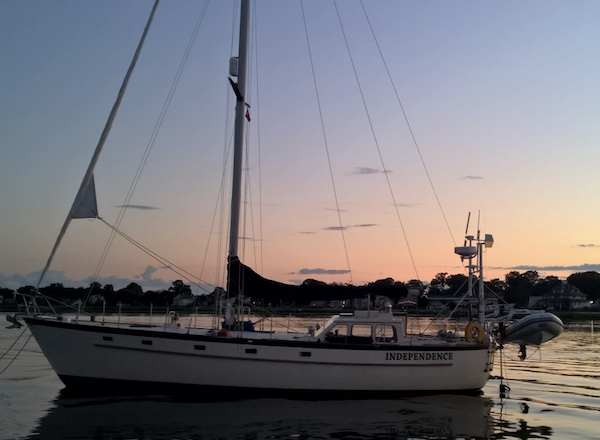 Their Goal
To circumnavigate by boat and immerse ourselves in the culture and heartbeat of the places we visit. While we like to "buddy boat" with others, our visits are often longer and involve land travels to truly explore what makes each location or country "tick", make lifelong friends and help where we can with donations of children's books, school and art supplies, donated reading glasses, tee shirts and hats. We are not in a hurry (other than getting older) and are in awe of the places we have already seen and wonderful people we have met so far.
Follow their adventures at www.cruisingindependence.com and on Facebook at SV.Independence.

…………………………………………………………………………………………………………………………………………
The opinions expressed in this article are the author's own and do not reflect the view of Noonsite.com or World Cruising Club.
………………………………………………………………………………………………………………………………………
………………………………………………………………………………………………………………………………………..
Find out all news, reports, links and comments posted on Noonsite, plus cruising information from around the world, by subscribing to our FREE monthly newsletter. Go to https://www.noonsite.com/newsletter/.