Grenada: A Warm Welcome in a Beautiful Country
Previous Page
Report Intro
Tara Davidson and her family arrived in Grenada in June, 2020 aboard their yacht SV Lucky and spent nine months exploring and falling in love with this Caribbean island. But in the midst of the ongoing COVID-19 global pandemic, they had to question what was best for their family – stay or go?
Last Update - February 25, 2021
Report Content
SV Lucky arrived in Grenada on 12 June 2020 and after spending 10 days in quarantine on board, we were free to explore.
We have cherished our time here. The Grenadian people are welcoming and resourceful. The land is plentiful and the soil rich and abundant, keeping the people fed and thriving.
The fisherman are knowledgeable of the ocean and their skills provide the local people and tourists with plenty of food from the sea.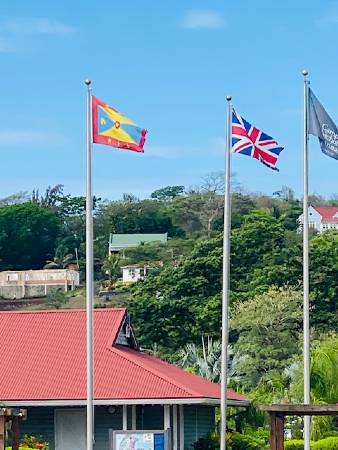 Seamoss – Grenada's Superfood
Grenada is a grower of the trending seamoss. We buy seamoss smoothies on the side of the road, along with sorell, mouby, passion fruit, grapefruit, citrus, golden apple and ginger juice all home brewed. Delicious, we will miss this.
We will also miss the local made nutmeg jam, guava jam, honey and island spices, especially nutmeg and cinnamon. We will miss eating the local food; roti, oil down, double ups breakfast bakes and fish cakes as well as buying from the local fisherman – lobster, snapper, lamby and tuna off their boats – fresh catch of the day literally.
The agriculture here and the knowledge passed on from generation to generation results in flavourful fruit and vegetables which we did not experience on the other islands we visited.
We love Grenada

We love Grenada and it will always hold a special place in our hearts.
We have met so many great cruiser friends over the last six months. Le Phare Bleu Marina has been our home away from home.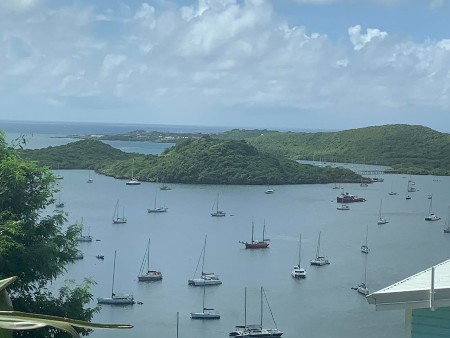 We have enjoyed teen hangouts, movie nights, Mexican train dominoes, Hobie racing, dinghy explorations, snorkeling, river rafting, waterfalls, catching our first lobster and learning how to catch and prepare lion fish.
Keeping the Kitty Full
We were blessed with Chris securing full time employment which kept our kitty full as well as awarding us a company car. I gained part time marketing and communication work for an American based association, making US dollars. I had to brush a little dust off some old skills but just like riding a bike, it all came flooding back to me, giving me a sense of confidence.
The girls both created their own streams of income; Brooke babysitting and Ashley painting dinghy outboard covers.
A hand painted outboard cover from Ashley.
Challenging times too!
Our time here has also had its challenges including going through hurricane Gonzalo without our windlass, sail drive issues, not to mention our dinghy being lifted out of the water and flipped upside down causing the outboard to be dunked and flooded.
It was also emotionally battling for us as President Trump signed an executive order to halt green card visas, uncertainty of purpose, homeschooling, lack of friends at times and many other 'normal family conflicts' but all the challenges have made us even more resilient, determined and courageous.
The time has come for us to say goodbye to Grenada, to the friends we have met and to open a new chapter to our Lucky Living adventure.
Where to next?
For months, we thought we would land on the east coast of America. South Carolina was high on our list of places to settle. I discovered I have second and third cousins, aunts and uncles on my mom's dad's side of the family in South Carolina. We were keen to be welcomed into the community, knowing we had blood relatives there which made this an attractive option.
However, as time has passed and hurricane season is once again approached, Chris and I were led to do some heart searching. We had to ask ourselves what is the best action we can take for our family?
Where do we see ourselves in one year's time? Do we still want to be in Grenada? Should we just keep doing what we are doing or do we need to do something different? Admittedly we had sunken into our comfort zone, it's time to shake things up a bit, right?! With the girls nearing adulthood, turning 18 and 16 this year…..we agreed, it was time for us to sail on.
Continuing the adventure of a life time.
We are getting used to not knowing our direct path, or what path to take or where it may lead but have a peace about allowing the wind to take us where we are meant to be – it is becoming natural. To go with the flow, knowing that whatever it looks like, it will be great but not without challenges and at times heart break, because that is life.
Life is precious filled with ups and downs. We are learning how to navigate what life presents to us with an added faith that we can fight life through and in the end, the dream is true.
We will sail to The Republic of Panama and transit through the Panama Canal (bucket list item) We are very excited to welcome our first crew members to join us through the canal. My brother and nephew. The best birthday present ever! The added bonus is my nephew speaks fluent Spanish.
We will recalibrate on the pacific side of Panama. Positioned to either head north, up the coast to my home town San Diego; stopping in places such as Costa Rica and Baja California or to make passage across the Pacific Ocean; making way through Tahiti and Fiji.
Waiting for a Green Card

Currently we are waiting to get an interview date for a green card, but it is a complicated mission. With the global pandemic, the USA Consulate offices are not processing interviews in foreign countries to non residents – forcing our interview to be scheduled in Sydney – Australia.
So in Panama we will turn over one last stone by visiting the US consulate office asking 'in person' for a green card interview. If we are denied we will prepare Lucky to set sail across the Pacific Ocean to Australia, a distance of over 10,000nm.
We will be sad to leave the people and the beauty of Grenada.
However this option is not secure either. We hired agents to apply for approval on our behalf however at the time, French Polynesia was closed to all transiting yachts. We thought we would be exempt to this as we are all Australian passport holders, so we were surprised to get a letter back from agent with our application stamped – 'Refused'.
Panama here we come

Not sure of our destiny but we will make way, to Panama on 2 March, 2021. We feel strongly, what will be, will be. The excitement is in the unknowing. The feeling a child gets the night before Christmas or a birthday. Knowing it's going to be great but uncertain as what the presents will be. I can't wait to unwrap what is next.
Life can be so simple when we allow God to be the guide. Set aside expectations of what should be, or what we desire it to be, and allow. The book is written, we just need to turn to the next page. Allowing life to be shaped by nature, in its purest sense, I know we will be ok, and that there is something great waiting for us. Kinda like when we became parents, will it be a boy or a girl? We decided not to find out because either way we would be happy.
So we will wait to see what is birthed in Panama.
Your guess is as good as ours.
Tara Davidson
SV Lucky
………………………………………………………………………………………………………………………………………
The opinions expressed in this article are the author's own and do not reflect the view of Noonsite.com or World Cruising Club.
………………………………………………………………………………………………………………………………………
User Comments
You must register first or be logged-in to leave a comment.
No comments for this post.