Gibraltar to Cadiz: Orca Encounter – First Person Report
After leaving Gibraltar, bound for Cadiz, sailing vessel La Dolce Vita encountered a pod of Orca. Her skipper Marcos C G Ferreira reports on the experience and their actions. Subsequent Orca encounters reported to Noonsite are outlined at the bottom of Marcos' report.
Published 2 years ago
The position of La Dolce Vita when she encountered the Pod of Orca.
After two years docked in Alicante Spain, we decided to head from the Mediterranean to the Atlantic aboard La Dolce Vita, our Sun Odyssey 37' yacht.
We decided to leave in May 2021 according to a route manual which said this was the best month to go from the Med to the Atlantic. None of the crew had experienced such a trip like that to Cascais, Portugal, with three challenges:
The strait of Gibraltar
Orcas and (almadrabas) fishing nets around Barbate
Headwinds from Sagres to Cascais
We were three on board and due to some commitments we had reserved 20 days to complete the entire trip that we calculated around 700 miles.
On May 13 we left Marina Alcaidesa (Gibraltar) at 04:30 in the morning with the high tide for our next port – Cádiz.
Heading to Cadiz
After we have crossed the strait, successfully heading up to Cape of Trafalgar leaving Barbate to the right in shallow waters, we faced headwinds of 18 – 20 knots so we decided to tack and try to sail, taking advantage of the wind.
At that time our heading was 265 degrees and after one hour and a half we were about eight miles away from the coast and another tack 330 degrees to gain Cape Trafalgar. Yes we were sailing!
The Orcas are Coming!
Then suddenly my nephew Pietro called us with a scared voice. "Hey! they come! The Orcas come!" They started surrounding us from left, right and from behind.
We calculated there were 12 or 15 and they started hitting the rudder. One by one at intervals of three minutes. Immediately we lowered the sails and turned off all the instruments, the procedure for this situation we had read, but they didn't stop.
Orca approaching La Dolce Vita
So what's next ? So far we knew about to lower the sails, about the instruments and shutdown engine in case it was running.
But they continued!
After 20 – 25 minutes we have seen a boat passing along the route heading to the strait and we realized it was the Spanish Coast Guard (yes we were lucky )
So we called them on Channel 16 explaining the situation and when they approached us the Orca left, maybe due to the noise of their engines. Immediately we started the engine and decided to resume our trip to Cádiz closer to the coast.
The Pod of Orca disappeared when the Coast Guard vessel approached.
The rudder has followed our command properly and after docking in Cádiz we checked it again and thankfully there was no damage.
Here is a video clip that we took of the Orca.
Marcos C G Ferreira
La Dolce Vita
………………………………………………………………………………………………………………………………………
About the Author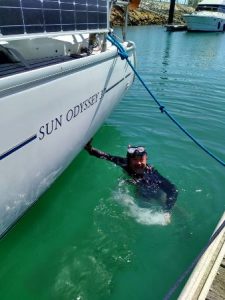 Born in Rio de Janeiro, Brazil, Marcos has dual Brazilian and Portugese nationality and lives in Cascais, Portugal. When he's not sailing he's a B777 Captain with Ethiopian Airlines. La Dolce Vita now is at her new berth in Cascais.
The opinions expressed in this article are the author's own and do not reflect the view of Noonsite.com or World Cruising Club.
………………………………………………………………………………………………………………………………………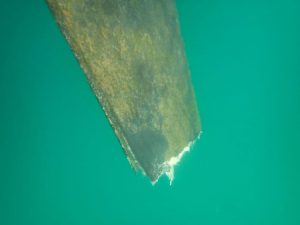 SUBSEQUENT ORCA ENCOUNTERS
ARC Europe boat MAKA encounters orcas two hours away from Gibraltar:
On 05 July, 2021, ARC Europe Rally Control reported that one of their boats was rammed by orcas on the approaches to Gibraltar. They suffered rudder damage.
A short video of part of the encounter can be seen here.
ARC boat SCAT CAT encounters orcas near Tarifa (SW Spain):
On passage to Gibraltar mid-July, Scat Cat – a Beneteau Oceanis 40 (2008) – was motoring (no sails up) down the coast of SW Spain past Barbate for Tarifa and the straits of Gibraltar. Early evening they were approached by a pod of orcas. Their speed was 7kts (2100rpm) and the boat had blue antifoul. The orcas proceeded to ram the boat and caused extensive rudder damage. Scat Cat had to be towed in to Barbate by the Salvamentore.
Apparently 7 yachts had been intercepted by orcas in that area over the previous 5 days.
All yachts transiting the area are being advised to keep within 10m depth and close to shore.
A short video of their experience can be viewed here. See the position of the encounter below.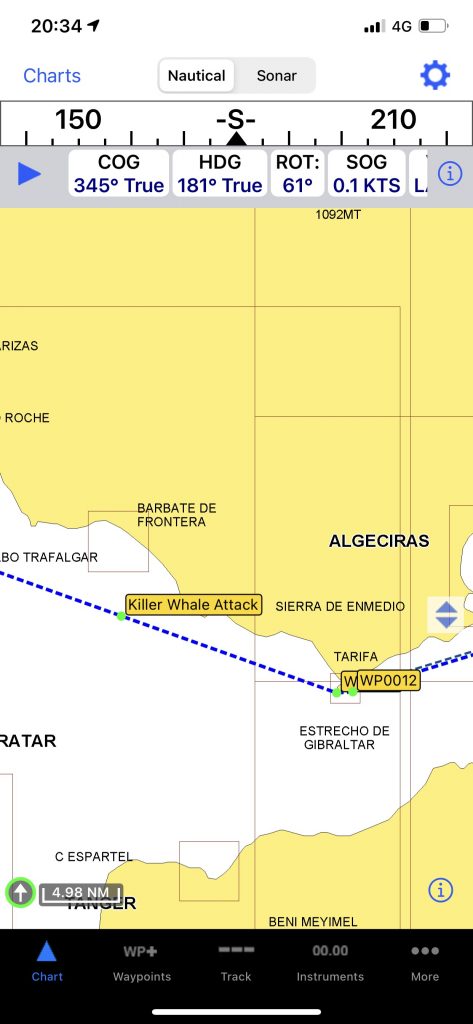 ………………………………………………………………………………………………………………………………………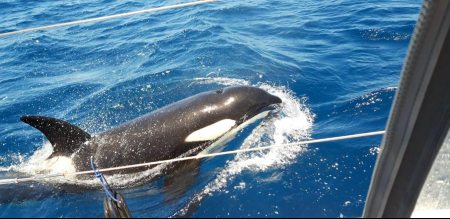 Related Reports and Links: